Put a new twist on all the traditional winter cocktails. 75 recipes to entertain your small dinner parties or large group soirees.

Flaming Coffees
Mulled wines & Ciders
Stylish cocktails
Popular liqueurs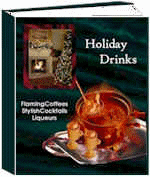 I found this 'e-book' on some holiday recipes that includes coffee type recipes as well. I thought it looked interesting and maybe you will too! The cost is $3 per download. Remember, this is an e-book and not a hardcover. To see examples and/or to order: Click Here!