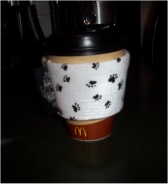 Joe's Coffee Collars is one of the best ideas I've seen in a while. Though my photo leaves something to be desired, the little insulated cup hugger does not.
They come in assorted colors and designs (though I am not sure you can get this particular one now) and fit a cup ranging from small to large. Your standard tall, Grande, and Venti Starbuck's models. Such names for cup sizes!
Anyway, these nifty, re-usable, insulated cup sleeves are made in Alaska and are state of the art insulate that keeps a beverage warmer, longer than neoprene. I can honestly testify to that. I love them!
They are trendy, attractive, and make a great conversation item. I would agree that these are enviromental safe since they are re-usable time after time. They do hold their shape.
Stop by Joe's and give them a peak. They are reasonable at $5.99 each with free shipping in the U.S. You can also buy wholesale. I'll bet you love them too!