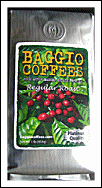 I recently tried out a couple of coffees from Baggio I had the Italian Espresso Roast and their Gourmet Blend.
I will not be able to give you an exact test result about the coffees as sample sizes were sent of pre-ground coffee. One can hardly ever give a fair assessment on pre-ground but I will try.
First of all, Baggio Coffee is a single estate coffee farm located in Minas Gerais, Brazil that now sells directly in the United States. The coffee comes from a single farm where producing quality gourmet coffee is a priority. (quoted)
You can read the World Trade Center Atlanta where an article on Baggio Coffee is featured.
Coffee Beans from the Estate of José Astor Baggio in Minas Gerais are sent to their roasting master in Marietta, GA. ( I used to live near Marrietta). Coffee beans are roasted to perfection delivered to your door in 2 days to ensure freshness.
I drew a good shot from the Espresso Roast. Nice caramel color that gives a weak but solid presence in milk. It's heavy but has a short finish. I feel that I had been able to grind a 2-day roasted bean myself, I would have been able to give a more accurate view. But it was still good.
As for the Premium Gourmet Roast, it was medium dark taste and color. There is a hint of banana-like fruit in scent but not in taste. I get a smokey flavor that is pleasing but short. A nice finish that is lingering.
Give them a visit and seek your own opinion. I have no doubt that they are well on their way to making a good name for themselves here in the U.S.