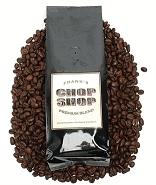 Frank's Chop Shop Premium Blend is roasted exclusively for Frank151 by Caffe Vita.
Frank's Chop Shop is a barber shop in New York City. Quoting their by-line: A barber shop for the modern gentleman of leisure (by appointment only). But, if you want the coffee or any other goodies, you must visit the site Frank151. Click on the store image on the left bar. Frank151 is a magazine of art. He sent a few magazines and I really enjoyed thumbing through them. They are unique and different. But! I'm here to review the coffee basically.
Frank's Chop Shop Premium Blend

This bean is a medium-dark roast with a nutty undertone attached. You can taste the roast and it finishes clean. I do not know how long it had been since the beans were roasted but the bag was fresh and the coffee was agreeable. I enjoyed it.
I was also able to sample a limited edition cookies and cream chocolate bar in addition to the coffee. It is named Stay High 149. Odd, huh? The bar was good but I think it is more about the fact that each bar is autographed by Stay High 149 himself. Stay High 149 is a legendary street artist. Be sure to stop by and check it out.
I enjoyed my experience Aaron and thank you for sending along the coffee and chocolate. A good sip of coffee and interesting read.
Visit Frank151 by clicking the name. It is original and distinct.