I found this article on coffee and it's effect on those with Parkinson's Disease today and really wanted to include it here by linking to the originator.

Even though I believe coffee does play a role in our overall health (not to mention some adverse effects), I find the idea that it could help with Parkinson's Disease questionable. I am not saying that I do not believe it, because I probably do. My father-in-law had Parkinson's and always drank a major amount of coffee, daily. It was never any better and only got worse before he died. That is not to say that the symptoms may have been worse without the coffee, could have been. We will never know.

Sour Cream Coffee Cake Recipe
Ingredients

* 1 package butter cake mix
* 1 package instant French Vanilla jello pudding mix
* 1 cup sour cream
* 3/4 cup hot water
* 4 eggs
* 1/4 cup olive oil
* 1 teaspoon vanilla
* 1/2 cup light brown sugar ( packed )
* 2 teaspoons cinnamon
* 1/2 cup nuts ( pecans or walnuts ) almonds also work great
In a large bowl combine cake mix, sour cream, pudding mix and hot water. Mix well.
Beat eggs, add olive oil and french vanilla then add to cake mixture. Pour half cake mixture in a greased and floured bundt pan ( I prefer bundt pans ). Combine brown sugar, cinnamon and nuts and sprinkle half this over cake mixture. Add remainder of batter, and sprinkle on rest of topping.

Bake at 325°F for 45 minutes.

If you make this, please post here and let me know what you thought.
Since my blog software on BLOGCETRA will not allow for pick-up of tags, I will post my caption contest here.

Just follow the link above and enter. Not much of a prize but I would love to see your captions!
I love this poster. I found it at allposters.com and fell in love. I don't think they have them in stock but there are other funny ones besides this one. Isn't it cute?
Programmer: an organism that turns coffee into software.


anonymous
technorati tags —- coffee quotes quotes coffee quotes programmer quotes software
Here is this weeks mug. I know, I know….. looks like a first grader painted it. Oh well. I like it. It's easy to hold and the heavy stoneware keeps it hot a bit longer. Hope you enjoy it.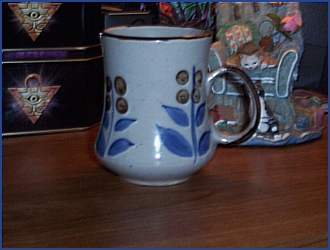 Here is week fours mug. I'm late getting it up. Sorry about that (like you care). it's one that I use for coffee and hot tea. I just love it. It's slender and easy to pick up and hold. It's collectors cup and the art if by Thomas Kinkade. I linked to his website there. No affiliation.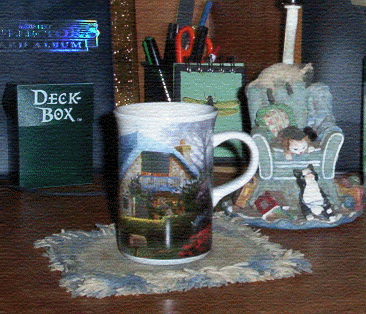 Yes, those are my cards in the back ground. I'm a 47 year old collector of anything Yu-gi-oh. I just can't help it. I think they should make a Yu-gi-oh movie using real people. Wouldn't that be neat?

I have something over 1200 cards. Some good one's too!

Very cute this is. I found it on The Blog of a Coffee Addict and he got it from Third World County .

It is something for you to sing around your coffee pot or Christmas tree. I just found it to be amusing. I hope you enjoy it.



"O Blessed Holy Caffeine Tree" You will need Quick Time to hear it. Also, if you just click on the sheet music, you can just read it.
I found a couple of articles/recipes online that I really wanted to share with you. I seem to get quite a few hits from search engines where the surfer is searching for Sage Coffee or Sage Tea.
I searched until I found something appropriate to "hopefully" help those seeking these recipes out. I will list the credits for these in the footer of the post.
Sage Tea
I'll begin with the simple recipe, Sage Tea. I've made this myself and it is not difficult. I will also include a bit of referrence for the recipe as well.
* 1/2 oz fresh sage leaves
* 1 oz fine sugar
* 1/4 oz grated lemon rind
* Juice from one lemon
* 1 quart water, boiling
I suffer from mile nausea most of the time. I don't know why or where it comes from but it can be most discomforting. There are times when it is worse than others but mostly it happens in the evening or at night while I sit on the couch watching TV.
A long time ago, I tried using ginger root capsules for it. It did help but never did really rid it off. I was pretty much satisfied with the results.
I noticed that it mostly happened if I were to doze off while sitting up or if I were only asleep for a few seconds. Don't know what's up with that. Heat in the summer makes it worse.
Read more
$5.00 off your first order of $20* or more
*Excludes shipping charges*
Enter coupon code K6