I found this article at the site of the New York Times on this new Mad Cow Disease discovery. What I am wondering is this:

Will my fresh coffee cream have Mad Cow Disease? Will I lose my mind if I drink too much? I know it's serious, don't get me wrong. I just had to comment on cream for my coffee.



You think the cream is infected since the meat is? Maybe I'll create a Mad Coffee Drink recipe. *insert innocent look here*


---


Isn't this just yummy? Starbucks Ice Cream Classic Coffee Flavor.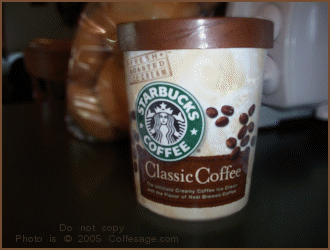 I brought this home, opened it and stuck my spoon inside. I scooped myself up a large mound and stuck it in my mouth. I thought I'd died and went to heaven. I then realized I have possibly found the world's most wonderful coffee flavored ice cream, with a designer name no less!

Honestly, the texture is super silky and smooth. The coffee taste is familiar. It goes down with a caressing blanket of coolness and invites me to have more.

On 06.29.05at a Starbucks near you, a free serving of Starbucks Ice Cream will be yours for the taking. Stop by and try it out!

Available Starbucks Ice Cream flavors:

Classic Coffee
Mudd Pie
Java Chip
low fat Latte
Coffee Almond Fudge
Coffee Fudge Brownie
Caramel Cappuccino Swirl

Man oh man….. it IS so darn good!


---
Carnival of the cats is up at Labkat.com. Go by and see all the entries. I enter Mr. Orange Peel of course. You can see that entry by looking down a couple of posts here. It was fun. Thanks guys!


---
This was fun. I took a coffee quiz and maybe you have already seen it before but I thought I'd post the link and my results. You may want to take it for yourself. If you do, let me know how it turned out! Find a pagecapture of my results below.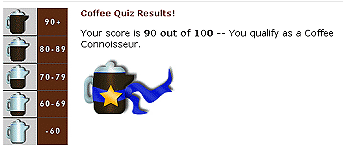 You can take this quiz by visiting Coffee Universe's Coffee Quiz Page

Have fun!

---
Here is one of my child cats with a coffee mug. No, he doesn't drink coffee but he does enjoy milk from a mug on occasion.

He's a character, that for sure.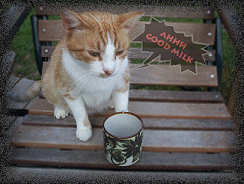 One day he was laying by a milk mug and had his paw through the handle. It was cute and I wish I'd had the camera that day. Alas, I missed that shot.


---
Dana from Note-It Posts hosted this weeks Carnival of the Recipes. An excellent job well done. Here are just a few of the entries for your pleasure.

Baby Forumula Fruit Smoothies – A way to make nasty-tasting formula more palatable to the younger set! Not to mention you get to expose them to kiwi early on – win/win!

Red Onion Cilantro Salsa – Grab those tortilla chips! No tomatoes in this salsa, so be ready for it to have a little "bite" to it.

Mom's Party Cheeseball – There is no better appetizer than a really good cheeseball. Don't forget the wheat thins!

As you can tell, everything thing sounds oh so yummy! Visit Dana's link above to see all the wonderful recipes featured this week. There are 38 in all. Lots to see.

Coffee Creations
56 Yukon Way
Suite 1
Farmington, AR
(479) 267-5300
Coffee Creations :: A Coffee Bar Review

A Coffee Bar that is quaint yet bursting with flavor and personality
Sadly, I'm one of those people who tend to stick with what I know to be good and coffee bars are no exception. I do stray from time to time and usually, I am glad I did.

For the past year or so, probably longer,I have passed by this little coffee bar as I made my way to one of my other frequents some miles away, Barnes and Noble Cafe or The Perk and maybe a stop by Dunkin' Donuts on occasion, without giving this little place much thought.

Finally, one morning I had to go into town and really did not want to drive several miles across town to get a good cup, so I stopped by Coffee Creations. I was certainly pleasantly surprised to say the least. The bar is quaint and cozy with just about any sort of coffee drink you'd ever want and many teas to pick from as well.

The owners know what they're doing too. Their drinks taste every bit as yummy as Starbucks and are less expensive as well. They have many types of sandwiches and pastries and supply a good bit of gift ware too.

Coffee Creation have a very friendly atmosphere and all the employees have been nothing short of being the friendliest around. Impressive.

They change the flavor of the coffee 'on tap' daily. I have yet to be dissatisfied with any roast they have up for the day.

All in all, I have to say my encounter was most positive and I have since visited many more times. I may have found a new stop much closer to home.

Don't waste any time, find your way to Coffee Creations, sit down with a fabulous cup of java and enjoy the wonderful atmosphere and taste sensations they have to offer.

---
Here is another contribution of digital coffee art from me. I call it Mauve Latte.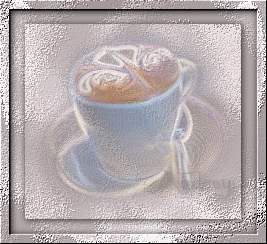 Here is something I whipped up from a photo I took at one of our local coffee cafes ' Coffee Creations'. Hope you enjoy looking at it.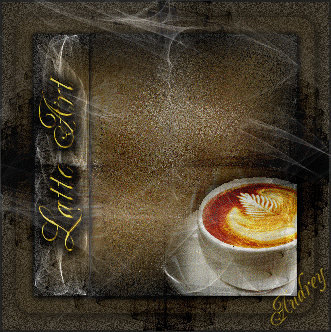 This is not my own recipe but I've made it and it really turned out well and is quite yummy. I thought I'd share it with you. Enjoy!

Starbucks Cranberry Bliss Bars

For Cake Base:
2 sticks Imperial Margarine (or butter if you want to indulge) — softened
1 and 1/4 cups brown sugar– packed
3 eggs
1 teaspoon ground ginger
1 teaspoon vanilla
1/4 teaspoon salt
1 and 1/2 cups flour
1/4 cup minced dried cranberries
1/4 cup Lindt or Perugina or other quality white chocolate — coarsely chopped
1/4 cup minced candied ginger

For Frosting:
4 ounce cream cheese — softened
1 and 1/2 cups powdered sugar
2 Tablespoons butter — softened
1 teaspoon vanilla

For Garnish:
2 Tablespoons minced dried cranberries
1/3 cup white chocolate chips (e.g. Ghiradelli or Guittard) — melted

Preheat oven to 350 and lightly grease a 9×13 pan.

Beat butter and sugar together for the cake base, and add eggs/vanilla beating until fluffy. Sift together flour, ginger, and salt and then add to the butter/sugar mixture beating well. Fold in the cranberries, chocolate and ginger. Spread thick batter in pan and bake for about 20 minutes or until light golden.

When cake is cooled, mix all frosting ingredients together and spread a thin layer over the cake. Immediately sprinkle with the minced cranberries. Then use a cake decorating bag of melted white chocolate with a tiny decorating tip (like the size used for writing on cakes) and drizzle the chocolate over the cake.

Cut this into bars immediately because the white chocolate hardens pretty fast and makes cake cutting messy.

I found this recipe some time back at Mr. Breakfast.com Give em a visit. I am sure you are going to find even more that you want to try.

"It's just like when you've got some coffee that's too black, which means it's too strong. What do you do? You integrate it with cream, you make it weak. But if you pour too much cream in it, you won't even know you ever had coffee. It used to be hot, it becomes cool. It used to be strong, it becomes weak. It used to wake you up, now it puts you to sleep."
Malcolm X
technorati tags —- coffee quotes quotes coffee