The Carnival of Recipes is up and it is issue number 49. You can visit all the great sounding recipes by visiting The Glittering Eye. Leave a comment but please don't be mean. You will see why I say that if you read the other comments. The entry this week was just fabulous!
---
A little while back I told you about Krispy Kreme's frozen drink. Today I hear they've introduced their new reduced calorie frozen blends. Here is what they had to say about it:

Last month, we encouraged you to stop by and try one of our six Frozen Blends. We hope you found a new favorite treat. We now have some additional blends to tell you about that we do not think you will want to miss out on.


How does a smooth, refreshing frozen beverage with only ninety-nine calories sound to you? We are delighted to now offer our reduced calorie Frozen Blends in select flavors (12 oz size only, w/out whipped cream).

For those who find themselves craving something chocolate, you can not go wrong with our reduced calorie Double Chocolate Blend. Add a shot of coffee for a little extra kick and a rich _mocha taste.

And if you prefer a classic coffee flavor, than our reduced calorie Latte Blend should hit the spot! Our reduced calorie Frozen Blends are not available in all markets and participating markets may not carry all flavors.
Just thought I'd update you on that. I don't like reduced calorie stuff ( hmm.. maybe I should ) but I know there are many of you out there that prefer them.
---
I created a new drink today and it is oh-so-delicious! I call it Moo-Mango Smoothie. Below, find a photo and the recipe. I hope you try it and if you do, PLEASE post and let me know what you thought of it.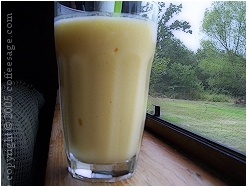 Ingredients:

1 package frozen mango chunks
1 c. cold spring water ( any bottled water )
1 espresso shot ( use strong cold brewed coffee if you'd like. About 1/4 c.)
3 tb. sugar
1 tb. Lipton's Mango instant tea mix
1/4 c. cream
Handful of ice cubes ( small ones like you get in a bag of ice)

In a personal blender ( regular blenders are fine too) place 5 or 6 frozen chunks of mango in the bottom. Add the espresso. Then add the ice. Pour the water and cream in. Add the sugar, instant tea, and finally, the cream.

Blend until very smooth. You may have to stop the blender and mix it a bit to get it going well. Poor in a glass and add a straw. Enjoy!

© 2005 coffeesage.com
---
Have you ever found yourself confused about what size coffee you should leave the coffee shop with? Not me. Large baby, it's the only way to go. Depending on where you are…. that could be a Venti or a Super Cup or maybe even a Jumbo cup. Big and bold!

I have been guilty of buying a small cup or a tall ( Starbucks ) but I was out of my head and not responsible for my actions. I no more get out of the parking lot when I have an empty cup to set into the cup holder of my Jeep. It's a rare thing to see me with a small cup, except at home where I know I can get more when I want it.

Read more
EXPIRED

Krispy Kreme Donuts
Buy one get one free coupon for Frozen Blend Drinks.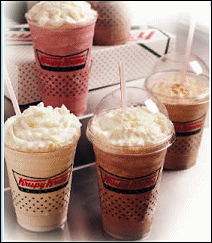 July 4th – July 17 — Looks like you'll have to hurry for this one.

Krispy Kreme
home page: Krispy Kreme Donuts

You'll have to download 'coupon manager' from 'Cool Savings' to print coupon.
---
I do not know why I torture myself and insist on stopping at convenience stores to pick up a quick cup of coffee. Any one knows this cannot be a good thing. There have been only two instances where I got a fast cup that taste decent. We have a convenience store called "White Oak" where you can get a fresh grind and tasteful cup but only in two of it's NW Arkansas locations. Any place else it just asking for a start to a bad day.

Man… the cup I got ripped off for this morning, from a generic convenience store, was just the last straw. My sulphur coffee was better. Honest! It had to be a couple days refreshed and the last slosh in the bottom of the pot. It was burnt, bitter, weak, and CHEAP. Cheap as in brew not price. I paid the price allright. It was absolutely raunchy. I've complained enough. I think I've learned my lesson. Perhaps.
---
Coffee Brewed with Sulphur Water
We have a very expensive water purifying system under our home. From time to time, we run out of salt or chlorine. When that happens we get our usual strong and some times over bearing smell and taste of sulphur. I'm not one to complain too much but this has got to go.

When we first bought this house, we did have the system and had to buy bottled water. We did take our showers in it though and it is possible to get used to it. The smell though…. 'gag'

This morning I had a nice, nasty pot of sulphur coffee. It really isn't THAT bad. right….. After 3 or 4 pots, you adjust. Honestly. I remember when we were drinking it that way. We could go to someone elses home and the coffee would taste funny. We were missing our main nutrient, sulphur. 'lol'

Any of you drink coffee this way? No, it is not my cup of choice. It just happens from time to time.

mmmm… smell them rotten eggs. 'wink'
---