Visit Folgers Coffee and look in the lower left hand corner. You can order a free sample of their new line of coffees. Select from Vanilla Biscotti or Lively Columbian! I'll be reviewing these and the other 6 they offer next week.
While there, enter Folgers Second Cup Sweepstakes (lower right hand corner) ENDing: 9.29.06
Visit Starbucks DoubleShot and register. Once you register, they will send a coupon for a free DoubleShot. I'm not certain when this expires. Sorry
Thanks to Folger's and Stomping Grounds for offering their products for review.
Coming next week:
Folger's new line of Gourmet Coffees due to be released in September
Espresso Roast, Lively Colombian, Lively Colombian Decaf, Morning Cafe, Vanilla Biscotti,
Chocolate Truffle, Hazelnut Creme and Caramel Drizzle
Coming Soon:
Stomping Ground's pre-packaged, concentrated espresso (for a perfect latte every time) Review!
Espresso Latte' – Mocha Latte' – Caramel Latte' – Vanilla Latte'
It all sounds so yummy.
In a few days a great deal of the ads on Coffee Sage will be expiring and new ones will be going up. If you have an ad listed here and do not wish for it to expire, you need to contact me and renew it.
If you do not have an ad here and wish to have one listed. Use the contact form and I will forward the price list and terms.
I wanted to add that soon I will be adding a coffee blog award restricted to those blogs who post coffee related information. Sites dealing with tea, pastries and such can be included as long as they also include a great deal of coffee subjects as well.
I will be posting more on this later on.
COMING SOON!
I'm working on the addition of an image gallery where I will let you upload your favorite coffee related photos/art.
You will be able to include coffee art, latte art, coffee cup photos, people drinking coffee….. on and on and so forth.

It will be a lot of fun and I look forward to seeing all your images!
-Audrey
I just returned from a long and uneventful trip to Virginia to see my son get married. I'm referring to the trip itself as being uneventful. Not the stay at our son's home.
Since you really find you do not have the time to search for a great cup of coffee when traveling, we decided that it would be either McDonald's Premium Coffee or Burger King's 'JOE' Coffee. The coffee isn't bad either. But there are some distinct differences in the two.
McDonald's Premium Coffee: Generally fresh all the time and especially when traveling a busy highway. Always available since they rule the fast food industry and you can find one on every corner.
Note: I've activated commenting and am trying out the plug-in Spam Karma2 at the advice of Colin Thanks Colin!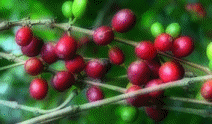 Did you know that you can grow your own coffee beans? Well, you can! Be advised that it takes four '4′ years before you'll be able to harvest your first, very own, beans or cherries if you will. On the plus side of things, during that four years and there on, you will enjoy a very pretty evergreen type shrub that sports a very pretty white flowers that have a pleasant frangrance.
Your first pickins' won't be much as the tree does not bear a full yeild until it's 6th year there or about. Unfortunately, the tree will only produce it's full yeild for about ten '10′ years but can actually live for around sixty '60′ years. So, long after you enjoy it's fruits or berries, you will enjoy it's beauty.
Read more
Have you noticed (not that I drink too much common coffees) that Maxwell House brand seems to be all but disappearing from supermarket shelves? I don't know if it has had anything to do with Katrina or not but I've noticed a steady decline in the Maxwell House stock from more than just a couple of stores! How odd is that?