Monthly Archives:
August 2006
Note: I've activated commenting and am trying out the plug-in Spam Karma2 at the advice of Colin Thanks Colin!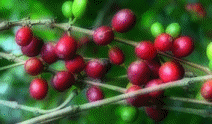 Did you know that you can grow your own coffee beans? Well, you can! Be advised that it takes four '4′ years before you'll be able to harvest your first, very own, beans or cherries if you will. On the plus side of things, during that four years and there on, you will enjoy a very pretty evergreen type shrub that sports a very pretty white flowers that have a pleasant frangrance.
Your first pickins' won't be much as the tree does not bear a full yeild until it's 6th year there or about. Unfortunately, the tree will only produce it's full yeild for about ten '10′ years but can actually live for around sixty '60′ years. So, long after you enjoy it's fruits or berries, you will enjoy it's beauty.