I love making blends or really anything to do with photoshop or even paint shop pro. I thought to myself, why have I not made any coffee blend art? So, here is my first one. Hope you enjoy it.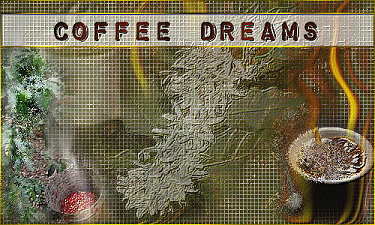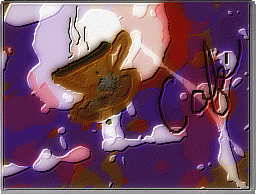 Okay… don't laugh at it. I made it tonight over at art.com using their art pad. Link to the pad in there to click. It is not a masterpiece but it's cute and it is fun! Give it a try.
 
I found these coffee fun factson Bruce's Blog at bloggersfuel.com I thought you may enjoy reading and expanding your brain's coffee trivia knowledge.

1) In 1683, one pound of coffee in New York was worth qs much as 4 acres of land.
My way of describing 'the flavor of love' Enjoy!
Chocolate Candy Coffee
1/2 cup hot brewed coffee + 1 shot espresso
1/4 cup half and half (warm)
1/2 fluid ounce coffee liqueur
1/2 fluid ounce creme de cacao liqueur
2 drops pure vanilla extract / or 1/2 teaspoon vanilla syrup
*1 1/2 squares Bakers Semi-sweet Chocolate (melted)
2 tablespoons whipped cream (for topping)
1 tb. chocolate shavings for decoration
——————————————————————————–
Read more
Interesting Starbucks facts or statistics
In a Fortune Magazine article (I am unable to find that article now in the archives) I read these:
This weeks Carnival of the Recipes has been awsomely (is that a word?

) hosted by Men in Aprons (click that link!) Be sure to stop by and read about all the yummy offerings for the week. Thank you to Adam for hosting this week.
My recipe that was included this week is my Hazelnut Choco-Expresso Cookies.
I've read positive reviews and negative thoughts on Luwak coffee. I've always been one that has to know first hand and though I have not yet had the pleasure or unfortunate experience to taste this unique brew, I look forward to my sampling. I can tell you one thing for sure before I ever take my first sip, good or bad, it will always be a crappy cup of coffee. For those of you who are not aware of the harvesting process of Kopi Luwak, read on….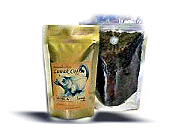 You can buy Luwak Coffee by visiting animalcoffee.com The pouch image to your right is one example of how they package it. I'll show you the fancy schmancy packaging they have later on.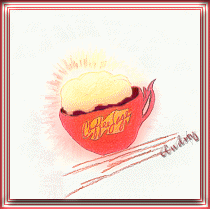 Not very good I'm afraid but I still enjoy doing it. This is just a bit of my hand drawn coffee art. Maybe I'll get better as time goes by.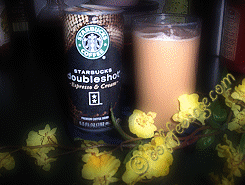 Make sure the The 6.5 ounce can is chilled before opening and watch out when you shake it. Open the tab away from you. It tends to spray a bit.
Starbucks DoubleShot is a tasty way to start the day, enjoy a break at work, or just pour over ice while relaxing. It is not so much that I am a large Starbucks fan but I do enjoy many of their coffees/drinks. This is one of them. It provides a great alternative to actually visiting the local Starbucks barista or bariste for your espresso shots and cream.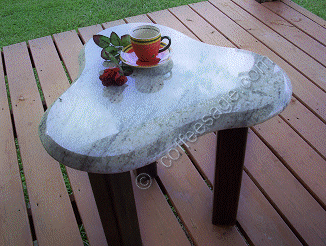 Okay, so this isn't an actual coffee table but I think it makes a great patio/deck table for having that morning coffee. A very pretty marble top and sturdy steel base.
I found this yesterday at a road side sale for $5.00. It is real marble and new! What a deal. So, I bought it, brought it home and am now using it on my deck for morning coffee when the weather is nice. Which it is not today. It's horrible as a matter-of-fact. Tornados looming all around. Enough of that. I just thought I'd start my coffee table category out with this one.

Ha! Check out these coffee bean earrings I found. Adorable. I'd wear these babies too! lol…. wish I could remember what site I found them on. The image has been sitting in my file for a long time. Just thought I'd share it with you.