Holy crap! I was browsing recalls and found one of my coffee makers on it listed as a fire hazard.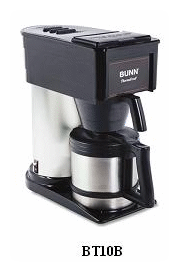 Check this link to see if one of your pots is listed. The coffee maker shown here is my model that is recalled.
Bunn-O-Matic Corp. Expands Recall of Home Coffeemakers Due to Burn and Fire Hazards
Info:
Name of Product: Bunn® home coffeemakers
(Note: This recall is an expansion of an earlier recall announced in June 2005.)
Units: About 561,000
Manufacturer: Bunn-O-Matic Corp., of Springfield, Ill.
Hazard: The coffeemaker's plastic pour-in bowl and lid can melt or ignite due to an electrical failure, posing burn and fire hazards to consumers
According to CARLA K. JOHNSON Associated Press Writer for WTOP News, more than 500 engery drinks launched worldwide this year and doctors are concerned that the teenage population is getting hooked on an unhealthy jolt and crash cycle. Simmon's Research says that 31% of U.S. teenagers claim to drink caffeinated/energy drinks. That is about 7.6 million and it is said that is a rise of 3 million from a period of just 3 years ago.

Rockstar, Red Bull, and Monster earned a whopping 3.4 billion last year. That's an 80% growth spurt. wow! Actually, that is rather disturbing, isn't it?
Research claims that because of these drinks containing large amounts of sugar and caffeine and in some cases, B vitamins, can cause rapid heartbeat, and numbness and tingling in the hands and feet.
It is something to think about. You can read the complete article by visiting: Caffeine-Stoked Energy Drinks Worry Docs
To go along with my recent post More Coffee Health Benfits to Ponder I have this to add…

This morning on my local news in NW Arkansas on KNWA channels 24/51, they mentioned the research showing coffee drinkers both old and new have a 60% less chance of developing type 2 Diabetes. Argueably, the do not know what it is in the coffee that accomplishes this good deed, but they are agreeing that it is happening.
Alcohol involved in aid of boosting one's memory?
Also in the news, research in lab rats are showing that the equivalent of 2 drinks of alcohol only in human size quantities, a day is enabling the mice to remember more. They feel the same should happen in human beings who drink about two alcoholic drinks per day, including beer. Well….. let's promote drinking here. Of course, I'd drink a couple a day if it would help make remember things.
The Halloween Edition for Carnival of the Recipes is up and you can view all the wonderful entries by visiting this weeks sponser Morning Coffee and Afternoon Tea
Some of the tasty treats include:
Witch's Weakness submitted by: KeeWee's Corner
Pumpkin Ginger Scones presented by: firefly
AND! Pumpkin Spice Dessert by : your sponser, Morning Coffee and Afternoon Tea
They sound so scrumptious!
Is this really the top 10 caffeinated drinks? I have my doubts and I will research this more in depth later today. For now though, this is what I've found. Got a thought about this? Leave a comment.
1. Coca Cola
2. Pepsi
3. Coffee
4. Red Bull
5. Dr. Pepper
6. Mountain Dew
7. Monster Energy Drink
8. Espresso
9. Cappuccino
10. Black Tea
Ethiopia, where coffee was first born is wanting a fair profit share for it's produce. By trademarking most of their famous coffee, they will in fact share a greater dollar amount for it's crop and need I say, the hard work it takes to produce this wonderful coffee that we all enjoy.
Starbucks is opposing this plan by Ethiopia to trademark their coffee saying that this will cut into their profits. Are you serious? Just how much would this take off from their 2005 profit of $494.5 million on $6.37 billion in sales?
Did you know that Starbucks in south London gets £1.35 for an espresso shot? Well, the cost for that one shot is about double what an Ethiopian coffee worker makes for an entire day! An espresso shot where I'm from is approx. $1.50
Please visit the resource for this and finish reading the article at The Independent
Can caffeine actually help prevent type 2 Diabetes? Can it lower your risk for heart disease?
Found this article at: That's Hot: Coffee 'your hub.com'
Here is a bit
3 or more cups per day, coffee can actually prevent certain types of heart disease hmmmm….
The researchers note that caffeine, the best known ingredient in regular coffee is known to raise blood sugar and increase energy expenditure in the short term. YAY! Long term effects have not been as well understood, but coffee has lots of antioxidants and magnesium, which can improve sensitivity to insulin and may contribute to lowering the risk of type 2 diabetes. They found that men who drank 6 or more cups per day reduced their risk for type 2 diabetes by 50% compared to non coffee drinkers, and women, by nearly 30%.
"This is good news for coffee drinkers" said Frank Hu, senior author of the study and associate professor of nutrition at the Harvard School of Public Health. Further studies are planned for continuing research.
You can visit the link above to read the entire blog post. But I must note here that decaf is NOT a consideration. You must drink straight, pure, Joe.
I'm going to quote an old article that I found at News in Science written way back in June of 1999. You may click on the name and find the original story if you'd like. I just wanted to credit the source.
Apparently, a study was done by injecting 471 mice with caffeine and then exposing them to high doses of radiation. (they received 80 milligrams of caffeine). Some 25 days later, 70% of the mice were still alive.
On the other hand, 196 mice that received the same amount of radiation with out the caffeine injection all died.
They state that caffeine reacts with hydroxyl radicals produced by the radiation and it could stop the radicals from damaging cells and prevent body functions from failing.
I found this very interesting and have been searching for further studies in this nature. If you spot any, let me know….. or post it in the comment section. Isn't this neat?
Senseo Single Serve Pod Coffee Maker
Read my thoughts on negative reviewing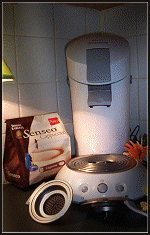 This is one of those moments that I would rather skip the review and forget I ever agreed to review a product. But I did, and I will.
I got the Senseo single serve pod maker about 3 weeks ago. I tried it soon after (within a few hours) and have avoided the issue ever since.
The machine was easy enough to use. Clean the machine by filling the reservoir in the back with cold water and using the 2 cup brew setting once the unit has heated the water. You're set once that is done.
The unit came with one bag of medium roast pods (there was the first mistake :: medium roast) and you have the option to either use the one pod or two pod holder. First off, you'd better get the pod/s in exactly perfect or you're going to have a big mess to clean up when you try to brew. The water will leak profusely from around the pod holder. And if you do not want water running all over your counter, you had better make certain to empty the reservoir before you put it away and slide it back under the counter.
Just a little something… look at the coffee id card I made.

Cute, huh?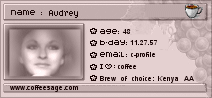 According to health news at Macon Daily Decaf coffee is often not totally caffeine-free, a new study shows. In fact, while these beverages have far less caffeine than a cup of regular coffee, they still may have enough of the stimulant to cause physical dependence on them. Source was Reuters.
Also: As Dr. Bruce A. Goldberger of the University of Florida College of Medicine in Gainesville told Reuters Health, "The concentration of caffeine in these brewed decaf coffees does have physiological and behavioral effects on a person."
I knew it! Of couse most of us knew it. Even though I think decafis the anit-christ, I also felt that caffeine was always present, no matter what. How can they actually remove all traces of caffeine? My aunt will not drink regular 'caffeinated' coffee. Guess what auntie? You're drinking it anyway! hahaha! I am not trying to phrase that in a mean spirited way but I just don't get it when it comes to decaf drinkers. Why even bother.
Click on one of the links I provided above and read the complete article.
Have a great caffeinated day