I have posted about the benefits of coffee on this blog before, but I ran onto this article this morning on WebMD and had to share it with you.
Here is a quote from the article:
Want a drug that could lower your risk of diabetes, Parkinson's disease, and colon cancer? That could lift your mood and treat headaches? That could lower your risk of cavities?

Coffee, the much maligned but undoubtedly beloved beverage, just made headlines for possibly cutting the risk of the latest disease epidemic, type 2 diabetes. And the real news seems to be that the more you drink, the better.
I've enjoyed coffee for the better part of my life and have always felt there must be prodigious health benefits for drinking the dark substance.
I know you've read it before, articles on the health benefits of coffee, but you really have to read this one as well. I feel you will find it inspiring as I have.
This is a re-post. It went missing and was bringing up 404′s. I just moved it and updated the timestamp so it would show.
Cherry Vanilla Frappé
Ingredients:

1 cup fresh-brewed coffee
3 large scoops Vanilla Bean ice cream
4 tbsp cherry syrup or 1 cup maraschino cherries
2 tbsp. sugar
1 cup ice cubes
Instructions:

Blend ice cream, sugar and syrup (or cherries) until just blended. Add the coffee and ice cubes (at the same time) and blend on highest speed until ice is finely crushed and mixture is well blended. Pour into glasses and top with whipped cream and a cherry. Top with vanilla sprinkles you can purchase from a quality coffee supply shop. (makes four servings)
Tip: if you will used chilled glasses, it will enhance the Frappé!

© An original coffee recipe from coffeesage.com
Put a new twist on all the traditional winter cocktails. 75 recipes to entertain your small dinner parties or large group soirees.

Flaming Coffees
Mulled wines & Ciders
Stylish cocktails
Popular liqueurs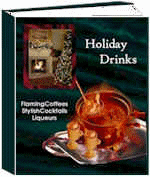 I found this 'e-book' on some holiday recipes that includes coffee type recipes as well. I thought it looked interesting and maybe you will too! The cost is $3 per download. Remember, this is an e-book and not a hardcover. To see examples and/or to order: Click Here!
Ok… I stumbled onto this blog this morning. I get google alerts on specific subject matter in my e-mail one of which is 'coffee blogs'. I discovered a cool blog this morning called Potter's Blog. The guy was faced with the decision on whether to go with a new coffee-maker with grinder or keep the one he has made. You really must go by and see this guys pottery work. Adorable! Tea pots, coffee pots, plates, and so on. What I found to be notable is the handy sculpture he includes on his pottery work. Cute little animals. awww… give him a visit, will ya?
Audrey's Holiday Peppermint Mocha
1 espresso shot
1 square (1 oz.) BAKER'S Semi-Sweet Baking Chocolate
1/2 tsp. x-fine sugar is desired… taste first for sweetness
3/4 cup steamed or hot half and half
1/2 tsp. peppermint syrup.
note: do not use extract if you do not have to. It is too bitter and leaves a horrible after taste
1 peppermint stick
POUR espresso into small saucepan. Add chocolate; cook on low heat 5 min. or until chocolate is melted, stirring occasionally.
Add half and half, peppermint syrup and stir until well blended. Garnish each serving with a peppermint stick.
I compiled a list on an Amazon Store of items you need to make your holiday drinks and recipes I've included on here. I hope it will make it easier for you to find those pumpkin and egg nog items. Here is the link:
HAPPY HOLIDAYS
Check all my coffee and coffee product reviews
Thank you to Coffee-Snob.com for the opportunity to test their new cold drip coffee maker. It was fun and the coffee is great!

To the right you can see the unique cold drip coffee maker that is offered through coffee-snob.com . It is a really unique coffee maker and can prove to be an asset in the storage of fresh brewed coffee. What do I mean by that? Let me tell you:
First and foremost, coffee is brewed using the obvious "cold drip" method. All that is required is ice, fine ground coffee beans (my own preference), a bit of water, and about 6 hours to get it from the ice to the pot. Cold Drip produces a nice rich concentrate that can be stored up to 2 weeks in the refrigerator (right in the carafe) and brewing your coffee with cold water eliminates the undesirable oils and acids found in hot-brewed coffee that are not extracted at low temperatures.
A great read over at fivecentnickel.com for the beginner to blog carnivals. I pretty much participate in the carnival of the recipes when I can. And I know I was a bit confused at first when I tried submitting. This is a thorough and detailed guide on how to do it. Give it a read.