This review will not be difficult. I had a letter sitting in the inbox asking if I'd like to try Bubble Chocolate and review it. Sure! I'd like to do that but I got a lot more than I expected once I opened that wrapper.
This is the first aerated chocolate to be marketed in the USA
The thing is the bubbles. Hundreds of bubbles. Big ones and tiny ones with loads of flavor bursting from them.
Quote from Bubble Chocolate's website:
Since their standout debut at the Candy Expo in Chicago this past June, Bubble Chocolate bars are fast becoming the new taste sensation spanning both coasts. These delightfully tempting bars appeared on a Today Show segment in NYC in July, and are being prominently featured in celebrity gift bags across Los Angeles.
First off, I got three bars. Dark Chocolate, Milk Chocolate and yum, yum…. Coffee Milk Chocolate! Oh yeah…. that is good.
I've never tasted anything quite like Bubble Chocolate. It very light and airy and the texture is what I can only describe as 'tender and bubbly'.
The chocolate tastes of quality and richness and however they made the bubble effect is certainly a plus in my little area of the chocolate loving world. It makes for a most delicate and tasteful experience. Caution: you can not stop with eating only one square. You must and will eat the entire bar. You just can't help it!
Flavors:
Milk Chocolate: Very smooth and genuine. I would rank it with Godiva or something similar. Honestly.
Dark Chocolate: Rich, creamy, and sinful. My favorite really. I could make myself sick if I had enough on hand to eat. I just would not be able to stop until there is no more.
Coffee Milk Chocolate: I like this in the morning with a nice cup of coffee. They go well together. The hint of coffee flavor is not overbearing and tastes natural. This would probably be great for an after dinner chocolate as well. *drool*
Bubbly Milk Chocolate: Made with cocoa butter, milk powder, cocoa mass and lecithin to give just the right Bubblyâ"¢ combination and soft milk flavor appealing to youngsters and adults alike.

Bubbly Dark Chocolate: 60% Dark goes with the trend in high percentage cacao solids, offering rich bites of snappy deep, dark chocolate, with smooth after-flavor resonance.

Bubbly Coffee Milk Chocolate: Filled with coffee, and coffee flavor, perks with a sophisticated taste and aerated texture.
My recommendation for Bubble Chocolate is high. It is a pleasant and unique experience and sure to be on your list of must have's on a regular basis.
Christmas Coffee
1/2 pot of coffee (5-6 cup equivalent)
1/3 cup sugar (use a very fine granule)
1/2 package semi-sweet bakers chocolate (melted)
1/8 teaspoon cinnamon
1/8 teaspoon nutmeg
whipping cream for topping (optional)
5-6 candy canes (optional)
Prepare your coffee.
In a medium sauce pan, melt chocolate. Add sugar, nutmeg, cocoa, and cinnamon. Stir constantly until steaming.
Combine coffee and chocolate spice mix. Pour into medium size coffee mugs and top with whipped cream. For added appeal, stick a candy cane in the cup of yummy liquid.
Note: You may want to adjust the amount of your spices. Different tastes for different folks, you know.
Have a Merry Christmas!
Other Holiday Treat Recipes:
Audrey's Holiday Peppermint Mocha
Pumpkin Spice Latte
12.11.06-UPDATE: After further testing, I've come to the conclusion that I may need to toss my other coffee makers. Once you get the hang of the Aerobie, AeroPress Coffee Maker, you may never want to use anything else. The coffee is rich, smooth, bitter-free, and wonderful! It is all in what is right for you and after playing with it, testing different amounts of coffee, water levels, and how long I stir the water and grounds before I plunge it down, I've discovered that it really is the best and freshest cup.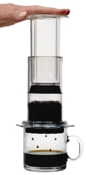 The AeroPress Coffee & Espresso Maker by Aerobie is not a french press! I want to say that it is in fact a single serve coffee maker but actually, I can make several cups with it. It will just depend on how much fine grind you use and how much water. You can make a single cup.
To be prepared to use the AeroPress Espresso Coffee Maker
The finer the grind (espresso would be best), the better you coffee is going to be. I tried a regular grind and the press did well, but it did so much better once I put espresso in it.

Using the press is as simple as can be. Your pot is your large mug. You can make enough coffee for that mug or fill it up and have enough for several cups. Everything else you need to make a fine cup is included in the kit. See image to the right. There is a plunger that you will use to press the air through the tube in able to force the water down. The water will be pushed through the filter and the grounds will remain in the tube. I've used the device several times now and have not once had any grounds in my cup.
To set it up, just place a filter in the bottom of the Aeropress then using the handy scoop included, place a scoop of coffee (one for one cup) in tube (or chamber). You can do this before or after placing it on top your coffee mug. Once you've done that, pour in the amount of hot water you wish to use. Use the stirrer that is included to mix the grounds and water. Stir that for about 10 to 20 seconds. Once you have that the way you feel you want it, place the plunger (or press) ontop the chamber and push. Be careful! Don't tip your mug over. You will find a lot of pressure present. You can elect to push the air through quickly or slower. The slower the better for a richer cup or espresso shot.
If you use one scoop and only want one cup of coffee, just add enough coffee and the amount of water needed to fill your mug. Otherwise, use more coffee and make as much espresso as you'd like. This press make a fabulous Americano. You will notice the lack of bitterness in this cup of coffee.
Normally, if I found I site that peddles coffee items that I enjoyed seeing, I'd just list it in my links but I really had a visual epiphany when I saw these particular tampers. Stop by and give them a look. The Pullman Tamper. It's a thing of beauty!
As I've mentioned before, I subscribe to google alerts, one of the subjects being 'coffee blogs' and this morning this was included in my email results:
A weblog called The Positivity Blog has inserted a post called 9 lessons I have learned from George Costanza. A must read. It is witty and strangely related to many areas of life. Give it a read. Here is the area there caught my eye:
Sometimes coffee isn´t coffee

In one hilarious scene (episode "The Phone Message") George and a woman is at the end of a date. It´s midnight and they are sitting in his car.

She: Do you want come upstairs for a cup of coffee?
George: No thanks, if I drink coffee this late at night, it keeps me up.
She: Well, ok, good night…
George: Take it easy.

End of date.

Sometimes a cup of coffee isn´t a cup of coffee. As mentioned earlier in 18 ways to improve your body-language, words is only a small part of communication. Being open to using common-sense and experience and not just listening to words in a straightforward, logical fashion can help you improve your communication skills. And prevent situations where a bad time is had by all.
Thanks to The Positivity Blog for the laugh this morning and the quote.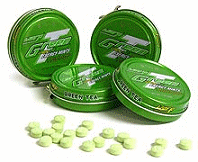 Look at that tin! Isn't that adorable? It looks like a shoe-polish tin. It even has the twist opener. That is neat. But are the mints just as neat? Yes, they are!
Warp Green-T Mints has an energizing blend of Green Tea, Ginseng, and Guarana. Much like the original Warp Mints forumla.
What is Guarana? It is a shrub or small tree in the Sapindaceae family, native to Venezuela and northern Brazil. The seed of the Guaraná fruit is a central nervous system stimulant with thermogenic and diuretic properties. Wikipedia version
Ginseng? Ginseng appears to have different origins and meanings. According to the wiki, there seems to be some dispute over the accuracy of the article provided. Decide for yourself by visiting it at: Wikipedia's version on Ginseng.
All I know is, it seems to work. Small scale anyway. The effect doesn't last long but we probably didn't expect it too either. They are quite tasty and pretty to look at. Warp Green-T combines the tart flavor of lemon-lime citrus, with the brisk taste of green tea. The taste is not sour yet not too sweet either.
You get about sixty mints per tin and are about average to other mints in the suck zone. 'your mouth'.
You can find Warp Mints at several places. Target, Hastings, EZ-Mart, 7-11, GNC, and many other places. The cost varies but usually around $2 bucks. Look for them and buy them. Try em and get a buzz.
I like them!
Reviewing… hopefully the end of this week or the beginning of next week:
Don't they sound just yummy?
coming today:
Review on Warpmints (website is in flash)
These are green tea mints.