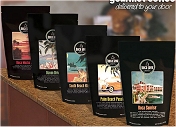 It has been my pleasure to grind and taste a bit of Boca Java's great blend called Boca Sunrise and a fine Columbian they call Cool Breeze Columbian. Both are terrific and since it is roasted to order, makes it all the more special.
This past winter I ordered a white hot chocolate from them named White Mocha Blizzard. I fell in love with this rich and creamy dream and knew I must be in for a treat with the coffee they were going to send me.
It's all about caffeine. Stop by and visit Energy Fiend, my new, cool find on any thing caffeinated. Great blog!
Next up on the review schedule is: Boca Java and CafeVivo! Please stay tuned. We've had the weather boy and I'm way behind.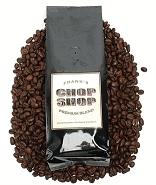 Frank's Chop Shop Premium Blend is roasted exclusively for Frank151 by Caffe Vita.
Frank's Chop Shop is a barber shop in New York City. Quoting their by-line: A barber shop for the modern gentleman of leisure (by appointment only). But, if you want the coffee or any other goodies, you must visit the site Frank151. Click on the store image on the left bar. Frank151 is a magazine of art. He sent a few magazines and I really enjoyed thumbing through them. They are unique and different. But! I'm here to review the coffee basically.
Frank's Chop Shop Premium Blend

This bean is a medium-dark roast with a nutty undertone attached. You can taste the roast and it finishes clean. I do not know how long it had been since the beans were roasted but the bag was fresh and the coffee was agreeable. I enjoyed it.
I was also able to sample a limited edition cookies and cream chocolate bar in addition to the coffee. It is named Stay High 149. Odd, huh? The bar was good but I think it is more about the fact that each bar is autographed by Stay High 149 himself. Stay High 149 is a legendary street artist. Be sure to stop by and check it out.
I enjoyed my experience Aaron and thank you for sending along the coffee and chocolate. A good sip of coffee and interesting read.
Visit Frank151 by clicking the name. It is original and distinct.
Christopher Bean Donates $80,000 of Gourmet & Flavored Coffee
Summary: A miss timed order from Americas fastest growing premium coffee company to Safeway grocers has been turned into an opportunity to help our Military, Firefighters and the Homeless.
Daytona Beach, Florida – June 22, 2007 – Beginning this week Firefighters in Phoenix and Houston, the homeless in Denver and the men and women of the Texas National Guard and their families through the Fort Worth Naval Air Station will begin receiving coffee donated by Christopher Bean Coffee Company. Over 10,000, 12 oz. bags of gourmet coffee were in a 4 Safeway grocery warehouses across the country for the introduction of Christopher Bean Coffee in Safeway, Tom Thumb and Randall's grocery stores.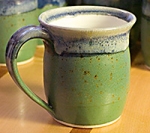 Once in a while I get the honorable job of reviewing something other than coffee or coffee makers. I do try to stay within the coffee/tea/chocolate related field though. Today I have the pleasure to review a fantastic website called Mug Revolution and handmade mugs.
These mugs are handmade in Bend, Oregon by a fantastic potter by the name of Owen Dearing. He has been hand crafting (wheel-thrown?) these works of beauty since 1990.
Here is the blurb about a Northern Lites Cooler giveaway today. Better hurry people! I wish I had a Caribou Coffee shop near me.

I just got this yesterday or would have posted it sooner.
Caribou coffee kicks off summer with FREE NORTHERN LITE COOLERS
Stayed tuned for reviews on Cafe Vivo, Frank's Chop Shop, Boca Java, and Mug Revolution!
Price range explained:
$= 4. – 6.
$$= 7. -12.
$$$=anything above 12.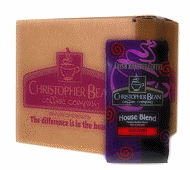 It is certainly my pleasure to review this marvelous company and the coffees that I've tried and favored. Christopher Bean sent me these roasts in the 12 ounce size bags to try out:
Blues Roast French Roast
Estate Java Government
House Blend
Jamaica Me Crazy (Wild and Exciting!)
Fudge Nut Brownie (under review and posting at a later date)
I am here to review their coffee but wanted to say a few words about their website as well. I love their site. It is very easy to navigate and you do not get lost trying to find anything in particular. The sidebar clearly guides you to any area on the site and the layout and color scheme is easy on the eyes and tastefully created. I also want to mention Christopher Bean's 'Bean Bucks' incentive. Each bag of Christopher Bean coffee has a 'Bean Buck' on the bottom of the bag. Each buck is worth…. you guessed it! A Buck. You can trade them in for more wonderful coffee or merchandise. So, get to drinking and saving those 'Bean Bucks'.
Christopher Bean offers you a 100% money back guarantee on all their coffees. A quote from the website:
We guarantee you will be 100% pleased with your Christopher Bean Coffee , or we will refund your money 100%.
Fact is, I have not tried the Fudge Brownie yet but will add my findings to this review a bit later.
Please carry onto the next page for review on the coffees…..
This morning, I found this post on The Inspired Protagonist :
And I quote:
Science Man, is it true that the greatest release of carbon with regards to my morning coffee is due to the process of heating the water? How can I still be green with this addiction?
I don't know but it would seem to me that we can tend to go a bit over-board. But then again, I also quote:
Even in comparison to the carbon released in transporting coffee, heating the water for and keeping the coffee hot attributes to a much greater release of carbon.
Good Grief Charlie Brown… that is disturbing. I have to have hot coffee damn it. What are your thoughts on the "Green Addiction" ?
Just a note to let you know I will be changing (ever so slightly) the way I review coffees and it's related objects of love. I have several reviews in the works to which a couple should find their way on blog in the next couple days. I will be formatting the review with a bit more care and adding a scale of like/dislike. I can no longer weigh my tastes in a love/hate fashion. Sometimes I don't 'love' it, but I do like it a lot or I don't 'hate' it but it isn't my favorite bean in the grinder either. You see? So, I hope you will find my new way of reviewing to be a bit more, shall we say, 'organized'.