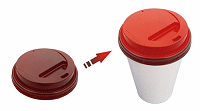 This is pretty awesome. I'll bet McDonalds wishes they had these back when that old woman sued them for hot coffee.
Not only do these lids change color to bright red when the beverage is hot there is also a sealing indicator that shows whether or not the lid is securely attached properly to the cup. It will be red while securing it and until the entire rim is brown, the lid is not secure. I know when coffee or whatever is hot but I would like to see coffee shops use these if for no other reason to let me know they put that lid on tight!
I thought I would try to get in some new links every week or so by finding sites that you may or may not have seen before. I'll call it quick links. This will be the first entry. Enjoy!
Non-Coffee site but really cool:
Chocolate and Zucchini What can I say? This place has some wonderful (not some but LOTS) recipes and articles. Well worth your time to visit.
Coffee Fool:
Truth on Fresh: Oh I am sorry. What did I do? Ever since putting The Coffee Fool online, I have been beaten regularly by customers for clueing them into the secret on 'fresh' coffee.
Coffee and Conservation
Resources on the coffee and habitat connection. For the conscientious consumer
How to Brew Beer in a Coffee Pot
Hmm… brewing beer in a coffee pot. I found this to be rather interesting. Check it out!
Thought I would share a little tip with you. In order to relieve puffiness, make fine lines appear smaller, (some times even big lines), and give my face an over-all pick-me-up, I sometimes coat my face in home-made coffee masks and make caffeinated astringents.
You can exfoliate with espresso-ground coffee beans by mixing (this is how I do it) them with a bit of Noxema or other non-greasy face cleanser. You can also mix very strong brewed (cooled) coffee with alcohol and use as an astringent that will actually perk you up!
It is possible that coffee can protect against sun damage as well. Caffeine dehydrates fat cells and acts as a mild diuretic. It can be put into eye gels as a vasoconstrictor, to temporarily tighten skin and diminish dark circles. Some eye gels actually have caffeine already in them.
Caffeine also acts as an antioxidant to the skin. Not to shabby for a bean.
Try it out. Report back with your thoughts. Personally, I love having coffee all over me. lol
It looks as though Starbucks and SNL will be uniting to sell 'exclusively' to the public, the SNL 06/07 DVD set. *I yawn* For who knows how long, Starbucks will be the only place to buy this DVD set.
This will be the first time NBC Universal Television Distribution has created and marketed an exclusive release for a retailer. Before you know it, Starbucks will be selling tires.

I will be surprised if this one works out. Nothing else has. They should stick with what they've always done. Coffee. Why keep trying to muck things up?
Just a note to let my readers know that I have started a new blog for electronic gadgets and oddities. It is new so there isn't much yet and I am but one person that can find time to write. You can check it out here –> Geekie Gadgets
Thanks!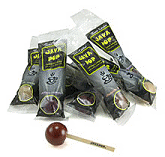 Nothing could be finer than a Javapop first thing after a nap. I could never give up my coffee or espresso first thing in the morning but these Javapops are just the thing when you hit a low and need a quick boost or just having a sweet tooth craving.
Javapops are available in 5 flavors for adults: French Vanilla, Chocolate Almond, Irish Cream, Cappuccino, and Chocolate Raspberry. For adults? Yes, they are caffeinated and one must wonder if they should be giving their kiddo's adult candy. Maybe a teen but no toddlers should be licking on these.

First of all let me thank The Roasterie for including the pretty logo espresso cup and saucer with the fabulous beans they sent to me. Believe it or not after all these years and many, many cups of espresso later I never had any good cups for my shots. I guess I never took the time. Well, it had not been more than a few days before they sent this one that I was thinking of starting a collections of them. Behold! My first one to start my collection off with. I sort of believe that you bring to you what is strongly on your mind. The cup is good looking and I am very proud of it. Thank you Lindsey!

First of all, I'd like to thank CafeVivo for the most generous portions of beans they sent for me to taste and review. Full pound bags is most unusual these days and I appreciate it very much. Often, I may like or dislike a coffee initially but over time may find something either positive or negative that changes my mind in either direction. I drink more than most can even imagine and I am a healthy, nearly 50 yr. old woman. Not that I claim to be 'old' but I certainly am no spring chicken. Or summer chicken. Hmm.. do they have those? Oh well, on to the review.
CafeVivo sent me a bag of Golden Sumatra and a bag of Ethiopia Sidamo. My goodness! Yes, this has been a delightful experience for me. I so enjoyed both beans and long for more. I was especially partial to the Ethiopian. It was so delicious and hearty. I wish I could say it was satisfying but I can not. Ha! Not a bad thing. I just keep wanting more and more. How can I stay satisfied with something so good? Please, let me have no 'last drop' in my cup. These beans are roasted per order and arrive fresh and ready to be enjoyed.
Please read more to get to the individual reviews….
Read more