Out of these 3 super-caffeinated coffees, I still LOVE Shock Coffee the most! But for your reading pleasure, I will certainly mention the other two so that you too can rev-up your heart rate and suffer heart palpitations. (hmm… did I spell that correctly?)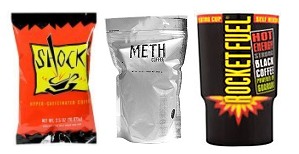 1. Shock Coffee
2. Rocket Fuel Coffee
3. Meth Coffee
If you are looking for a quick jolt then these are the one's for you. I've tried all three and they all play their role well. Shock Coffee does seem to have the richest and freshest roasted flavor though and obviously that makes it more enjoyable but if you're just after the caffeine, all will work just fine.
Okay, how about maybe staying sharp and less clouded in your thoughts than your husband? Research shows drinking 3 cups of coffee or even tea can help older women stay ontop of the thinking game. Keeps you sharp and helps ward off the dullness of old age thinking. Hmm.. but this doesn't seem to work for men. I guess their caffeine-o-meter is broken.
Seriously, it just may be that:
"Men and women metabolize caffeine differently or that there is a hormonal interaction,"
Quoted from The Chicago Tribune on the Caffeine story You can visit and read all the particulars.
As for me and my feeble old mind, we will continue to scarf down more than the daily required intake of caffeine.

I feel the need to mention a few things about this coffee blog and how it operates.
First off, the only revenue that I get is that from Text Link Ads and the Google Adsense that I show and that is not a whole heck of a lot. I do not charge to review your coffee or coffee related products. This is the main reason that I require full size coffee when you send it for review. Please do not send me tiny samples to review. How can one test and test again when you are looking at a one cup sample?
I ask for beans rather the pre-ground. You just can not expect a great assessment from pre-ground coffee, though I have had some in the past to be quite excellent. The odds are against you.
I plan to put a donation type button up soon. I encourage you to use it if you are looking for a way to reward or thank me.
As for any coffee related freebies or samples that I list: I do not send these myself. Do not e-mail asking me to. You must visit the links I provide to sign up for a free sample or freebie.
Alright, that being said, I hope you have a great day and I thank you from my heart for all your readership. You all are the best!
youtube coffee clips
Did you watch this clip? If you did, why not stop in the comment area and say howdy!
I couldn't help but post this. I love it. It is a Star Trek version of a coffee house. ha! Enjoy
Seems that Folgers has taken Maxwell House to court over their coffee container. Folgers say Maxwell House has played copycat and fashioned their blue plastic container after their original designed red coffee container. Ha ha! I reckon they did since I know Folgers was the first on the market with the red can. Guess they will be seeing you in court Max.
Read about this story at : Wall Street Journal (coffee container wars) or at Advertising Age
Ok, so I do think it is just a little bit humorous.
CRAP! I just totally screwed up my theme template. Please ignore any odd themes until I get my back online. Sorry peeps! I will have it done today. I don't know…. maybe it is time for a new look? The old one has been around for near three years. Getting sort of boring.
I read that Wal*Mart has now enabled the site to accept real-time reviews/opinions on all their online products. I guess if they sell it, you can review it. I am going to leave a link to their coffeemaker page and you can go from there. Leave an opinion, let us all know what you thought of a coffee gadget you purchased through Wal*Mart. We want to know!
Seems as though many merchant sites are doing this. eBay included. I think it is just good business sense.
Here's the link:
Wal-Mart Product Review/Opinion Link See what Wal-Mart customers are saying about their selection of products!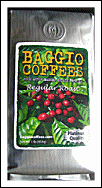 I recently tried out a couple of coffees from Baggio I had the Italian Espresso Roast and their Gourmet Blend.
I will not be able to give you an exact test result about the coffees as sample sizes were sent of pre-ground coffee. One can hardly ever give a fair assessment on pre-ground but I will try.
On the follow link is a list of (2) most recent coffeemaker recalls from both Atico International USA Inc. and Gevalia. I've included a description from recalls dating July 18th 2007 and March 14th 2007. Hope you didn't have one of the mentioned units and if so, please try to discard them or return them for a refund or safe replacement.
I wanted to 'lightly' touch on a subject about coffee beans and normally I would not bother except I was reading on another blog some place and they commented that after much research they have concluded Robusta to be superior to Arabica. What could be going through this person's mind? Where did this person do his/her research? Maxwell House? Ok, that was a cheap shot but they do use Robusta, thus the cheaper prices. Right?
For those who do not know, Robusta is of lower quality. I know it sounds as if it should be better but it just is not. There is more caffeine in Robusta but when comparing oil, sugars, etc, Arabica wins out every time. I have heard tell that anybody who has ever had good Vietnamese Robusta will never go back. I doubt that really.
I guess that I am partial because there are many people who enjoy Robusta over Arabica, but any expert will tell you that Robusta tends to have a burnt rubber taste and over-all cheapness about it. Oh well, my rant is over. I just had to get that off my cup. I'll spell check later on. It's bed time. Good night.
They are doing it again! Follow the link at the end of this post and you will fill out a short survey and have a chance to get a FREE Senseo Coffee Pod System. Included will be:
Senseo® Single Serve Coffee Pod System
Bag of Senseo® gourmet coffee pods
Senseo® Coffee Pod Canister for easy pod storage and long-lasting freshness
5 $20-off Senseo® coffee machine cards to share with friends and family
Go ahead and do it. This will be my second one and they send you out a letter each time they have something new for you to try out.
Link: Senseo Single Serve Coffee Pod System
Let me know if that link is not working.