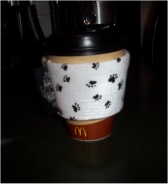 Joe's Coffee Collars is one of the best ideas I've seen in a while. Though my photo leaves something to be desired, the little insulated cup hugger does not.
They come in assorted colors and designs (though I am not sure you can get this particular one now) and fit a cup ranging from small to large. Your standard tall, Grande, and Venti Starbuck's models. Such names for cup sizes!
Anyway, these nifty, re-usable, insulated cup sleeves are made in Alaska and are state of the art insulate that keeps a beverage warmer, longer than neoprene. I can honestly testify to that. I love them!
They are trendy, attractive, and make a great conversation item. I would agree that these are enviromental safe since they are re-usable time after time. They do hold their shape.
Stop by Joe's and give them a peak. They are reasonable at $5.99 each with free shipping in the U.S. You can also buy wholesale. I'll bet you love them too!
I've been down for a while. You could read but I could not publish. After toil and trouble though, I've fixed it (on my own no less) and can now publish. I have a couple of pending reviews to publish (see links in upcoming reviews above) and then…. I am 'yet again' changing the layout. I am having a fit trying to find something functional yet satisfying for my theme. Plus, I need to upgrade my blog software. That could be a disaster. lol Hang in there!

I went in search of some coupon codes for coffee and found more than I bargained for. While searching I found a 10% off coupon for Home Depot which I needed. My fridge went out tonight! Then I noticed they were having a contest to win a Wii. OMGosh! I am saving to get my son one for Christmas and I thought to myself, wouldn't it be wonderful to win this? So…..
Long story short, I forgot what I went for, found what I needed more and stumbled onto a chance for a big Christmas wish all at Every Body Loves Coupons. And this IS a true story. I did not make this up. Great place and friendly folk. Stop in for a visit.
There's a new kid on the block and it is certainly brand new. They will give you a $25 dollar sign-up bonus and claim their ads are better than others. They have an impressive client network of advertisers
WIDGET BUCKS HAS BEEN BANNED BY GOOGLE
Click on the image above to check them out. I am going to try it. I hope they run coffee related ads too!

Let try them out and see how they look ( see ad unit at top of blog page)
Not too bad, huh? And they can either crawl your page to get an idea of the type of ads to run or you can pick from categories. They also have different size ad units. Give them a try!