I did one of these once but only a couple of these are on the previous list. I hope you enjoy it and get a chuckle from them.
1. You grind your coffee beans in your mouth.
2. You sleep with your eyes open.
3. You have to watch videos in fast-forward.
4. The only time you're standing still is during an earthquake.
5. You can take a picture of yourself from ten feet away without using the timer.
6. You've worn out your third pair of tennis shoes this week.
7. Your eyes stay open when you sneeze.
8. You chew on other people's fingernails.
9. The nurse needs a scientific calculator to take your pulse.
10. You're so jittery that people use your hands to blend their margaritas.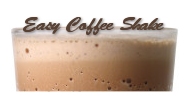 Making a coffee milkshake from the bare essentials is a breeze and very tasty too! Just follow these simple instructions and you can enjoy a yummy coffee shake.
Place two scoops of vanilla ice cream in a blender. Add 1/4 to 1/2 cup milk and 1/4 teaspoon vanilla. Then add 1 rounded teaspoon instant (dark) coffee. Blend to suit. Add or take away the amount of milk. It just depends on how thick you like it. There you have it! A great coffee milk shake fit for a queen. Can't get any easier than this. Unless you buy ready made coffee ice cream but obviously, this is something to do in a pinch. Enjoy!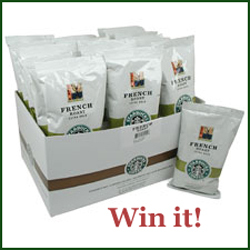 I am guessing that it will be French Roast since that is what they have pictured. Here is the ENTRY FORM
They say:
Enter to win a a case of 72 2.5 oz packages of Starbucks Coffee!! You don't want to miss this unheard of opportunity to get FREE Starbucks coffee!! Give it a try and tell your friends! Each convenient portion pack is pre-measured to brew one pot of coffee, and you can win 72, $151.80 worth of coffee!!
So, stop on by. You never know, you may win!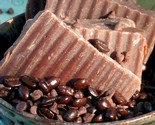 Well, I've used chocolate shampoo and chocolate soap but this was my first for coffee soap. Don't taste it! It is bad! Just kidding. I didn't taste it but I certainly did shower with it and have it by my sink for hand washing too.
Daisycake Soaps sent me a few to try and a lip balm that is coffee flavored as well.
The soaps produced a good lather and left my hands feeling clean and fresh. The scent is quite close to that of coffee with chocolate and the Turkish Mocha Soap was just a yummy. I would purchase them even if I had not got them free for review. I like em!
The lip balm had a good taste and went on with a silk appeal. However, I did not feel it had enough staying power. Maybe it wasn't suppose to have. I still liked it though.
I recommend trying the soaps. They are reasonable in price $2.75 and they last an acceptable amount of time.
Coffee Sage has been featured as the site of the day on It's My News. Stop by and give it a look. Thank you for the feature John.
Next review coming tonight:
Can you eat coffee soap? I wouldn't advise it but it sure can make you smell good. A review on coffee soap coming up next.