Easy Coffee Milkshake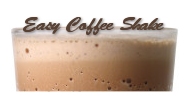 Making a coffee milkshake from the bare essentials is a breeze and very tasty too! Just follow these simple instructions and you can enjoy a yummy coffee shake.
Place two scoops of vanilla ice cream in a blender. Add 1/4 to 1/2 cup milk and 1/4 teaspoon vanilla. Then add 1 rounded teaspoon instant (dark) coffee. Blend to suit. Add or take away the amount of milk. It just depends on how thick you like it. There you have it! A great coffee milk shake fit for a queen. Can't get any easier than this. Unless you buy ready made coffee ice cream but obviously, this is something to do in a pinch. Enjoy!
Comments