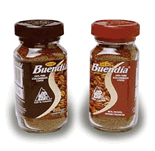 Loving coffee the way I do I can say that I've never been a fan of instant coffee, ever. I've also never had a mind to review any. But here I am, going against the grain about to do just that. I got an email from a very nice gentleman asking if I would be interested in reviewing this Buendia Coffee. As I go back and access the situation, I swear I did not catch the words "freeze dried" or "instant" the first time around but certainly do see it as I re-read the email. Had I really paid attention the way I usually do and had noticed those certain words, I would have probably turned the review down. I sure am glad that I played the dummy that day. I would have never known…..
First off let me thank Rodney for the most generous amount of coffees he sent to me. There are not that many who make the extra effort to please. I appreciate all that I get since I do not charge $$ to review a coffee product. Other than product, my reviews are freebies.
I received the shipment and spent several minutes getting into the box. ( what a well packed box ) I opened it and gasped as I saw that it was "instant coffee". I thought, well ok, I said I'd review it so I will do just that. I put a cup of water in the microwave and set it at 2 minutes until it was bubbling. I added a well rounded teaspoon of the freeze dried substance and stirred. Oh my! What's this? A pleasant aroma? I was stunned to say the least. I inhaled that for a bit and then sipped. ahhhh… reading the lable again…. freeze dried coffee…. yep, that's what it says. But the taste is far off from that description.
It took me a while to figure out why this instant coffee tasted so much like fresh ground coffee beans but it finally came to me. It is the beans! Most instant coffees are made from the bottom of the barrel coffee bean, Robusto coffee beans. That is why you can that bad after taste and quite frankly, any coffee instant or otherwise made from Robusto, is just bad coffee, period. Buendia Coffee is made from high quality Arabica beans. It is 100% pure Colombian and carries with it, the Colombian seal. You know, that Juan Valdez stamp.

It is absolutely delicious and I have nearly polished off one jar of it already. It does have the nice rich aroma, and bold Colombian bean taste. It is well worth checking out if you are looking for a quick coffee fix or a perfect after dinner coffee. Love it!
You can get the same great coffee in the Decaf version for all you coffee drinkers who don't want to drink "real coffee". Ok, I'm biased, I admit.
I have one canister of Cafe Buendia Organic which comes to DINAS Corp direct from the coffee growers. An equally delightful freeze dried instant coffee. Drink it and help the growers.
Included were three flavored type instant coffees of the same origin. Amaretto, Irish Cream, and Hazelnut. Since I am not a large fan of any flavored coffee and did not feel I could be objective, I brought in a third party to try these out and give a report to me. Now, mind you, I've never heard of a flavored freeze dried coffee but there they were and according to Jason, my son, they are very flavorful and do a good job at being each flavor. I do know this, they smell wonderful. I wish they were a candle.

My son has reached the bottom of the jar on one (the hazelnut) and is working his way through the others. He truly has enjoyed them all.
With my shipment came a couple of candies that I would like to rave about. As with the coffee, I have never heard of the brand but am pleasantly surprised by what I tasted.
I got Coffee Delight and Cafe Gurme (gourmet) candy. Both are lovely products.
The Coffee Delight has a mild hint of coffee and cream in the shape of a bean. It is rich and creamy and long lasting. No bad film left in your mouth. Just all around pleasant. A very nice treat. Made with Colombian coffee!
The Cafe Gurme candy is still a coffee type candy but has a caramel background. Very yummy and creamy. I highly recommend both candies. Great snack, or after dinner treat. Both candies come wrapped in an attractive gold foil wrapper. Both are products of Colombia. Awesome!
You can find these coffees and candy's by visiting DINAS Corp where they deal in a few other categories than just coffee. Check them out and see what you think. They are very nice people. Helpful and willing to please. I recommend them.
If you want more in-depth information on Buendia Coffees, visit the growers website: Buendia Coffee. This site is packed with info about the coffee, it's growers, and manufactures.
I've used the keyword "coffee" in the new widget by eBay. I posted it at the end of posts. It will list coffee related items in it or you can search it. Check it out!
We are included in this weeks recipe blog carnival. Stop by and give My Readable Feast a visit. There are some wonderful recipes going on there!
Isn't this pretty? I found this on Amazon while looking for a jar. I think it is just lovely and would maker a perfect place for our coffee. It holds 10 ounces. Hmm… I would like for it to be larger but oh-well, guess it would work well enough.
Exotic Island Coconut Freeze
* 2 tb Coco Lopez Cream of Coconut

* 1/2 cup half and half or whole milk (Silk vanilla flavor works well for those who do not drink milk)
* 1 tsp Hershy's Special Dark
or Ghirardelli Dark Chocolate Syrup

* 2 shots espresso
* 1 tb sugar
* 1/8 tsp banana flavoring
if wanted (just adds a hint of banana and is actually very good)
* pinch of shredded coconut
* 1 cup ice
Quite Simple Directions:
Be sure to let espresso cool before putting it into the blender. All ingredients will be placed into the blender and blended until smooth. Pour into a tall glass and top with whipped cream if desired. Also, drizzle dark chocolate for an added delight. Don't forget to sprinkle the coconut shaves on top. Very simple recipe that is absolutely dreamy and delicious!
Note about product links: I only include links to products for my recipes that I find to be superior to any other. On the cream of coconut… you can get a less expensive brand but you're going to know it once you taste it. Sort-of kills the fantastic flavor of this fine coffee drink.
You may substitute the espresso with 1/4 cup extremely strong coffee or 1 tb dark roast instant coffe though you will not get the premium flavor with the substitutions.
An original © 2008 recipe by: Audrey the Coffee Sage
I stumbled across a blog today that had a little story about coffee on it. Well, I would say it is a little bit more than just coffee. A bit of wisdom, humor, and unfortunately about putting on the dog when we already have what we need. Check it:
Life as a Coffee … I found this at: Amazing Posts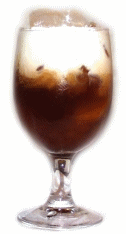 I found this recipe for Thai Iced Coffee over at : CoffeeRecipes.com and though I have not tried it, I found it to sound very interesting. Maybe you will be able to try it before I do. Isn't the photo pretty? Evidently the espresso was poured first in the image. Lovely drink.

Thai Iced Coffee
* In a tall, slender high ball glass add crushed ice (about 1/3 of the way).
* In a separate glass, fill with 2 oz sweetened condensed milk.
* Pour 2-3 oz cold espresso (depending upon strength you like) over the sweeten condensed milk (coffee sits on the top as a layer).
* Stir with a spoon until well blended.
* Pour over the ice in the other glass.
Think about adding vanilla or some other flavoring such as cinnamon for a different spin.
You should make the espresso long enough ahead so that it has cooled. Place it in the fridge the day before if you'd like.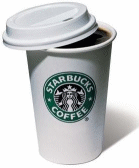 I always figured the price I paid at the store was not much higher than that which a large coffee selling company would pay. Sure … it's not. Wrong.
Here is an example:
Starbucks reported paying a higher price per pound in 2007 compared to the year before. A penny more per pound. So… I guess that can add up considering how much they sell. But… what did they pay per pound?
Starbucks bought 352 million pounds of coffee in fiscal 2007, according to its report. That's up from 294 million pounds in 2006.
Starbucks paid an average price of $1.43 a pound for coffee in fiscal 2007!
I would love to go to the store and pay that. Good grief! I don't know but that appears to be a pretty wide profit margin considering what they charge for a cup and that we are paying nearly $4 a pound. You think?
Note: Even though they are up $48mil in poundage from the year before, they are still needing to close down shops due to profit loss.
Starbucks says: We pay $1.43 a pound, we sell it back to you for $10 a pound! hmmm….
# The average customer spends $4.05 per visit for coffee; the average fast-food-restaurant visitor spends $4.34 for an entire meal.
# For a cup that costs $3.40, at least 40 cents is profit. When Starbucks bumped the 8-ounce cup off the menu, the 10-ounce "tall" (the new small) increased profits by 25 cents per cup for only 2 cents of added product. Can be seen at: Fast Company Article title: Coffee + Cash
Thought this was interesting and figured you may enjoy it as well.
"A PROCLAMATION FOR THE SUPPRESSION OF COFFEE HOUSES"
Whereas it is most apparent that the multitude of Coffee Houses of late years set up and kept within this Kingdom…and the great resort of idle and disaffected persons to them, have produced very evil and dangerous effects; as well for that many tradesmen and others, do herein misspend much of their time, which might and probably would be employed in and about their Lawful Calling and Affairs; but also for that in such houses…divers, false, malicious, and scandalous reports are devised and spread abroad to the Defamation of His Majesty's Government, and to the disturbance of the Peace and Quiet of the Realm; his Majesty hath though it fit and necessary, that the said Coffee Houses be (for the Future) put down and suppressed…"
King Charles II of England, December 23, 1675
This rule was revoked on January 8, due to widespread citizen protest.
I mentioned early on that I had updated WordPress and lost my category list in the process. All content remained but no category was assigned any longer. Wasn't much I could really do about it all since I did not want to screw up any search link listings.
I finally got the archives working again. Find that link in the navigation toward the top left. Just click on that and there is a total list of all posts. This should make it much easier to find whatever it is that you are looking for. Sorry for all the trouble.
Found this one and thought it was CoffeeSage worthy.I hope you get a kick from it. I did.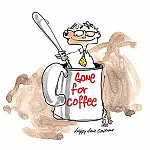 Caffeine is my shepherd;
I shall not doze.
It maketh me to wake in green pastures;
It leadeth me beyond the sleeping masses.
It restoreth my buzz.
It leadeth me in the paths of consciousness for its name's sake.
Yea, though I walk through the valley of the shadow of addiction,
I'll fear no Equal for thou art with me;
Thy cream and thy flavorings they comfort me.
Thou preparest a carafe before me in the presence of Juan Valdez.
Thou anointest my days with vigor; my mug runneth over.
Surely flavor and aroma shall follow me all the days of my life
and I will dwell in the House of Maxwell forever.
Amen!
image found at Blackdog Postcards.