Update: I have now learned that this particular store is one of those that has been closed. Could be a good indicator as to why no one ever contacted me back. hmm..
Is your espresso from Starbucks a bit on the crunchy, gritty side lately? I may have the answer for you. Isolated event, totally. So don't run out of the store crying, my BEANS! my BEANS!
There was an incident the other day at Starbucks and I have debated on writing about it. Still, I will not say exactly which Starbucks store it is since I am yet to receive a call back from the store manager about the dirty deed. I will however, tell you the story.
A few days ago I stopped in at the Starbucks in a neighboring town. I ordered a grande coffee and they were making a fresh pot and mentioned it would be a couple minutes. No problem I say, I have to go to the ladies room anyway. So, I did.
After exiting the restroom, I stopped by the mugs and gadgets as I always do (I love them) and the espresso grinder they use is just out of site from the coffee wares. While I was in the ladies room, I heard something drop but I did not pay any attention to that at the time. Well, I looked over to the area where they grind the beans and I didn't see anyone around. I started to make my way over to the counter when up popped the employee that waited on me holding a dust pan with, what else, espresso beans in it.
What do you think she did with those beans? Throw them in the waste? NO! She dumped them into the dispenser! OMG! I was out of view and she was not aware that I saw it. Since I had ordered coffee that I know came from a sealed pouch, I went ahead and paid for it noting the cashiers name. I called the next morning and told the manager. He said he would get back with me on the issue but so far, nothing. My next step is to contact someone higher up.
I hope this is not a regular thing going on. I'm quite certain that it is not but people you never know where your coffee has been. Do you? Post a comment if you have had a nasty mishap at any coffee shop.
Note: For the spamming cretin that insists on stopping by from time to time and leaving his/her little fatuous comments, of course I know that espresso beans do not exist and that it is simply a roasting process. You are obviously an inarticulate imbecile and I am being nice about it.
According to The Economic Times on an article discussing Finnish research on 26,000 male smokers, drinking 2-4 cups of coffee or tea reduced the incident of any type of stroke by 21 percent. That is good news for males but I have read elsewhere that it has not much effect on women smokers.
This study was conducted over a period of 13 years. They studied the link between mens beverage consumption and occurrence of different types of stroke. Age and other factors were taken into account as well.
Because tea is known to be rich in antioxidants this will further enforce the relationship of drinking tea reducing the risk of cardiovascular disease.
This code is for 25% off your purchase at greentreecoffee.com. It's a super place if you've not visited their site before.
Code: fresh25
Discount: All Whole Bean Coffees 25% Off – Offer expires 8/31/2008
Trying to find you guys some coupon codes tonight. Here is one for $5.00 your order on Peets.com
Enter this code at check out: 7FSNEXT
I am not sure if there is an order minimum or not.
Who is OfficeCoffee?
OfficeCoffee.com is a premium lead referral service for both buyers and sellers.
OfficeCoffee is the best place to locate Coffee Services, Water Service, Vending Machine and Food catering services in your local area. Their service is 100% free to use. You are not commited to anything and they will supply up to 4 leads within 2 days with specific information you provide about your needs. Pricing on leads for sellers are very reasonable.
A limit on the number of leads you want to receive each month can be set to fit your budget. OfficeCoffee guarantees no leads will come from competitors, leads are within your service area, and will be delivered to you within 2 days of it being submitted.
To get an idea of exactly what OfficeCoffee has to offer I am including a list of a few items:
Coffee: Single Pot or Single Cup type. Nice looking units too.
Water Services: Bottled Water Coolers, Point of Use Coolers, or Counter Top type.
Vending: Some of the items offered are Bottled or Canned Sodas, Snacks, Food type, and Hot Beverages
Food Service: Some ways you can have food catered to your office is Daily Food Delivery, Office Parties, Conferences, etc
There really is no limit to the possibilities when you use OfficeCoffee as your lead source.
Sellers:
One thing to give you just an idea of what you can expect from OfficeCoffee as your lead source is reasonable monthly lead rates.
Officecoffee's lead referral service provides up-to-date local sales leads to help expand your business. Just tell them the number of leads you want each month and expect a rapid turnaround on notification of prospective leads for your company. You will be provided with the buyer's company details, contact person's name and purchasing needs. You see, it is all pretty much done for you. All you have to do is sit back and wait for OfficeCoffee to do their thing.
Your credit card is charged for the leads you receive and at the end of each month you will receive a statement recapping all of your account details. There is no minimum length of participation and there is no account maintenance fees.
About the Website:
OfficeCoffee.com is presented very well and is designed tastefully. There is a good sitemap to help you in navigation and all the FAQs are in order and very helpful to potential clients.
There are no broken links and no intrusive ads. Pages are fast loading. Your visit should be quite pleasant.
Give them a look and decide for yourself. I'm certain you will not be disappointed in what you discover.
Unprofessional of me, but I just could not help it. Hope you enjoy it.
Tired of battery acid in your cup? Hate that burning fuzzy feeling you get in your throat after a cup of coffee? Can't put your coffee down no matter how bad it hurts? Then I have a solution for you!

Puroast Low Acid Coffee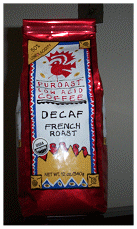 I've never had a problem with acid up until a year or so ago and even at that it is minimal. I have wished from time to time that I had a low-acid coffee for those times that I am bothered by it but never believed it possible that a coffee could taste good if they took something out. I was wrong!
Puroast was Johnny-on-the-spot getting my product to me that they so graciously let me try out and oddly enough I was having a bit of an issue with some Mexican food that day when I made my first pot. First, let me tell you that the aroma was just wonderful. I was shocked. Then, I poured that cup and sipped it, and I was amazed at how refreshing it tasted. Rich, robust, and down right full of flavor. And guess what? No acidity.
The coffee was clean and delightful. I ended up drinking the entire pot in about 2 hours. I just loved it.
You can get Puroast in all sorts of ways: decaf, regular, medium roast and house blends, flavored coffees in both caffeinated and decaf, espresso, and organic coffee. Whole bean or ground.
Comes in flavors too! ( I have not had the pleasure to try these but I'll bet they are good too )
Low Acid Chocolate Almond
Low Acid Hazelnut
Low Acid Irish Crème
Low Acid Mocha Java
Low Acid Vanilla Coffee
You may also elect to get low acide half-caffs too!
They are very friendly people with good customer relations. A fine coffee that offers those a solution who need one. You really can't go wrong and Puroast coffee was found to be #1 in taste with The Wall Street Journal and Newsweek taste trials.
Try them out and I know you'll be as happy about their coffees as I am.