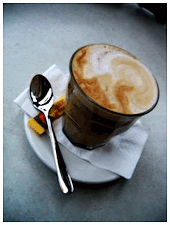 Starbucks Copy-cat
Caramel Macchiato
Starbucks Style
Use a 12 ounce mug and remember that Starbucks uses .75 oz of syrup per 4 oz of liquid and 1 shot espresso unless you've ordered a double shot for their Macchiato coffee drink. Please note that I have added the use of caramel syrup which in actuality Starbucks does not use it in the drink they make but it does add an extra something. Try it!
Ingredients you will use:
1. 3/4 cup steamed milk
2. 1 shot espresso
3. 1/4 ounce or 1 tsp. vanilla syrup (.25 oz per 4 oz liquid)
4. your favorite caramel sauce for drizzle. I recommend Ghirardelli Caramel Sauce
because it is just fabulous!
5. 1/4 ounce or 1 tsp. caramel syrup such as Da Vinci Caramel Syrup
Directions:
In your coffee mug, add vanilla syrup, caramel syrup and steamed milk. Top with milk foam and add freshly brewed espresso through the foam. Drizzle with caramel sauce. Don't skimp on the caramel. Cause "it's soooo good!"
What is Macchiato?
Here is Wikipedia's explanation for the meaning of "Macchiato":

"Macchiato" simply means "marked" or "stained," and in the case of caffè macchiato, this means literally "espresso stained/marked with milk." Traditionally it is made with one shot of espresso, and the small amount of added milk was the "stain." However, later the "mark" or "stain" came to refer to the foamed milk that was put on top to indicate the beverage has a little milk in it (usually about a teaspoon [in fact, the Portuguese word for a macchiato is "pingo," which means "drop"]). The reason was for the baristas to show the serving waiters the difference between an espresso and an espresso with a little milk in it; the latter was marked. In the United States, "macchiato" is more likely to describe this variant (in contrast to latte macchiato), and thus arises the common confusion that "macchiato" literally means "foam," or that a macchiato must necessarily have foam. (As the term "macchiato" to describe this type of coffee predates the common usage of foam in coffee by centuries, the staining "agent," the additive that lightens the dark espresso, is traditionally the milk, not the foam.)
I got bored today and ordered a couple of new coffee mugs and thought, hey! Why don't I compile a list of mugs that I liked and make it easier for you to look for them at the same time.
Holidays are just around the corner and coffee mugs are an awesome gift for hubby, wife, kids (hot chocolate, of course), teachers, relatives, and so on….
I picked a bunch out for you to see and linked you and I am also providing the main link in case you do not see anything I listed that you just love. I got the cat hair mug and the Shakespearean insult mug. But I listed many more than that and there are just oodles of them to be had. Check it out and don't forget… some take a bit longer to ship so plan ahead. Enjoy!
Starbucks Gingerbread Latte copy
1-2 shots espresso and very strong (fresh) coffee
8 ounces milk, steamed (with a little foam) (if you do not have a steamer, you can make foam with a hand whip.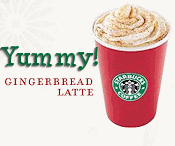 Add a tablespoon of gingerbread syrup either by making it yourself as I have shown you in the previous entry or by purchasing a like product that I also listed for you in the previous post.
Pour the syrup into a mug and add the espresso and then the milk. You can top with whipped cream if you so desire but do not forget to sprinkle a bit of nutmeg on top the foam or topping to make it just right. Comparable to

Starbucks Gingerbread Latte
. Enjoy!
The fall season is closing in on us and so are the holidays. Don't you wish you could make all those seasonal coffee drinks you love, all by yourself?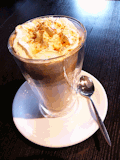 I love ginger bread, gingerbread syrup, and all the yummy things you can make with it. Obviously, I generally intend it for my coffee drinks. Here is a simple recipe you can follow to make a tasty gingerbread syrup yourself saving you both time to go buy it and of course, money. Enjoy!
Gingerbread Syrup
1 1/2 cups water
1 cup fine granulated sugar (bakers sugar is great for this)
2 teaspoons ground ginger
1/4 teaspoon ground cinnamon
1/4 teaspoon vanilla extract
* Combine the water, sugar, cinnamon, ginger, and vanilla in a small to medium saucepan. Medium is probably better since the syrup could boil over the top.
* Bring mixture to a boil then reduce heat and simmer uncovered for 20 minutes. When done, pour into a melt-proof container and let cool. It will thicken a bit more once cooled.
Use in your favorite gingerbread recipe or coffee drink. See Starbucks style Gingerbread Latte recipe to follow.
If you do not want to make it yourself, here is a great syrup that will certainly do the trick.

Or for those who love sugar-free syrups, try:
image credit: © What I Love..
For your reading pleasure, here is yet five more neat coffee quotes from various individuals. I hope you enjoy them. And if you enjoy my post, please take a moment to Stumble my entry using the "Share This" button! Thank you.

"Starbucks says they are going to start putting religious quotes on cups. The very first one will say, 'Jesus! This cup is expensive!'"
~ Conan O'Brien
"In a sad world, and especially in a country like ours, recently and constitutionally deprived of wine … the function of coffee in bringing serene delight is an important one."
~ Boston Transcript, 1923
"Let no man grumble when his friends fall off,
As they will do like leaves at the first breeze;
When your affairs come round, one way or t'other,
Go to the coffee-house, & take another."
~ Don Juan
"I don't want anything better, I want coffee."
~ Captain Janeway Star Trek: Voyager
"Compared to Clinton, I feel like a loser. I can't even get the intern to make me coffee!"
~ David Letterman
A very short entry to let you in on a little tip for making better coffee (frozen) drink recipes.
Get an ice-cube tray and fill it with strong coffee and freeze them. What you are doing here is making sure the ice-cubes do not water down your wonderful coffee drink. The cubes tend to be a bit easier to blend as well.
Try it! I think you love the outcome.
Maxwell House has come out with a new roast. It is the Dark Roast and I wanted to do a quick post about it since I have really never been a fan of Maxwell House.
Since they've started using Arabica beans for their coffees it has become much better. The newest addition to their line-up is really pretty good.
When first opened it has a nice bold aroma and rich taste. No bitterness and rather smooth. I have noticed that it tends to lose a bit of the fresh scent fairly quick so if you try it out, hurry up and drink it.

Right now, I have been getting their large canisters for $6.00 each. Can't beat that with a stick.