Le Whif has introduced a new product on the market, a Coffee Inaler.  The device was developed by Harvard Professor of Biomedical Engineering, David Edwards and Thierry Max, a Persian Chef.  They have also developed a "breathable chocolate" as well.
The inhaler looks a lot like a lipstick container and it contains a powder inside that you breath in from the tube.  It will sell on the maret for three dollars each or eight dollars for a box of 3 inhalers.  Each inhaler delivers the equivalent of one shot of espresso in caffeine, 100 milligrams. 
Each inhaler can administer up to 9 hits of caffine, depending upon how ard they are inhaled.
J.M. Smucker Co, who owns Folgers, as announced that it will close its plant in Kansas City as of mid-2012.  The phase out of the plant will begin early next year, when Folgers will begin laying off approximately 50 of the plant's 180 workers.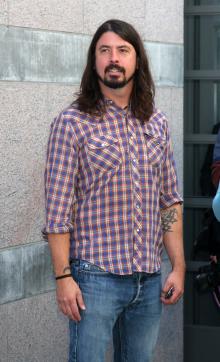 David Grohl, frontman for Foo Fighters, has confirmed that he has, in fact, been hospitalized over coffee.  His confession comes after a spoof video making fun of his coffee addiction was aired.  He admitted that it was based on his own actual coffee emergency.
Grohl was hospitalized after an intense work schedule took a toll on his health and he began experiencing chest pains.
The film showed the rocker in a studio with Them Crooked Vultures bandmates and depicted Grohl's love of coffee.  It ended with the tag line "rushed to doctor due to the onset of unwanted physical effects caused by too much caffeine.  For reals.  He was kind of a mess."
Grohl told Britain's Absolute Radio "That was a year ago, the 'Fresh Pots" video.  We were in the studio making a record and I was drinking a lot of coffee.  At one point I was doing Vultures stuff at night, Foo Fighters stuff during the day and I had a newborn at home and I was sleeping maybe two or three hours a night on an air mattress in a guess bedroom.  And yea, I had too much coffee and I started having chest pains, so I went to the hospital and they told me to stop drinking so much coffee."
If you go to Starbucks and buy a coffee by 10:30 today, you will get a free pastry.  Simply go to Starbuck's Blog and print the coupon.  If you do not have a printer handy, the baristas will accept the coupon on mobile devices.  Offer is good for one free pastry per customer while supplies last.
Coffee is loved nationwide.  However, some people have problems enjoying it because of it gives them heartburn.  I too have had this problem.   was able to find a stomach friendly coffee at www.honeybean.comthat helped me.  Its called Cophee and is a reduced acid coffee.  A lot of people suffer from this, enough that a study has been done.
European scientists have discovered a chemical in coffee that actually inhibits acid production in the stomach.  They found this while doing research on the stomach-irritating chemicals in coffee.
"The major import of our work is that it provides scientific evidence that you can produce a more stomach-friendly coffee by varying the processing technology," said study author Veronika Somoza, professor and chair of the Research Platform of Molecular Food Science at the University of Vienna, Austria.
The results of this study were presented yesterday at the American Chemical's Society annual meeting in San Francisco. 
The scientists looked at coffee's effect on human stomach cells using a variety of preparations, including dark-roast, regular roast, decaffeinated and stomach-friendly. Instead of one single element, they identified a mixture of compounds — caffeine, catechols and N-alkanoly-5-hydroxytriptamides — as the chemicals in coffee that promote the production of stomach acid.
But a fourth chemical, N-methylpyridinium, which is more common in dark roasts, such as espresso and French roast blends, was found to inhibit acid.
N-methylpyridinium is a product of the roasting process itself, resulting in dark roasts that are less likely than lighter ones to cause stomach irritation, according to the research.
In furthering this research, the scientist plan on experimenting on human coffee drinkers to see if these findings translatete into real life coffee drnkers. 
Dr. Joseph Vinson, a professor of chemistry at the University of Scranton in Pennsylvania who has studied the antioxidant properties of coffee, said the study suggests the possibility of a less troublesome brew.
"Cell studies can be legitimate. They can lead to human studies that will say the same thing," said Vinson. "She [Somoza] has figured out a research approach that is one way to do it, and it's a question of whether it is relevant to the human realm."
Vinson predicted it will be.
"There's more than enough data [in the study] to make it interesting," said Vinson. "There can be this special coffee that doesn't bother you."
Jessica Alba was spotted with a cup of coffee on March 20, 2002 in Los Angeles.  Proof that coffee does a body good!
Coffee Provided by Armeno Coffee Roasters, www.armeno.com
More floral than most roasts of Papua New Guinea the sharp acidic bite usually found was still there but muted by a smoky finish. This coffee has a smooth mouth feel and makes a great after dinner treat.
Notes from Armeno Coffee Roaster
The Papua New Guinea coffee is full-bodied without the earthiness of some Indonesian coffees. The bean is blue-green in hue and of very uniform size. At Armeno, we roast Papua New Guinea to a medium full city which is a light chestnut brown color and lighter than we roast other Indonesian coffees because the coffee is so clean and well balanced.
We all do it.  We all look forward to it.  We premeditate it and we love it!  Its our coffee break! So, this begs the question of "when is the perfect time for this daily ritual.  Yes, there has been a study and coffeesage.com has the answer!
Professor Charles Spence of the Department of Experimental Psychology at Oxford University conducted a research study which concluded that 11am is indeed the best time for a coffee break!  The study also concluded that lights, music, aroma and good company will give you a boost as well!
The witty professor even  has a coffee formula for the perfect coffee which was published in the "Challenging Tastes" report.  Are you ready for it?
M = 0.5 x F + (0.5 x E + 0.3 x P + 0.15 x C + 0.05 x T.
You combine great flavour (F) with the perfect environment (E), the container it comes in (P), who you drink coffee with (C) and the time of day you enjoy your coffee break (T) to create the most enjoyable coffee moment (M).
http://www.dailymail.co.uk/sciencetech/article-1256579/Formula-reveals-11am-ideal-time-perfect-coffee-break.html
Coffee Provided by doichaangcoffee.com
A surprisingly delicate medium roasted peaberry coffee. At first taste you get a flush of fruitiness quickly followed by a sweet nuttiness. As the cup goes your palate becomes aware of the hint of full-bodied flavor that many people seek in a dark roast coffee without the added bitterness.
Overall a great cup of coffee, I'd suggest avoiding any super sweet foods with this one. There are too many subtle flavors and aromas that would get covered up by anything sugary. I enjoyed this cup all on its own.
Notes from Doi Chaang -
The Doi Chaang Coffee Company is a unique partnership between the Akha hillside tribe of Doi Chaang Village, located in the Chiang Rai Province of Northern Thailand, and a small Canadian group of coffee enthusiasts. The Thai farming family co-operative cultivate and process 100% Arabica, organic, single-origin coffee beans while the Canadian experts roast, market and distribute the coffee.

The literal translation of "Doi Chaang" is Elephant Mountain which describes the imposing shape of the hills rising behind Doi Chaang Village.

In honour of Piko, our founder and the visionary who foresaw a better future for the Akha people, we proudly include his likeness on every bag of Doi Chaang Coffee
Americans love their coffee.  It seems we can't get enough of the stuff.  Well, Starbucks is going to try to fill our unfillable thirst and addiction to java.
Starbucks introduced us to the 24 ounce Venti, but apparently that was not enough.  They are now introducing us to the Trinta, which will bring us a full 31 ounces off caffeinated (or decaffeinated if you are so inclined) goodness fit to fill anyone's habit, at least for the morning.The catch, your only going to be able to get the Trinta size in iced coffee drinks and teas.  Also, since it is still in the test market stage, you will only be able to get the new size in Tampa and Phoenix. 
Hopefully the Trinta will do well in the test markets and get adopted nationwide.  Apparently the folks in Phoenix like it because Starbucks reports it's doing well in approximately 280 stores in the area.  Its great because you get 30% more caffeine without paying for extra shots, which I think should be mandatory in the morning and early afternoon, for me at least.
Time will tell how Starbucks will fair next to its biggest competitor as of late, McDonald's, who sales a 32 ounce coffee for $1.  I do not know the price point on the Starbucks brew, but I highly doubt it is economically competitive with McDonald's, but the quality of the Starbucks brand and its minion of loyal followers are likely to get over the price point in a hurry.  One things for sure, we at coffeesage.com intend to give it a try.  The more the better!  Bring it on Starbucks, and bring it nationwide!