Everyone loves coffee.  Its our "go juice".  Celebrities are no different.  They use it to get through their busy schedules just like everyone else. 
Miley Cyrus was spotted in Tolucka Lake,Cali getting a cup of steaming hot coffee from the Coffee Bean & Tea Leaf on Monday afternoon. 
Cyrus recently released a new song, "Can't Be Tamed".
Walmart has began a voluntary recall of 900,000 12 cup digital GE coffee makers, sold for $30 between March 2008 through January 2010, due to risk of overheating and fire.  To find out if your coffee maker has been affected by this recall check the  bottom of the base for model number 169164 or 169165.  If you have either of these models stop using the unit immediately and return it to a local Walmart for a full refund even if you purchased it online.
Wal-Mart received 83 reports of "overheating, smoking, melting, burning, and fire," according to the CPSC.  At least three reports state that people were burned on their hands and feet and others report that their countertops and cabinets had been burned.  There was one report of a major kitchen fire due to the coffee maker. 
Any questions you might have regarding the recall should be directed to  the recall hotline at (800) 925-6278 weekdays between 7 a.m. and 9 p.m. central time. To report a malfunction, contact the CPSC at (800) 638-2772
McDonald's just recently introduced Frappes to its menu in an attempt to dive deeper into the specialty drink market.  It began with premium coffee at a lower price than Starbucks and expanded into iced coffee and lattes. 
Now McDonald's is taking another plunge into the Starbucksphere.  It is going to introduce Smoothies to its menu.  This is aimed at consumers who stop at Starbucks and other specialty coffee retailers and convenience stores during the middle of the day to get a drink.  It is hoping that the Smoothie sales will increase its revenue, as did the specialty coffee drinks.  Specialty coffee is a $13 billion market in the USA, says the Specialty Coffee Association. Coffee sales at McDonald's have jumped double digits every year since 2006, when it rolled out premium coffee.
Starbucks is expanding their grocery line.  They have been selling their coffee at several retailers for years, but they are now going to sell flavored coffee as well.  It will be known as Starbucks Natural Fusions and will debut in June 2010.
Starbucks is going to start the campaign by launching with three ground coffee flavors – vanilla, caramel and cinnamon-  for you to brew at home.  They will be selling it at hundreds of thousands o f grocery stores.  They are also doing ice creams and canned energy drinks.
"We definitely feel like with the trust we've developed throughout the years and enhanced now by going into the instant category, we can continue to prove to our customers that Starbucks can deliver an amazing cup of coffee," said Annie Young-Scrivner, the Seattle company's chief marketing officer.
Starbucks has lost profit in these hard economic times due to cost competitors like McDonald's and Dunkin' Donuts.  They have closed 600 stores in the past two years.  They are now turning to Seattle's Best, a company Starbucks acquired in 2003 to boost their revenue.
Starbucks is expanding the Seattle's Best brand to more than 30,000 locations by September of this year.  They currently sale the brand in approximately 3,000 locations.  Seattle's Best will be available at Burger King, Subway, AMC movie theaters, Alaskan Airlines, Border's Bookstore, Royal Caribbean Cruise Lines, convenience stores, supermarkets, kiosks and vending machines, just to name a few. 
Starbucks will also be giving Seattle's Best a new logo and slogan.  The logo will retain the red color to ensure some continuity for consumers.  The slogan will be "Great Coffee Everywhere".
To celebrate the Seattle's Best relaunch, Starbucks sent a team of "red-capped invaders" to scale the Starbucks headquarters building in Seattle and "stealthily replace the famous 'siren' atop the clock tower with the new Seattle's Best Coffee logo."
Starbucks' press team said the intention was simple: "To put Seattle's Best on the map as the universal symbol for great coffee." As symbolic gestures go, it doesn't get much clearer than that.
Starbucks feels that the Seattle's Best brand will put them on a more even footing with the lower priced coffee competitors like McDonald's.
Workers who are subject to "shift work" suffer from increased tiredness due to the interruption in their biological clock.  This disruption can lead to more accidents and less productivity at work. 
Researchers looked at workers who drank caffeine, whether in coffee or energy drinks and compared those results to workers who took naps and placebos.  The results: work-related tests showed those on the caffeine suffered significantly less mistakes and had better memory, attention, perception and reasoning. 
 "It seems reasonable to assume that reduced errors are associated with fewer injuries, although we cannot quantify such a reduction." says lead researcher Katharine Ker of the London School of Tropical Medicine.
Today is Dunkin Donut's 60th birthday and they are celebrating by giving away free iced coffee in some of their cities.
Baltimore, Md.; Charlottesville, Va.; Cleveland, Ohio; Harrisonburg, Va.; Norfolk, Va.; Washington, D.C.; Youngstown, Ohio; Pittsburgh, Pa.; Richmond, Va.; Roanoke, Va.; Salisbury, Md.; Philadelphia, Pa.; and Phoenix, Ariz.
The free iced coffee is also available in New York City, but only from 4 p.m. to 10 p.m.
According to the Christian Science Monitor, this is causing a controversy in the cities where the iced treat is not being offered free and the feelings of those excluded from the promotion are being posted on Dunkin Donut's facebook page.
The Journal of the National Cancer Institute published the findings of a study on coffee and colon cancer online on May 7, 2010.  The result was good news.  Coffee is NOT linked to colon cancer so go ahead and drink up.
"Cutting down or removing sugar-sweetened beverages from the diet was viewed as a major target for preventing major cancers," noted Dr. Barry Popkin of the University of North Carolina, who was not involved in the study.
Harvard researchers  used data from several previous studies and followed some 700,000 people for up to 20 years after they had reported their dietary habits.  Fewer than one in a hundred developed colon cancer, and neither coffee nor soft drinks influenced that rate appreciably.
"Drinking coffee, even more than six cups a day, was not associated with risk of colon cancer," said Dr. Xuehong Zhang of the Harvard School of Public Health, who worked on the study. The findings, published in the Journal of the National Cancer Institute, square with earlier research for coffee.
For the heaviest tea drinkers, who drank at least four cups a day, the risk of developing colon cancer rose by 28 percent, on average. However, that link could be due to chance, or factors that the researchers didn't measure –whether or not people put sugar and milk in their tea, or had pastries with it, for example.
"The relationship between tea and colon cancer is unclear for the time being," said Zhang.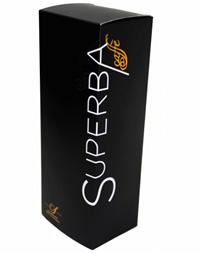 Coffee Provided by Superba Coffee, http://www.superbacoffee.com/
An amazingly smooth and well balanced cup of coffee.  Each bag comes in an attractive box that is hand signed and dated by the roaster. Superba only has 2 blends Classic and Decaf.  I'm drinking Classic.
As the cup goes on, nutty and smoky notes appear, but the incredible smoothness remains constant.  This is a coffee that you might serve after a nice dinner, or treat yourself to any time of day.
Notes from Superba Coffee
This distinguished blend is roasted to a "full city" medium roast profile. It has a perfect balance of richness with deep chocolate qualities, which are slightly paralleled by light, but distinct citrus and earthy notes. This blend endures well with a wide range of preparation methods and pairs extremely well with milk and/or sugar.
Wouldn't you love to have coffee with a celebrity?  How much would you give to sit down with your favorite personality and have a talk over a cup of joe?  Robert De Niro found out just how much his java and conversation was worth!
A fan reportedly paid 5,667 pounds to share a coffee with the star according to the New York Daily Times.  The coffee date with De Niro was auctioned for charity on April 29th and the funds went to Robert F. Kennedy Center for Justice and Human Rights.
Unfortunately the Eastern part of the United States is undergoing some major water issues.  Flooding is causing a lot of problems, not just with the roads, but with the coffee shop industry due to boil water advisories.
Many people showed up at Dunkin Donuts this morning in the Boston, Massachusetts area only to be met with a smile and an apology.  Their coffee orders—-DENIED! The area has experienced a major water main break and are under a boil water advisory until further notice.  Coffee is not flowing.
The flooding, home damage and lack of caffeine will surely put a major damper on this week.