If you are carrying a thermos or coffee cup in the airport you can expect to be looked at a little more closely than those who don't because such items could be used to conceal explosive materials, according to an official advisory
Passengers travelling with insulated beverage containers can expect to see additional screening of these items using procedures currently in place, including X-ray screening, physical inspection and the use of explosives trace detection technology," states an advisory issued by the Transportation Security Administration (TSA).
Its best to leave a little extra time when you are traveling, especially during the holiday season, due to increased security measures.
PRESS RELEASE:
Single Serve Home Brewing System Features Maximum Variety with More Value per Cup
(Chicago, Ill. – March 14, 2010) – Whether it's a latte in the morning or an afternoon cup of tea, there may not always be time for a trip to the coffeehouse. The new TASSIMO T20 by Bosch makes it even more convenient for people to enjoy their favorite barista-quality beverages without leaving the comfort of home. With a slimmer design and price, the T20 expands the TASSIMO lineup to three brewer options, enabling individuals and families to enjoy the perfect cup of their favorite brewed beverage whenever and wherever they like.
"The T20 delivers coffee shop-quality beverages in about one minute per cup with virtually no heat-up time, so more people can enjoy their favorite flavors without having to brew an entire pot," said Michael Traub, president and CEO, Bosch home appliances. "The TASSIMO brewer's compact design is ideal for apartments, dorm rooms and countertops that have little space to spare."
The TASSIMO system utilizes patented T DISC technology to brews single cups of premium coffeehouse-quality beverages, including cappuccinos and lattes made with real milk creamer, espresso, crema, tea and hot chocolate – with more flavors to come. To create an unprecedented level of variety and value, Bosch partnered with Kraft Foods to offer more than 40 hot beverage T DISC flavors from some of the industry's most popular brands.
The TASSIMO T20 by Bosch will be available March 30, 2010 at Target stores and Target.com for $129.99 with promotional pricing available.
Bosch will showcase it's current TASSIMO brewer lineup at the 2010 International Home
+ Housewares Show, Lakeside Hall #12737.
About Bosch Appliances
Bosch home appliances is part of BSH Bosch and Siemens Home Appliance Group, the third largest appliance manufacturer in the world. Known worldwide for raising standards in appliance efficiency and quietness, Bosch is the only US appliance manufacturer with entire product lines of ENERGY STAR® qualified dishwashers, washers and refrigeration. With US headquarters in Huntington Beach, CA, the company operates an appliance park in New Bern, North Carolina comprised of state-of-the-art factories for washers, dryers, dishwashers, ranges, ovens and cooktops.
For more information, visit www.bosch-home.com/us, call 800.921.9622 to request a catalog. Connect with Bosch on Twitter @BoschAppliances or become a Facebook fan facebook.com/BoschAppliances
About Kraft
Kraft Foods (www.kraftfoodscompany.com) makes today delicious in 150 countries around the globe. Our 100,000 employees work tirelessly to make delicious foods consumers can feel good about. From American brand icons like Kraft cheeses, dinners and dressings, Maxwell
House coffees and Oscar Mayer meats, to global powerhouse brands like Oreo and LU biscuits, Philadelphia cream cheeses, Jacobs and Carte Noire coffees, Tang powdered beverages and Milka, Côte d'Or, Lacta and Toblerone chocolates, our brands deliver millions of smiles every day. Kraft Foods (NYSE: KFT) is the world's second largest food company with 2008 revenues of 42 billion. The company is a member of the Dow Jones Industrial Average, Standard & Poor's 500, the Dow Jones Sustainability Index and the Ethibel Sustainability Index.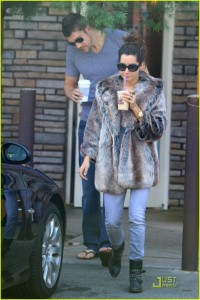 On December 11th, Asley TIsdale and Scott Speer were spotted at the Coffee Bean and Tea Leaf in Los Angeles.