Hugh Jackman is a 50% owner in a business that sales coffee, tea and chocolate, for which he receives absolutely no profit. It all goes to charity. How cool is that?
The company is called Laughing Man Worldwide. All of the income goes to charity. Jackman was inspired to start the company while he was doing charity work in Ethiopia for World Vision.
"I met a man who changed the way I looked at the world. As Dukale and I planted coffee trees together, I began to see the potential for one man's hard work to transform an entire community … While working with Dukale that day, I was so inspired by what I learned from him and his community. I made Dukale a promise to do my bit to help. Laughing Man Worldwide is the fulfillment of that promise." Jackman said.
Jackman is very into giving to charity. Earlier this year he raised 1.8 million at the Broadway Run himself for the Broadway Cares charity.
Alec Baldwin is not having a good morning.  He stopped by Starbucks this morning and then tweeted "Starbucks on 93 and B'way. Uptight Queen barrista [sic] named JAY has an attitude problem.,"  He went on to tweet "Clyde, on the other hand, outside DINOSAUR BARBECUE @ W 125 n H River is MY MAN," he tweeted. "Keeping the hickory ovens going, he is 2dayz Coolest NYer."  The New York Post was interested in this "barista incident" so they contacted the Starbucks in question only to find that no one by the name of JAY worked there.  This goes to show that no one can function property until their morning dose of caffeine has kicked in!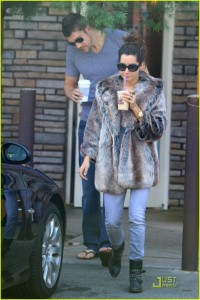 On December 11th, Asley TIsdale and Scott Speer were spotted at the Coffee Bean and Tea Leaf in Los Angeles.
Everyone loves coffee.  Its our "go juice".  Celebrities are no different.  They use it to get through their busy schedules just like everyone else. 
Miley Cyrus was spotted in Tolucka Lake,Cali getting a cup of steaming hot coffee from the Coffee Bean & Tea Leaf on Monday afternoon. 
Cyrus recently released a new song, "Can't Be Tamed".
Wouldn't you love to have coffee with a celebrity?  How much would you give to sit down with your favorite personality and have a talk over a cup of joe?  Robert De Niro found out just how much his java and conversation was worth!
A fan reportedly paid 5,667 pounds to share a coffee with the star according to the New York Daily Times.  The coffee date with De Niro was auctioned for charity on April 29th and the funds went to Robert F. Kennedy Center for Justice and Human Rights.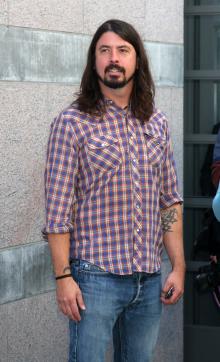 David Grohl, frontman for Foo Fighters, has confirmed that he has, in fact, been hospitalized over coffee.  His confession comes after a spoof video making fun of his coffee addiction was aired.  He admitted that it was based on his own actual coffee emergency.
Grohl was hospitalized after an intense work schedule took a toll on his health and he began experiencing chest pains.
The film showed the rocker in a studio with Them Crooked Vultures bandmates and depicted Grohl's love of coffee.  It ended with the tag line "rushed to doctor due to the onset of unwanted physical effects caused by too much caffeine.  For reals.  He was kind of a mess."
Grohl told Britain's Absolute Radio "That was a year ago, the 'Fresh Pots" video.  We were in the studio making a record and I was drinking a lot of coffee.  At one point I was doing Vultures stuff at night, Foo Fighters stuff during the day and I had a newborn at home and I was sleeping maybe two or three hours a night on an air mattress in a guess bedroom.  And yea, I had too much coffee and I started having chest pains, so I went to the hospital and they told me to stop drinking so much coffee."
Jessica Alba was spotted with a cup of coffee on March 20, 2002 in Los Angeles.  Proof that coffee does a body good!