I love this cartoon. Its so true to life. Enjoy!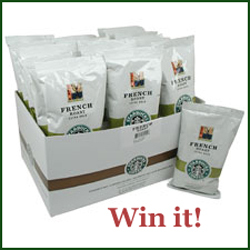 I am guessing that it will be French Roast since that is what they have pictured. Here is the ENTRY FORM
They say:
Enter to win a a case of 72 2.5 oz packages of Starbucks Coffee!! You don't want to miss this unheard of opportunity to get FREE Starbucks coffee!! Give it a try and tell your friends! Each convenient portion pack is pre-measured to brew one pot of coffee, and you can win 72, $151.80 worth of coffee!!
So, stop on by. You never know, you may win!
They did it before, they're doing it again! Get a free sample of Folgers Gourmet Coffee by visiting their Free Coffee Sample form
Visit The Wall Street Journal and read the full story where Folgers Gourmet Selections Launches Wakeupspecial.com to Help Build Homes and Lives. Make your own commercial! Fun stuff.

Read my review on the Folgers Gourmet Selections
Saw this entry on Coloribus Blog and enjoyed it very much. What a nifty idea to catch the eye and promote Folger's Coffee.
This was printed on vinyl and placed on top of steaming New York City manhole covers. ha ha ha! Or was this photoshopped? When holes were cut out of the vinyl it let steam rise through. Very catchie!