Do you have some extra time?
If you have an espresso machine that can make good crema, a steady hand, and a lot of free time. You can learn to do this.
It doesn't make your latte taste any better, but it's still neat.
A bit of humor is always in order. With the rising costs of everything including coffee, I thought this would be appreciated. I could be wrong.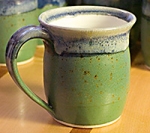 Once in a while I get the honorable job of reviewing something other than coffee or coffee makers. I do try to stay within the coffee/tea/chocolate related field though. Today I have the pleasure to review a fantastic website called Mug Revolution and handmade mugs.
These mugs are handmade in Bend, Oregon by a fantastic potter by the name of Owen Dearing. He has been hand crafting (wheel-thrown?) these works of beauty since 1990.
Ok… I stumbled onto this blog this morning. I get google alerts on specific subject matter in my e-mail one of which is 'coffee blogs'. I discovered a cool blog this morning called Potter's Blog. The guy was faced with the decision on whether to go with a new coffee-maker with grinder or keep the one he has made. You really must go by and see this guys pottery work. Adorable! Tea pots, coffee pots, plates, and so on. What I found to be notable is the handy sculpture he includes on his pottery work. Cute little animals. awww… give him a visit, will ya?
Just a little something… look at the coffee id card I made.

Cute, huh?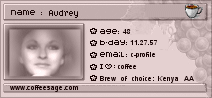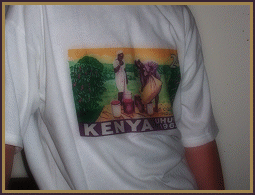 I got a neat t-shirt to review from
The owner let me pick the tee I wanted and I chose a
Kenya Coffee Industries
t-shirt. I just love it!
This t-shirt is not too heavy yet not too thin either. (100% pre-shrunk cotton tee shirts) It is soft and doesn't itch at all. I've found that often this is the case with new t-shirts. Since it is pre-shrunk, I suppose that took away any issues I'd have with scratchiness or stiffness.
The company did an awesome job on the decal placement. Smooth and without any wrinkles or bubbles. Just perfect.
The website has very unique t's and personally, there are many, if not most, that I've never seen before. Nothing typical, but fresh and different.
There are your standard size t-shirts (which is what I got) but they also have the women's fitted t's plus children and toddler sizes! I think David has all the bases covered here. Nice job.
What a variety he has well. There are cat t's, coffee t's (my fave), stamp t's … these are awesome, butterfly t's, Christmas t's…… and on and on… you must take a look for yourself. there are about 59 categories! There really is a lot to see on David's site.
Interesting: Read about t-shirt history and the fun t-shirt faq's included. Humorous!
Even though I got my shirt gratis, which would make the good service even more evident, shipping was VERY quick and communication is spot on and most friendly. I am impressed with the effort taken to get the tee I wanted and as quick as it arrived.
Go by and visit Going Postal T-Shirts. Explore and take your time looking around. I'm sure you will find something that you'll just have to have.
Note: photo with t-shirt was taken with my son wearing it. I cut his head off simply because he said, Mom! don't put my head in!…. he was having a very bad hair day plus I woke him up to take the photo. Poor little guy.

I love making blends or really anything to do with photoshop or even paint shop pro. I thought to myself, why have I not made any coffee blend art? So, here is my first one. Hope you enjoy it.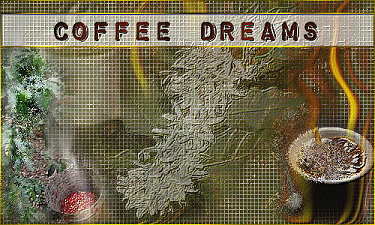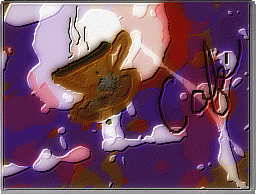 Okay… don't laugh at it. I made it tonight over at art.com using their art pad. Link to the pad in there to click. It is not a masterpiece but it's cute and it is fun! Give it a try.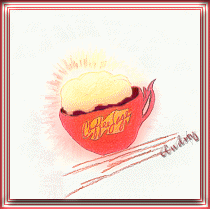 Not very good I'm afraid but I still enjoy doing it. This is just a bit of my hand drawn coffee art. Maybe I'll get better as time goes by.

Ha! Check out these coffee bean earrings I found. Adorable. I'd wear these babies too! lol…. wish I could remember what site I found them on. The image has been sitting in my file for a long time. Just thought I'd share it with you.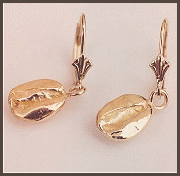 I'm planning a series on coffee tables. I'd like to find unique 'coffee' tables and include photos and origins. I think it will be interesting to see all the different types whether manufactured or home-made coffee tables.
Watch for additions or book mark the coffee table category if you are interested in seeing what I hope to be, an artistic collection.
If you would like to send along a coffee table photo of your own to be included, just use the contact form (find link at the top on on inner sidebar) and let me know. I'll make arrangements for you to send over the image and I will link the image back to your site.


Please make sure the photos are your own (or someone you know) and not images taken from Google Images!