It has taken me a very long time to write this review. It wasn't for lack of time, but lack of a back-bone. I hate writing negative reviews. At least it is not going to be as negative as it would have been in the beginning. One must test and test again when they have something unpleasant to write about. It is a bad thing to write a review that reflects a product as less than favorable when everything possible has not been done to try and like it.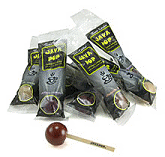 Nothing could be finer than a Javapop first thing after a nap. I could never give up my coffee or espresso first thing in the morning but these Javapops are just the thing when you hit a low and need a quick boost or just having a sweet tooth craving.
Javapops are available in 5 flavors for adults: French Vanilla, Chocolate Almond, Irish Cream, Cappuccino, and Chocolate Raspberry. For adults? Yes, they are caffeinated and one must wonder if they should be giving their kiddo's adult candy. Maybe a teen but no toddlers should be licking on these.
This review will not be difficult. I had a letter sitting in the inbox asking if I'd like to try Bubble Chocolate and review it. Sure! I'd like to do that but I got a lot more than I expected once I opened that wrapper.
This is the first aerated chocolate to be marketed in the USA
The thing is the bubbles. Hundreds of bubbles. Big ones and tiny ones with loads of flavor bursting from them.
Quote from Bubble Chocolate's website:
Since their standout debut at the Candy Expo in Chicago this past June, Bubble Chocolate bars are fast becoming the new taste sensation spanning both coasts. These delightfully tempting bars appeared on a Today Show segment in NYC in July, and are being prominently featured in celebrity gift bags across Los Angeles.
First off, I got three bars. Dark Chocolate, Milk Chocolate and yum, yum…. Coffee Milk Chocolate! Oh yeah…. that is good.
I've never tasted anything quite like Bubble Chocolate. It very light and airy and the texture is what I can only describe as 'tender and bubbly'.
The chocolate tastes of quality and richness and however they made the bubble effect is certainly a plus in my little area of the chocolate loving world. It makes for a most delicate and tasteful experience. Caution: you can not stop with eating only one square. You must and will eat the entire bar. You just can't help it!
Flavors:
Milk Chocolate: Very smooth and genuine. I would rank it with Godiva or something similar. Honestly.
Dark Chocolate: Rich, creamy, and sinful. My favorite really. I could make myself sick if I had enough on hand to eat. I just would not be able to stop until there is no more.
Coffee Milk Chocolate: I like this in the morning with a nice cup of coffee. They go well together. The hint of coffee flavor is not overbearing and tastes natural. This would probably be great for an after dinner chocolate as well. *drool*
Bubbly Milk Chocolate: Made with cocoa butter, milk powder, cocoa mass and lecithin to give just the right Bubblyâ"¢ combination and soft milk flavor appealing to youngsters and adults alike.

Bubbly Dark Chocolate: 60% Dark goes with the trend in high percentage cacao solids, offering rich bites of snappy deep, dark chocolate, with smooth after-flavor resonance.

Bubbly Coffee Milk Chocolate: Filled with coffee, and coffee flavor, perks with a sophisticated taste and aerated texture.
My recommendation for Bubble Chocolate is high. It is a pleasant and unique experience and sure to be on your list of must have's on a regular basis.
Shock Coffee Website and Store
Holy Coffee Shock Batman! Have you tried this SHOCK COFFEE? It's Hyper-Caffeinated Coffee & Drinks with Shock-A-Lots candies.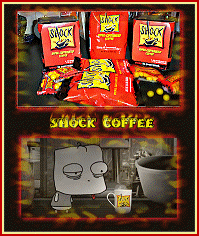 I went to the door and there stood the UPS man holding a plain brown sack colored box. I wondered what it could be. hmmm…
I brought it in and set it on my newly cleaned kitchen tile (rare instance) and got my box knife out. I zipped down one side and then the other. I slashed the center tape that secured the flaps shut. Bubble wrap!! yay! Oh wait, there is something else in there. COFFEE!!! Oh boy! My favorite thing in the world. It was my promo-sample box from Shock Coffee. Thanks guys

I wanted to brew a pot right away but had already consumed 2 pots and it was only 10:30 am. I was starting to feel a bit sick to my stomach. I'll wait until this evening. So I did.
7:00 pm rolled around and I had finally worked off all my morning brew and I was ready for my after dinner pot of coffee. I opened a bag of Shock Coffee and wow! It had such a freshly ground aroma. I stood sniffing that for a bit then I put myself 6 scoops in my brew basket. I like my coffee a bit on the bold side.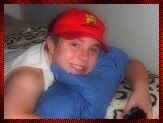 I really enjoyed the coffee house scent as the black gold quickly ran through the brew cycle. I got my giant latte mug out and filled it to the brim. I sipped and ahhh… what a fabulous taste this has, I told my son who was sporting the new Shock Coffee ball cap that came in the box of goodies. He muttered, yeah, it smells good, mom.
Well, I finished that cup and poured another. I sat down to watch a DVD and suddenly realized my eyes felt like they were the size of coffee saucers. OMG! I jumped up and ran to look in the mirror and I found that I appeared to look normal. But no, something was wrong. I was totally alert. It was as if I had just started the day. I felt like doing something. To make a long story a bit shorter, I was up until 4:30 am and had a sparkling home to show for it. What a buzz!
Keep reading to the next page…. it's my review on all the other do-dads that I got in my surprise box….
Chocolate Espresso Coffee Spoons
You will need:
espresso shot or 2 teaspoons dark instant coffee (last resort, please)
8 oz. White chocolate
8 oz. dark semi-sweet chocolate
Chocolate sprinkles, ground medium roast coffee beans, or colored sugar
12 heavy plastic spoons. (more or less)
In the microwave, or stove top, melt half of the white chocolate in one bowl. (If you use the stove top method, melt on low heat and be careful not to burn.
Using another container, melt half of the dark chocolate and add the espresso shot or instant coffee