Millions of Senseo Coffee makers have been recalled according to Associated Press.
Apparently a buildup of chalk with a power surge can cause the boiler to explode. If you own one, and are planning on continuing using it,  I would check out how to descale it, to try and make sure something like that doesn't happen to you. Just so you know, I'm not saying that descaling it will keep this from happening, you would have to check with them to make sure.
Read how to descale your Senseo here: http://www.senseo.us/Pages/ServiceAndSupport.aspx
It doesn't seem that anyone has been hurt yet, but if you have one that was made between 2006 and 2008 I would check to see if you are on the recall list.
Read the full article here: http://www.forbes.com/feeds/ap/2009/04/14/ap6286822.html
Here is a more detailed list of recalls for coffee makers, tea pots, espresso machines and any other related type gadget for your information.
Fire Hazard: Hot Water, Coffee Makers Are Recalled By Rowenta
… Fire Hazard: Hot Water, Coffee Makers Are Recalled By Rowenta … recalling the Instant Hot Water Maker, model FK-91 and the … model FK-91 and the Coffee Maker and Water Boiler FK-95 …
http://www.cpsc.gov/cpscpub/prerel/prhtml89/89030.html- 2.8KB
11 Jun 07
Coffee Makers Recalled by Regal Ware
… Regal Coffee Makers Recalled Due To Shock … 19801 — Approximately 6,800 electric coffee makers manufactured by Regal Ware … list enclosed with each new coffee maker. …
http://www.cpsc.gov/cpscpub/prerel/prhtml80/80036.html- 3.4KB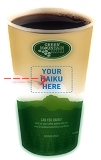 For a simple Haiku submission you can enter and have a chance to be one of 14 creative coffee drinkers selected to win a Keurig B-60 single cup brewer, two boxes of K-Cups and winning haiku, name, town and state of residence printed on one print release of GMCR Eco-container cups!
Retail Value of this prize bundle is: $189.80
To enter your Haiku and get your chance at the Keurig, simple visit their online entry form and enter your info. Contest is ending on Saturday, December 1, 2007 @ 11:59pm ET
Green Mountain Coffee Haiku Contest entry form
Good luck and I hope I'll be reading your winning entry soon!
I read that Wal*Mart has now enabled the site to accept real-time reviews/opinions on all their online products. I guess if they sell it, you can review it. I am going to leave a link to their coffeemaker page and you can go from there. Leave an opinion, let us all know what you thought of a coffee gadget you purchased through Wal*Mart. We want to know!
Seems as though many merchant sites are doing this. eBay included. I think it is just good business sense.
Here's the link:
Wal-Mart Product Review/Opinion Link See what Wal-Mart customers are saying about their selection of products!
On the follow link is a list of (2) most recent coffeemaker recalls from both Atico International USA Inc. and Gevalia. I've included a description from recalls dating July 18th 2007 and March 14th 2007. Hope you didn't have one of the mentioned units and if so, please try to discard them or return them for a refund or safe replacement.
They are doing it again! Follow the link at the end of this post and you will fill out a short survey and have a chance to get a FREE Senseo Coffee Pod System. Included will be:
Senseo® Single Serve Coffee Pod System
Bag of Senseo® gourmet coffee pods
Senseo® Coffee Pod Canister for easy pod storage and long-lasting freshness
5 $20-off Senseo® coffee machine cards to share with friends and family
Go ahead and do it. This will be my second one and they send you out a letter each time they have something new for you to try out.
Link: Senseo Single Serve Coffee Pod System
Let me know if that link is not working.
12.11.06-UPDATE: After further testing, I've come to the conclusion that I may need to toss my other coffee makers. Once you get the hang of the Aerobie, AeroPress Coffee Maker, you may never want to use anything else. The coffee is rich, smooth, bitter-free, and wonderful! It is all in what is right for you and after playing with it, testing different amounts of coffee, water levels, and how long I stir the water and grounds before I plunge it down, I've discovered that it really is the best and freshest cup.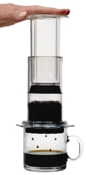 The AeroPress Coffee & Espresso Maker by Aerobie is not a french press! I want to say that it is in fact a single serve coffee maker but actually, I can make several cups with it. It will just depend on how much fine grind you use and how much water. You can make a single cup.
To be prepared to use the AeroPress Espresso Coffee Maker
The finer the grind (espresso would be best), the better you coffee is going to be. I tried a regular grind and the press did well, but it did so much better once I put espresso in it.

Using the press is as simple as can be. Your pot is your large mug. You can make enough coffee for that mug or fill it up and have enough for several cups. Everything else you need to make a fine cup is included in the kit. See image to the right. There is a plunger that you will use to press the air through the tube in able to force the water down. The water will be pushed through the filter and the grounds will remain in the tube. I've used the device several times now and have not once had any grounds in my cup.
To set it up, just place a filter in the bottom of the Aeropress then using the handy scoop included, place a scoop of coffee (one for one cup) in tube (or chamber). You can do this before or after placing it on top your coffee mug. Once you've done that, pour in the amount of hot water you wish to use. Use the stirrer that is included to mix the grounds and water. Stir that for about 10 to 20 seconds. Once you have that the way you feel you want it, place the plunger (or press) ontop the chamber and push. Be careful! Don't tip your mug over. You will find a lot of pressure present. You can elect to push the air through quickly or slower. The slower the better for a richer cup or espresso shot.
If you use one scoop and only want one cup of coffee, just add enough coffee and the amount of water needed to fill your mug. Otherwise, use more coffee and make as much espresso as you'd like. This press make a fabulous Americano. You will notice the lack of bitterness in this cup of coffee.
Ok… I stumbled onto this blog this morning. I get google alerts on specific subject matter in my e-mail one of which is 'coffee blogs'. I discovered a cool blog this morning called Potter's Blog. The guy was faced with the decision on whether to go with a new coffee-maker with grinder or keep the one he has made. You really must go by and see this guys pottery work. Adorable! Tea pots, coffee pots, plates, and so on. What I found to be notable is the handy sculpture he includes on his pottery work. Cute little animals. awww… give him a visit, will ya?
Check all my coffee and coffee product reviews
Thank you to Coffee-Snob.com for the opportunity to test their new cold drip coffee maker. It was fun and the coffee is great!

To the right you can see the unique cold drip coffee maker that is offered through coffee-snob.com . It is a really unique coffee maker and can prove to be an asset in the storage of fresh brewed coffee. What do I mean by that? Let me tell you:
First and foremost, coffee is brewed using the obvious "cold drip" method. All that is required is ice, fine ground coffee beans (my own preference), a bit of water, and about 6 hours to get it from the ice to the pot. Cold Drip produces a nice rich concentrate that can be stored up to 2 weeks in the refrigerator (right in the carafe) and brewing your coffee with cold water eliminates the undesirable oils and acids found in hot-brewed coffee that are not extracted at low temperatures.
Holy crap! I was browsing recalls and found one of my coffee makers on it listed as a fire hazard.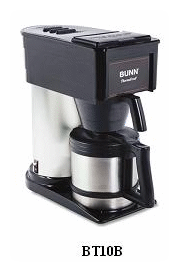 Check this link to see if one of your pots is listed. The coffee maker shown here is my model that is recalled.
Bunn-O-Matic Corp. Expands Recall of Home Coffeemakers Due to Burn and Fire Hazards
Info:
Name of Product: Bunn® home coffeemakers
(Note: This recall is an expansion of an earlier recall announced in June 2005.)
Units: About 561,000
Manufacturer: Bunn-O-Matic Corp., of Springfield, Ill.
Hazard: The coffeemaker's plastic pour-in bowl and lid can melt or ignite due to an electrical failure, posing burn and fire hazards to consumers
Senseo Single Serve Pod Coffee Maker
Read my thoughts on negative reviewing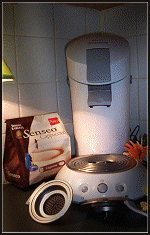 This is one of those moments that I would rather skip the review and forget I ever agreed to review a product. But I did, and I will.
I got the Senseo single serve pod maker about 3 weeks ago. I tried it soon after (within a few hours) and have avoided the issue ever since.
The machine was easy enough to use. Clean the machine by filling the reservoir in the back with cold water and using the 2 cup brew setting once the unit has heated the water. You're set once that is done.
The unit came with one bag of medium roast pods (there was the first mistake :: medium roast) and you have the option to either use the one pod or two pod holder. First off, you'd better get the pod/s in exactly perfect or you're going to have a big mess to clean up when you try to brew. The water will leak profusely from around the pod holder. And if you do not want water running all over your counter, you had better make certain to empty the reservoir before you put it away and slide it back under the counter.