coffee porn
Shock Coffee Website and Store
Holy Coffee Shock Batman! Have you tried this SHOCK COFFEE? It's Hyper-Caffeinated Coffee & Drinks with Shock-A-Lots candies.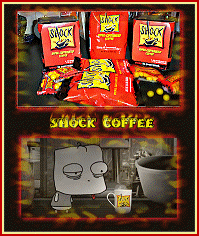 I went to the door and there stood the UPS man holding a plain brown sack colored box. I wondered what it could be. hmmm…
I brought it in and set it on my newly cleaned kitchen tile (rare instance) and got my box knife out. I zipped down one side and then the other. I slashed the center tape that secured the flaps shut. Bubble wrap!! yay! Oh wait, there is something else in there. COFFEE!!! Oh boy! My favorite thing in the world. It was my promo-sample box from Shock Coffee. Thanks guys

I wanted to brew a pot right away but had already consumed 2 pots and it was only 10:30 am. I was starting to feel a bit sick to my stomach. I'll wait until this evening. So I did.
7:00 pm rolled around and I had finally worked off all my morning brew and I was ready for my after dinner pot of coffee. I opened a bag of Shock Coffee and wow! It had such a freshly ground aroma. I stood sniffing that for a bit then I put myself 6 scoops in my brew basket. I like my coffee a bit on the bold side.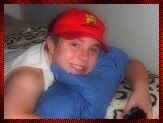 I really enjoyed the coffee house scent as the black gold quickly ran through the brew cycle. I got my giant latte mug out and filled it to the brim. I sipped and ahhh… what a fabulous taste this has, I told my son who was sporting the new Shock Coffee ball cap that came in the box of goodies. He muttered, yeah, it smells good, mom.
Well, I finished that cup and poured another. I sat down to watch a DVD and suddenly realized my eyes felt like they were the size of coffee saucers. OMG! I jumped up and ran to look in the mirror and I found that I appeared to look normal. But no, something was wrong. I was totally alert. It was as if I had just started the day. I felt like doing something. To make a long story a bit shorter, I was up until 4:30 am and had a sparkling home to show for it. What a buzz!
Keep reading to the next page…. it's my review on all the other do-dads that I got in my surprise box….