The owner of the Grand View Coffee shop, which was destroyed by an arsonist last week, plans to have his waitresses, clothed, in the parking lot of the once hot establishment, taking up donations in an effort to raise money to rebuild. They will give out free coffee and donuts. The coffee shop, which is located in Vassalboro, Ma., had no insurance on the building or equipment.  Reportedly, the fire was set just hours after the owner discussed making the coffee shop more like a strip club with local officials.
http://www.google.com/hostednews/ap/article/ALeqM5jLg_EedjmFs852dVdlVg0SKObzhQD98M23VO2
Grand View Topless Coffee Shop in Vassalboro, Maine. burned to the ground on Wednesday morning shortly after midnight. A state fire inspection said that it was arson. The building was a complete loss.
Donald Crabtree, the shop's owner, says that he intends to rebuild. His home was attached to the Grand View Coffee Shop. He and his family have been forced into a hotel due to the fire. Mr. Crabtree's two 4 month old grandchildren were among those in the attached residence at the time the fire was set.
Mr. Crabtree had no insurance on the property, but said that he would reopen temporarily on the lot in a trailer if necessary.
http://www.cnn.com/2009/US/06/03/topless.shop.fire/index.html?eref=rss_mostpopular
Shock Coffee Website and Store
Holy Coffee Shock Batman! Have you tried this SHOCK COFFEE? It's Hyper-Caffeinated Coffee & Drinks with Shock-A-Lots candies.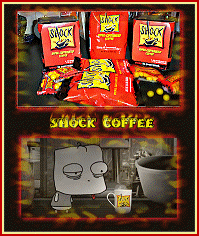 I went to the door and there stood the UPS man holding a plain brown sack colored box. I wondered what it could be. hmmm…
I brought it in and set it on my newly cleaned kitchen tile (rare instance) and got my box knife out. I zipped down one side and then the other. I slashed the center tape that secured the flaps shut. Bubble wrap!! yay! Oh wait, there is something else in there. COFFEE!!! Oh boy! My favorite thing in the world. It was my promo-sample box from Shock Coffee. Thanks guys

I wanted to brew a pot right away but had already consumed 2 pots and it was only 10:30 am. I was starting to feel a bit sick to my stomach. I'll wait until this evening. So I did.
7:00 pm rolled around and I had finally worked off all my morning brew and I was ready for my after dinner pot of coffee. I opened a bag of Shock Coffee and wow! It had such a freshly ground aroma. I stood sniffing that for a bit then I put myself 6 scoops in my brew basket. I like my coffee a bit on the bold side.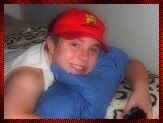 I really enjoyed the coffee house scent as the black gold quickly ran through the brew cycle. I got my giant latte mug out and filled it to the brim. I sipped and ahhh… what a fabulous taste this has, I told my son who was sporting the new Shock Coffee ball cap that came in the box of goodies. He muttered, yeah, it smells good, mom.
Well, I finished that cup and poured another. I sat down to watch a DVD and suddenly realized my eyes felt like they were the size of coffee saucers. OMG! I jumped up and ran to look in the mirror and I found that I appeared to look normal. But no, something was wrong. I was totally alert. It was as if I had just started the day. I felt like doing something. To make a long story a bit shorter, I was up until 4:30 am and had a sparkling home to show for it. What a buzz!
Keep reading to the next page…. it's my review on all the other do-dads that I got in my surprise box….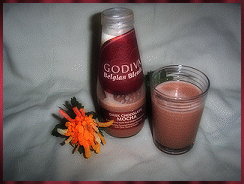 This summer, Coca-Cola teamed with the delicious Godiva chocolatier. The product is branded under the Godiva name, rightfully so. I purchased all three versions they have out at the moment (Dark Chocolate Mocha, Milk Chocolate Mocha and French Vanilla Latte) and have first tried the Dark Chocolate Mocha.
INFORMATION:
Size: 9.5-fl. oz. bottles. Price: $1.79 (price may vary)
Can be purchased in singles or four-packs.
NUTRITION FACTS & INGREDIENTS (for this product version)
Ingredients: Reduced fat milk, water, coffee, sugar, cocoa powder, natural flavors, sodium bicarbonate, cellulose gel, caffeine, carrageenan, mono and diglycerides, cellulose gum
Nutrition Facts: Serving size: 1 bottle; Amount per serving: Calories: 200; Total fat: 3.5g; Saturated fat: 2.5g; Cholesterol: 15mg; Sodium: 160mg; Total carbs: 37g; Fiber: 1g; Sugars: 35g; Protein: 6g; Vitamin A: 0%; Vitamin C: 0%; Calcium: 20%; Iron: 6%