You read the title right. Food Network has decided to teach us how to turn coffee grounds into coffee granitas. I'm interested!
What is a coffee granita you ask? Its a frozen drink made from used coffee grounds. Jonathan Kallini, pastry chef at Atlanta's Floataway Cafe, appeared on Food Network and gave the secret to making this drink. In order to make this concoction Kallini says to steep the coffee grounds again adding sugar and salt then freeze them.
Well, this is certainly a creative way to get more out of your beans!
Everyone loves a good coffee recipe.  I wanted to share this one with you.  Its really good.  This recipe makes one drink.  Very tasty!
Ingredients
1 fluid ounce Kahlua
1 fluid ounce vodka
1/2 fluid ounce fresh brewed espresso
Directions
Combine all ingredients into a cocktail shaker. Add ice and shake vigorously, strain into a chilled martini glass.
This drink contains about 160 calories.  You can also used chilled coffee or espresso if you prefer a cold Martini.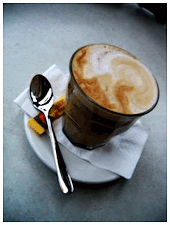 Starbucks Copy-cat
Caramel Macchiato
Starbucks Style
Use a 12 ounce mug and remember that Starbucks uses .75 oz of syrup per 4 oz of liquid and 1 shot espresso unless you've ordered a double shot for their Macchiato coffee drink. Please note that I have added the use of caramel syrup which in actuality Starbucks does not use it in the drink they make but it does add an extra something. Try it!
Ingredients you will use:
1. 3/4 cup steamed milk
2. 1 shot espresso
3. 1/4 ounce or 1 tsp. vanilla syrup (.25 oz per 4 oz liquid)
4. your favorite caramel sauce for drizzle. I recommend Ghirardelli Caramel Sauce
because it is just fabulous!
5. 1/4 ounce or 1 tsp. caramel syrup such as Da Vinci Caramel Syrup
Directions:
In your coffee mug, add vanilla syrup, caramel syrup and steamed milk. Top with milk foam and add freshly brewed espresso through the foam. Drizzle with caramel sauce. Don't skimp on the caramel. Cause "it's soooo good!"
What is Macchiato?
Here is Wikipedia's explanation for the meaning of "Macchiato":

"Macchiato" simply means "marked" or "stained," and in the case of caffè macchiato, this means literally "espresso stained/marked with milk." Traditionally it is made with one shot of espresso, and the small amount of added milk was the "stain." However, later the "mark" or "stain" came to refer to the foamed milk that was put on top to indicate the beverage has a little milk in it (usually about a teaspoon [in fact, the Portuguese word for a macchiato is "pingo," which means "drop"]). The reason was for the baristas to show the serving waiters the difference between an espresso and an espresso with a little milk in it; the latter was marked. In the United States, "macchiato" is more likely to describe this variant (in contrast to latte macchiato), and thus arises the common confusion that "macchiato" literally means "foam," or that a macchiato must necessarily have foam. (As the term "macchiato" to describe this type of coffee predates the common usage of foam in coffee by centuries, the staining "agent," the additive that lightens the dark espresso, is traditionally the milk, not the foam.)
Starbucks Gingerbread Latte copy
1-2 shots espresso and very strong (fresh) coffee
8 ounces milk, steamed (with a little foam) (if you do not have a steamer, you can make foam with a hand whip.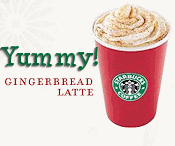 Add a tablespoon of gingerbread syrup either by making it yourself as I have shown you in the previous entry or by purchasing a like product that I also listed for you in the previous post.
Pour the syrup into a mug and add the espresso and then the milk. You can top with whipped cream if you so desire but do not forget to sprinkle a bit of nutmeg on top the foam or topping to make it just right. Comparable to

Starbucks Gingerbread Latte
. Enjoy!
A very short entry to let you in on a little tip for making better coffee (frozen) drink recipes.
Get an ice-cube tray and fill it with strong coffee and freeze them. What you are doing here is making sure the ice-cubes do not water down your wonderful coffee drink. The cubes tend to be a bit easier to blend as well.
Try it! I think you love the outcome.