Learn about espresso and hear the taste by taste coffee review by Coffee Nate about Honey Bean Coffee.  Check out the coffee review at:
http://www.coffeenate.com/espresso-tips/
Who is OfficeCoffee?
OfficeCoffee.com is a premium lead referral service for both buyers and sellers.
OfficeCoffee is the best place to locate Coffee Services, Water Service, Vending Machine and Food catering services in your local area. Their service is 100% free to use. You are not commited to anything and they will supply up to 4 leads within 2 days with specific information you provide about your needs. Pricing on leads for sellers are very reasonable.
A limit on the number of leads you want to receive each month can be set to fit your budget. OfficeCoffee guarantees no leads will come from competitors, leads are within your service area, and will be delivered to you within 2 days of it being submitted.
To get an idea of exactly what OfficeCoffee has to offer I am including a list of a few items:
Coffee: Single Pot or Single Cup type. Nice looking units too.
Water Services: Bottled Water Coolers, Point of Use Coolers, or Counter Top type.
Vending: Some of the items offered are Bottled or Canned Sodas, Snacks, Food type, and Hot Beverages
Food Service: Some ways you can have food catered to your office is Daily Food Delivery, Office Parties, Conferences, etc
There really is no limit to the possibilities when you use OfficeCoffee as your lead source.
Sellers:
One thing to give you just an idea of what you can expect from OfficeCoffee as your lead source is reasonable monthly lead rates.
Officecoffee's lead referral service provides up-to-date local sales leads to help expand your business. Just tell them the number of leads you want each month and expect a rapid turnaround on notification of prospective leads for your company. You will be provided with the buyer's company details, contact person's name and purchasing needs. You see, it is all pretty much done for you. All you have to do is sit back and wait for OfficeCoffee to do their thing.
Your credit card is charged for the leads you receive and at the end of each month you will receive a statement recapping all of your account details. There is no minimum length of participation and there is no account maintenance fees.
About the Website:
OfficeCoffee.com is presented very well and is designed tastefully. There is a good sitemap to help you in navigation and all the FAQs are in order and very helpful to potential clients.
There are no broken links and no intrusive ads. Pages are fast loading. Your visit should be quite pleasant.
Give them a look and decide for yourself. I'm certain you will not be disappointed in what you discover.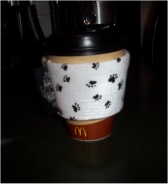 Joe's Coffee Collars is one of the best ideas I've seen in a while. Though my photo leaves something to be desired, the little insulated cup hugger does not.
They come in assorted colors and designs (though I am not sure you can get this particular one now) and fit a cup ranging from small to large. Your standard tall, Grande, and Venti Starbuck's models. Such names for cup sizes!
Anyway, these nifty, re-usable, insulated cup sleeves are made in Alaska and are state of the art insulate that keeps a beverage warmer, longer than neoprene. I can honestly testify to that. I love them!
They are trendy, attractive, and make a great conversation item. I would agree that these are enviromental safe since they are re-usable time after time. They do hold their shape.
Stop by Joe's and give them a peak. They are reasonable at $5.99 each with free shipping in the U.S. You can also buy wholesale. I'll bet you love them too!
Zabar's resides in New York. Here is a quote from their site and please take time to read their story. It is most interesting. The Zabar's Story
Zabar's is open 365 days a year and there is always a Zabar in the store. Today the store is over 20,000 square feet (almost a city block long). We have over 250 employees. We sell over 8,000 lbs of coffee a week and over 35,000 customers a week visit our store.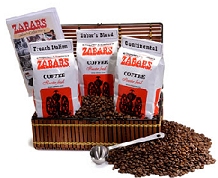 Zabar's is not exactly a coffee shop but they should be. I've searched through their site and found a treasure chest of wonderful and delightful goodies ranging anywhere from coffee to their signature Fresh Baked Rugelach. You will have to check out their gift baskets while visiting and do not forget the coffee! Speaking of…..
Good day! Here is a bit more linkey love for you. Enjoy!
Portland Roasting Company. Their site is as yummy as their beans look.
Journey's: A newish coffee blog, Journey's. Been about for two or three months. Check em out!
Smelling the Coffee : Interesting coffee blog. Thought you'd enjoy it, plus, I love that blog title.

Just Coffee: All about Fair Trade
Slashfood/Coffee Area: Slashfood isn't all about coffee but they have a nice coffee area. Besides, I love visiting their blog. Great place to go.
Here is #2 in a series of '???' quick link posts. Just places I've found that I really like and hope for you to enjoy as well.
1. Bloggle.com Coffee and Commentary
2. Espresso Journey The journey from instant coffee to pro barista of a young man in New York City. Interesting. One of the most detailed of a coffee review in photos I've seen.
3. Pug Java Um… coffee for people who love Pugs? ha! I like that.
4. Steaming Bean Coffee Company These people need to get on the stick and send me some coffee to review. That Midnight Espresso, Organic French Roast, and Dark Kenya AA sound devine! Nice site too. I've included this one for you because you can enter a monthly drawing for free coffee! Just follow the link but look around at what they got while you're there. It is so yummy!
5. My Espresso Journey Interesting read.

The coffee just keeps getting better. Just when you think you've had the best ever, another company comes along with something just as awesome or even better than that.
In a nutshell, I love Copper Door Coffee Roasters and their wonderful, fresh roasted coffee. But we can not do things in a nutshell, can we? I must write more than that.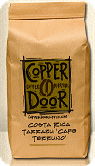 First, I have to comment on their bags. It is like a plain brown sack you'd send a lunch in. I love it! Simple as that is, it makes for the most elegant of presentation to me, not to mention environmentally friendly. Kudos. Don't ever change that.
Here's a wee bit of info on them. The rest you can read for yourself on their beautifully designed website.
Keeping with Artisan tradition, beans are roasted a batch at a time (8 pounds max) and not mass produced like some other companies do. Tidbit: They roast using 100% wind purchased from the wind farm near Ft. Collins, CO. Isn't that awesome? Read more on their website.
Be sure to keep on to the next page to read the rest of the review!
Read more

First of all let me thank The Roasterie for including the pretty logo espresso cup and saucer with the fabulous beans they sent to me. Believe it or not after all these years and many, many cups of espresso later I never had any good cups for my shots. I guess I never took the time. Well, it had not been more than a few days before they sent this one that I was thinking of starting a collections of them. Behold! My first one to start my collection off with. I sort of believe that you bring to you what is strongly on your mind. The cup is good looking and I am very proud of it. Thank you Lindsey!

First of all, I'd like to thank CafeVivo for the most generous portions of beans they sent for me to taste and review. Full pound bags is most unusual these days and I appreciate it very much. Often, I may like or dislike a coffee initially but over time may find something either positive or negative that changes my mind in either direction. I drink more than most can even imagine and I am a healthy, nearly 50 yr. old woman. Not that I claim to be 'old' but I certainly am no spring chicken. Or summer chicken. Hmm.. do they have those? Oh well, on to the review.
CafeVivo sent me a bag of Golden Sumatra and a bag of Ethiopia Sidamo. My goodness! Yes, this has been a delightful experience for me. I so enjoyed both beans and long for more. I was especially partial to the Ethiopian. It was so delicious and hearty. I wish I could say it was satisfying but I can not. Ha! Not a bad thing. I just keep wanting more and more. How can I stay satisfied with something so good? Please, let me have no 'last drop' in my cup. These beans are roasted per order and arrive fresh and ready to be enjoyed.
Please read more to get to the individual reviews….
Read more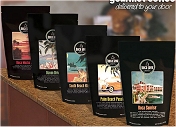 It has been my pleasure to grind and taste a bit of Boca Java's great blend called Boca Sunrise and a fine Columbian they call Cool Breeze Columbian. Both are terrific and since it is roasted to order, makes it all the more special.
This past winter I ordered a white hot chocolate from them named White Mocha Blizzard. I fell in love with this rich and creamy dream and knew I must be in for a treat with the coffee they were going to send me.
Normally, if I found I site that peddles coffee items that I enjoyed seeing, I'd just list it in my links but I really had a visual epiphany when I saw these particular tampers. Stop by and give them a look. The Pullman Tamper. It's a thing of beauty!