coffee t-shirts
Review in Coffee Makers on the Keurig Gourmet Single Cup Brewer - B40
I've tried several single cup coffee makers but actually have only managed to review two of them. One is actually considered a press while the other is a single cup brewing machine. I thought since I do have the Keurig Elite B40 sitting on the counter, I should review it.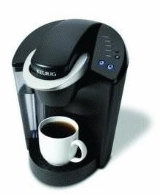 Do I like it? Well, yes, I do but I have yet to find one that I want to tell you that I love and can't do without. The main thing that I have a problem with is the coffee taste when I compare it with a full brewed pot in a different coffee maker. One should be able to love a single cup not just tolerate it. I exaggerate though. The difference is very small and only one who wants their coffee to sprout legs and walk on its own would notice that difference. It really is a bit more than tolerable. And with all the newest k-cups on the market, I am certain that you (and myself) can manage to find something to your liking.
Just considering the coffee maker its self, I do love it. It is simple to use and makes a cup quickly. I can have a fresh cup within a 30 seconds from start to finish with the water pre-heated and about 60 seconds if you have had the machine off and need to wait for the water to heat. And that is perfect if you are in a hurry thus making the taste tolerable. It is very simple to clean. Once brewing has stopped, you can just remove the k-cup and throw it away wiping up any liquid that has drip onto the drip pan. You'll want to clean the k-cup holder from time to time.
The Keurig Elite B40 has 2 brew sizes: 9.25 oz. & 7.25 oz. and removable 48oz. water reservoir plus a removable drip tray. It weighs about 15 pounds full and runs on 1500 watts.
You can leave the machine plugged in in order to keep the water pre-heated. Been somewhat green-ish though, I do turn mine off for the most part. The only difference is you'll have to wait a bit longer for the cup of coffee to brew. Also, there is the issue of those empty plastic k-cup empties. Those can add up over time but I am sure sooner or later I (or someone else) will figure out something useful for those. Not as bad as diapers I'd say.
The cost is affordable. About $99 through Keurig with a free 18 count k-cup package and FREE shipping or get about the same deal through Amazon (see image in review here)
I do recommend the Keurig Elite B40 and I wish you many single cups of coffee love.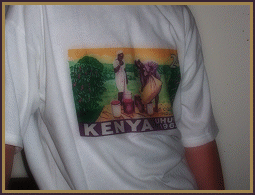 I got a neat t-shirt to review from
The owner let me pick the tee I wanted and I chose a
Kenya Coffee Industries
t-shirt. I just love it!
This t-shirt is not too heavy yet not too thin either. (100% pre-shrunk cotton tee shirts) It is soft and doesn't itch at all. I've found that often this is the case with new t-shirts. Since it is pre-shrunk, I suppose that took away any issues I'd have with scratchiness or stiffness.
The company did an awesome job on the decal placement. Smooth and without any wrinkles or bubbles. Just perfect.
The website has very unique t's and personally, there are many, if not most, that I've never seen before. Nothing typical, but fresh and different.
There are your standard size t-shirts (which is what I got) but they also have the women's fitted t's plus children and toddler sizes! I think David has all the bases covered here. Nice job.
What a variety he has well. There are cat t's, coffee t's (my fave), stamp t's … these are awesome, butterfly t's, Christmas t's…… and on and on… you must take a look for yourself. there are about 59 categories! There really is a lot to see on David's site.
Interesting: Read about t-shirt history and the fun t-shirt faq's included. Humorous!
Even though I got my shirt gratis, which would make the good service even more evident, shipping was VERY quick and communication is spot on and most friendly. I am impressed with the effort taken to get the tee I wanted and as quick as it arrived.
Go by and visit Going Postal T-Shirts. Explore and take your time looking around. I'm sure you will find something that you'll just have to have.
Note: photo with t-shirt was taken with my son wearing it. I cut his head off simply because he said, Mom! don't put my head in!…. he was having a very bad hair day plus I woke him up to take the photo. Poor little guy.