coffee table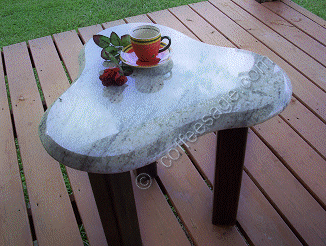 Okay, so this isn't an actual coffee table but I think it makes a great patio/deck table for having that morning coffee. A very pretty marble top and sturdy steel base.
I found this yesterday at a road side sale for $5.00. It is real marble and new! What a deal. So, I bought it, brought it home and am now using it on my deck for morning coffee when the weather is nice. Which it is not today. It's horrible as a matter-of-fact. Tornados looming all around. Enough of that. I just thought I'd start my coffee table category out with this one.
I'm planning a series on coffee tables. I'd like to find unique 'coffee' tables and include photos and origins. I think it will be interesting to see all the different types whether manufactured or home-made coffee tables.
Watch for additions or book mark the coffee table category if you are interested in seeing what I hope to be, an artistic collection.
If you would like to send along a coffee table photo of your own to be included, just use the contact form (find link at the top on on inner sidebar) and let me know. I'll make arrangements for you to send over the image and I will link the image back to your site.


Please make sure the photos are your own (or someone you know) and not images taken from Google Images!