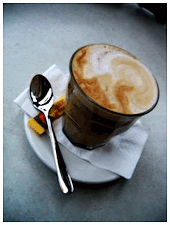 Starbucks Copy-cat
Caramel Macchiato
Starbucks Style
Use a 12 ounce mug and remember that Starbucks uses .75 oz of syrup per 4 oz of liquid and 1 shot espresso unless you've ordered a double shot for their Macchiato coffee drink. Please note that I have added the use of caramel syrup which in actuality Starbucks does not use it in the drink they make but it does add an extra something. Try it!
Ingredients you will use:
1. 3/4 cup steamed milk
2. 1 shot espresso
3. 1/4 ounce or 1 tsp. vanilla syrup (.25 oz per 4 oz liquid)
4. your favorite caramel sauce for drizzle. I recommend Ghirardelli Caramel Sauce
because it is just fabulous!
5. 1/4 ounce or 1 tsp. caramel syrup such as Da Vinci Caramel Syrup
Directions:
In your coffee mug, add vanilla syrup, caramel syrup and steamed milk. Top with milk foam and add freshly brewed espresso through the foam. Drizzle with caramel sauce. Don't skimp on the caramel. Cause "it's soooo good!"
What is Macchiato?
Here is Wikipedia's explanation for the meaning of "Macchiato":

"Macchiato" simply means "marked" or "stained," and in the case of caffè macchiato, this means literally "espresso stained/marked with milk." Traditionally it is made with one shot of espresso, and the small amount of added milk was the "stain." However, later the "mark" or "stain" came to refer to the foamed milk that was put on top to indicate the beverage has a little milk in it (usually about a teaspoon [in fact, the Portuguese word for a macchiato is "pingo," which means "drop"]). The reason was for the baristas to show the serving waiters the difference between an espresso and an espresso with a little milk in it; the latter was marked. In the United States, "macchiato" is more likely to describe this variant (in contrast to latte macchiato), and thus arises the common confusion that "macchiato" literally means "foam," or that a macchiato must necessarily have foam. (As the term "macchiato" to describe this type of coffee predates the common usage of foam in coffee by centuries, the staining "agent," the additive that lightens the dark espresso, is traditionally the milk, not the foam.)

Here is a copy cat recipe (tried and tested by me) that I feel is about as close to Cinnabon's Mochalatte Chill as one may get without having the 'real deal recipe'.
Ingredients:
1 cup brewed coffee, chilled (espresso shot is always best)
1/2 cup dark chocolate syrup or melted dark chocolate squares/chips
1/4 cup shaved dark chocolate squares or mini chips
1 cup half and half (2% for a lower in fat drink)
whipped cream or light dairy whipped topping
drizzle bottle with dark chocolate syrup inside to go over whipped topping
Combine all ingredients except whipped cream in a small container and stir well or use a small hand whip to make it even better. Place ice in two 16 ounce glasses; top with whipped cream and drizzle with chocolate syrup. You may also wish to try using a blender and crushing the ice with the Mochalatta mixture. Yum yum.
This is a copy-cat recipe developed by me ( © coffeesage.com ) but holds no claim to the Mochalatta Chill name nor is attempting any copyright infringement.
Egg Nog Latte Recipe :: copy cat to Starbucks Egg Nog Latte
Ingredients:
1/2 cup egg nog (Borden is very thick and good and Starbucks uses a local brand according to the area they are in)
1/4 cup whole milk or 2% milk. (recommend whole for frothing)
1 – 2 shots espresso or 1/4 c Espresso Roast coffee (ground and brewed strong)
a sprinkle of ground nutmeg
Instructions:
Combine cold egg nog with cold whole milk. Non-fat milk or soymilk can be substituted for the high-fat milk.
Steam the egg nog – milk mixture until the temperature reaches 145°F. or use stove-top and do NOT scorch. You just won't have the foam unless you use some sort of mixer to create the foam. Hey, it works!
Egg nog heats and scalds quicker than milk, so watch your heat temperature closely.
Pull your espresso shots and place in mug or pour the 1/4 cup strong coffee in mug.
Fill the remaining room in mug with steamed egg nog mixture. Add extra eggnog foam to the top of the mug.
sprinkle with ground nutmeg.
Pumpkin Spice Latte ( compare to Starbucks )
Note: if you are using the pumpkin spice syrup, you do not need the canned pumpkin
Ingredients:
1-2 shots espresso (1/4 C. espresso or 1/2 C. strong brewed coffee)
1 c. half and half
1 tb. canned pumpkin :: you may use either whole pumpkin or pie mix
1 tsp. Torani Pumpkin Spice Syrup
Optional pumpkin pie spice, nutmeg, or cinnamon.
Directions:
(no espresso machine?)
To make a pumpkin latte in your home: In a small saucepan, stir pumpkin puree into half and half. Add the syrup. Heat on medium until steaming, stirring constantly. You do not want the milk to burn.
In a blender on high speed, use whip setting for 20 seconds until foaming. Pour the mixture into a tall glass and pour coffee over the top. Dust with ground pumpkin pie spice or nutmeg.
(with an espresso machine)
Pour syrup in medium mug and pull your shots. Steam the half and half. Add shots to syrup and then add the steamed milk. Dust with nutmeg. Yum yum!