You can save around $100 per month simply by making coffee at home.  Many of us hit the road in the morning and go straight to the local coffee shop drive-through.  Spending between $2.50 and $5 each morning can really add up over the course of a week.  All of this adds up to one expensive habit.
Yahoo.com reported that "making your coffee at home will run about $0.12-0.28 per cu — small beans compared to store-bought. Assuming the higher end of that estimate calculates to just $1.40 per week or $5.60 each month. For that sweet price, you can afford to take a refill to the office in a reusable travel mug ($11.20 per month) for a later pick-me-up".
As for me, I enjoy the variety and quality of coffee  that I find from www.honeybean.com ,  however, there are many of shops where you can get great gourmet coffee whether you want to order it online and have it delivered to your door like me, or go to the store itself and pick it out.  You get great coffee and a great value.  Even in these tough economic times, you don't have to sacrifice your coffee to balance your budget, just modify your routine.
Learn about espresso and hear the taste by taste coffee review by Coffee Nate about Honey Bean Coffee.  Check out the coffee review at:
http://www.coffeenate.com/espresso-tips/
There is always ongoing research as to how coffee effects the body.  Coffee used to get a bad wrap, but not anymore.   Studies show that it couldprotect against diabetes,  heart disease and stroke, liver cancer, cirrhosis and Parkinson's disease.   Coffee is also helpful for athletes to help them achieve the optimum in performance. 
 Why did earlier studies not show this?  Perhaps it is because many coffee drinkers also smoke which skewed the previous tests on coffee.  It is important to account for all factors when doing medical research so that you can truly evaluate the specific thing that you are testing, in this case, coffee.
For more information and to read the full story, check out the following link.  
 http://www.baltimoresun.com/news/health/la-he-coffee18-2009may18,0,2647860.column?track=rss
This article was written by Judy Forman.  You can check out her site at www.myhealthsense.com
Have you seen McDonald's new website called Unsnobby Coffee? I guess it's their new campaign focusing on their espresso drinks. I've tried a couple and even though (to me) the drinks are not the best I've had, they aren't too bad either and for the price, it is certainly a nice alternative in these unstable economic times.
There is a coupon you can print off while there. You can get a free small one with the purchase of a sandwich, breakfast or lunch. Check it out. It's a nice looking site.

Thanks to Aura for the case of Bustelo Cool which is not no more. That's right, 24 cans all gone. In the belly and loving it. This review is not going to be a long one but will be concentrated with the ravings of a complete coffee lunatic. Ravings… that is all I can do when it comes to Bustelo Cool!
When I first set my eyes on the design of the Bustelo Cool aluminum container, it put me in mind of something from the 1950′s. But as retro as the can is, I had to like it. There is nothing "old school" about the contents and I find Bustelo Cool to be quite flavorful.
Bustelo is a Cuban style slow roasted bean that produces an excellent Cuban style espresso. Bustelo Cool is the cool refreshing version of that flavorful espresso. You can read all about how Bustelo was born on their website. Click on the hisotry link. Bustelo Cool Website
I have to admit the first time I opened the can I didn't especially like the scent of the drink but once I tasted it, I really liked it. It is creamy and bold. A bit of a kick but nothing to make you jittery. Delicious straight from the can or over ice. The great thing I found about Bustelo Cool is the fact that it is actually refreshing. Normally, if I am thirsty, coffee is not going to do much to quench that thirst but this little drink did just that.
I recommend you try Bustelo Cool for yourself. You can find it at Bustelo Cool's website in their estore, Java Cabana. Check it out and see what Bustelo has to offer. There are several coffees and drinks to select from and I know you will find something to suit your tastes.
Exotic Island Coconut Freeze
* 2 tb Coco Lopez Cream of Coconut

* 1/2 cup half and half or whole milk (Silk vanilla flavor works well for those who do not drink milk)
* 1 tsp Hershy's Special Dark
or Ghirardelli Dark Chocolate Syrup

* 2 shots espresso
* 1 tb sugar
* 1/8 tsp banana flavoring
if wanted (just adds a hint of banana and is actually very good)
* pinch of shredded coconut
* 1 cup ice
Quite Simple Directions:
Be sure to let espresso cool before putting it into the blender. All ingredients will be placed into the blender and blended until smooth. Pour into a tall glass and top with whipped cream if desired. Also, drizzle dark chocolate for an added delight. Don't forget to sprinkle the coconut shaves on top. Very simple recipe that is absolutely dreamy and delicious!
Note about product links: I only include links to products for my recipes that I find to be superior to any other. On the cream of coconut… you can get a less expensive brand but you're going to know it once you taste it. Sort-of kills the fantastic flavor of this fine coffee drink.
You may substitute the espresso with 1/4 cup extremely strong coffee or 1 tb dark roast instant coffe though you will not get the premium flavor with the substitutions.
An original © 2008 recipe by: Audrey the Coffee Sage
Zabar's resides in New York. Here is a quote from their site and please take time to read their story. It is most interesting. The Zabar's Story
Zabar's is open 365 days a year and there is always a Zabar in the store. Today the store is over 20,000 square feet (almost a city block long). We have over 250 employees. We sell over 8,000 lbs of coffee a week and over 35,000 customers a week visit our store.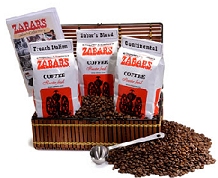 Zabar's is not exactly a coffee shop but they should be. I've searched through their site and found a treasure chest of wonderful and delightful goodies ranging anywhere from coffee to their signature Fresh Baked Rugelach. You will have to check out their gift baskets while visiting and do not forget the coffee! Speaking of…..
Thought I would enter Daily Blog Tips contest. I read them every few days and missed the last one. Stop by and give em a visit. It is a good blog with valuable information and help.
Getting out a coffee stain: There are two ways. First off, as silly as it may seem, pour more 'hot' coffee on the stain and rinse out immediately. It should come right out.

Second, take baking soda and a tooth brush and slightly dampen the toothbrush. Dab the toothbrush in the baking soda and gently scrub the stain. This should also have a positive effect. Or you could just mix one teaspoon of white vinegar in one quart of cold water and put on stain to remove it.
A couple of things I want to touch on quickly. Steaming milk. For heaven's sake do NOT get milk too hot when steaming. It will curdle in your espresso and also cause the foam to break down about as soon as it gets into the cup. #2 issue is cup towels. Do NOT place a towel on the area where the cups are. This prevents steam from being released on your espresso machine thus causing it to produce an over heated shot.
That is all. Hope these little tidbits helped some of you.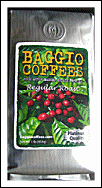 I recently tried out a couple of coffees from Baggio I had the Italian Espresso Roast and their Gourmet Blend.
I will not be able to give you an exact test result about the coffees as sample sizes were sent of pre-ground coffee. One can hardly ever give a fair assessment on pre-ground but I will try.
I wanted to 'lightly' touch on a subject about coffee beans and normally I would not bother except I was reading on another blog some place and they commented that after much research they have concluded Robusta to be superior to Arabica. What could be going through this person's mind? Where did this person do his/her research? Maxwell House? Ok, that was a cheap shot but they do use Robusta, thus the cheaper prices. Right?
For those who do not know, Robusta is of lower quality. I know it sounds as if it should be better but it just is not. There is more caffeine in Robusta but when comparing oil, sugars, etc, Arabica wins out every time. I have heard tell that anybody who has ever had good Vietnamese Robusta will never go back. I doubt that really.
I guess that I am partial because there are many people who enjoy Robusta over Arabica, but any expert will tell you that Robusta tends to have a burnt rubber taste and over-all cheapness about it. Oh well, my rant is over. I just had to get that off my cup. I'll spell check later on. It's bed time. Good night.
Alright, as bad as I hate to write this, I found it interesting and wanted to post it. I really believe that our young people should watch their caffeine intake if not do away with it all together. And here is why:
Below is a link to the story about a coffee shop owner's teen who overdosed on double espresso shots. Read it and think it over. I suppose it could kill. Of course, I would never sit and drink that many double espresso shots either.
Girl Overdoses on Espresso Coffee says BBC News.