Food
Something new is on the horizon for all of you food lovers out there. Its coffee flour!  Coffee flour is the brain child of Dan Belliveau, who is a former Director of Technical Services at Starbucks.  He noticed that there was a lot of waste when it comes to making coffee. Specifically the actual berry that coffee seeds come in. The fruit is often discarded after the coffee bean has been extracted. It contains a lot of nutritious goodness and is sometimes used in tea, but for the most part it goes to waste.  Belliveau wanted to find a way to use the berry to minimize the waste so he started to experiment.  He made coffee flour and his wife baked it into some cookies to see if it was a success or just a harebrained idea. Luckily, it was a success and now Mr. Belliveau's company, CF Global Holdings, has a patent-pending process for milling the coffee flour. Belliveau says the flour tastes of a "sweet, dried fruit flavor." The flour is gluten free, has more iron than spinach and more protein than kale. It is also an amazing source of fiber. It contains five times more fiber than whole grain flour. It is 55 percent fiber! It does contain a small amount of caffeine. Edible caffeine tends to have a slower effect than liquid coffee allowing it to sustain the caffeine effect longer in the body.
So what do you think? Are you going to give it a go?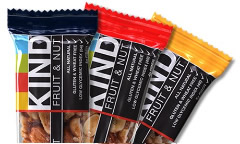 KIND Healthy Snacks (KIND) introduces two new flavors at Starbucks, Apple Cinnamon Nut + Fiber and Blueberry Vanilla & Cashew.
KIND sent me a few of these to try, after reading the label and seeing how healthy they were, I was skeptical.  But after I had one, I was amazed at how good they were.
These healthy bars are all natural, low in sodium, gluten free, wheat free, dairy free and non GMO.  (almost too healthy)
KIND says be kind to your body, which is great, but the taste is good enough that I'd eat it if it wasn't healthy.  When you open the package you can actually see what type of fruit and nuts you are about to eat.
These two new flavors are only available at Starbucks, but  you can check out some of their other offerings online @ http://www.kindsnacks.com