Tis' the season for flavored coffee!!!! This year, more regional and grocery store brands are participating with holiday blends of their own according to Bloomberg Business Week reports.
Starbucks has Peppermint Mocha Latte, Gingerbread Latte and Eggnog Latte. They also carry a lower-calorie version of the Peppermint Mocha Latte in select markets.
Dunkin' Donuts has added a low-cal version of its gingerbread-flavored drip coffee to its holiday lineup.
Caribou Coffee has Fa La Latte and Ho Ho Mint Mocha.
Maxwell House is offering a Peppermint Mocha Latte mix.
Get your holiday flavor on!
The sights, sounds and aromas of the holiday season often stir up a sense of nostalgia and a yearning to be at home with family.  This year, Folgers® is once again helping to make that happen for five lucky families as part of the second annual "Home for the Holidays" contest.    To enter, America can visit www.folgers.com from October 1, 2010 through November 30, 2010, and submit a 200-word essay answering "What is the best part of wakin' up at home during the holidays with Folgers coffee?"   Five winners will receive a seven day, six night trip in December 2010 for themselves and up to three other guests to travel to their hometown destination within the 48 contiguous United States.  Each trip includes round trip airfare, hotel accommodations, a rental car, $1,000 spending money and a Folgers gift basket.  Travel origination and destination must be within the 48 contiguous states. Open to legal residents of the 50 United States and D.C. 18 years old or older.  Void where prohibited. See www.folgers.com for Official Rules, entry information and complete details.
Starbucks Gingerbread Latte copy
1-2 shots espresso and very strong (fresh) coffee
8 ounces milk, steamed (with a little foam) (if you do not have a steamer, you can make foam with a hand whip.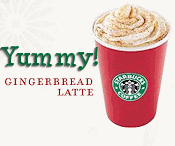 Add a tablespoon of gingerbread syrup either by making it yourself as I have shown you in the previous entry or by purchasing a like product that I also listed for you in the previous post.
Pour the syrup into a mug and add the espresso and then the milk. You can top with whipped cream if you so desire but do not forget to sprinkle a bit of nutmeg on top the foam or topping to make it just right. Comparable to

Starbucks Gingerbread Latte
. Enjoy!
The fall season is closing in on us and so are the holidays. Don't you wish you could make all those seasonal coffee drinks you love, all by yourself?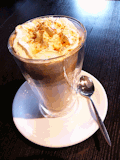 I love ginger bread, gingerbread syrup, and all the yummy things you can make with it. Obviously, I generally intend it for my coffee drinks. Here is a simple recipe you can follow to make a tasty gingerbread syrup yourself saving you both time to go buy it and of course, money. Enjoy!
Gingerbread Syrup
1 1/2 cups water
1 cup fine granulated sugar (bakers sugar is great for this)
2 teaspoons ground ginger
1/4 teaspoon ground cinnamon
1/4 teaspoon vanilla extract
* Combine the water, sugar, cinnamon, ginger, and vanilla in a small to medium saucepan. Medium is probably better since the syrup could boil over the top.
* Bring mixture to a boil then reduce heat and simmer uncovered for 20 minutes. When done, pour into a melt-proof container and let cool. It will thicken a bit more once cooled.
Use in your favorite gingerbread recipe or coffee drink. See Starbucks style Gingerbread Latte recipe to follow.
If you do not want to make it yourself, here is a great syrup that will certainly do the trick.

Or for those who love sugar-free syrups, try:
image credit: © What I Love..
Christmas Coffee
1/2 pot of coffee (5-6 cup equivalent)
1/3 cup sugar (use a very fine granule)
1/2 package semi-sweet bakers chocolate (melted)
1/8 teaspoon cinnamon
1/8 teaspoon nutmeg
whipping cream for topping (optional)
5-6 candy canes (optional)
Prepare your coffee.
In a medium sauce pan, melt chocolate. Add sugar, nutmeg, cocoa, and cinnamon. Stir constantly until steaming.
Combine coffee and chocolate spice mix. Pour into medium size coffee mugs and top with whipped cream. For added appeal, stick a candy cane in the cup of yummy liquid.
Note: You may want to adjust the amount of your spices. Different tastes for different folks, you know.
Have a Merry Christmas!
Other Holiday Treat Recipes:
Audrey's Holiday Peppermint Mocha
Pumpkin Spice Latte
Put a new twist on all the traditional winter cocktails. 75 recipes to entertain your small dinner parties or large group soirees.

Flaming Coffees
Mulled wines & Ciders
Stylish cocktails
Popular liqueurs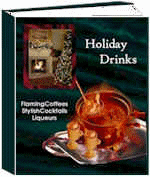 I found this 'e-book' on some holiday recipes that includes coffee type recipes as well. I thought it looked interesting and maybe you will too! The cost is $3 per download. Remember, this is an e-book and not a hardcover. To see examples and/or to order: Click Here!
Audrey's Holiday Peppermint Mocha
1 espresso shot
1 square (1 oz.) BAKER'S Semi-Sweet Baking Chocolate
1/2 tsp. x-fine sugar is desired… taste first for sweetness
3/4 cup steamed or hot half and half
1/2 tsp. peppermint syrup.
note: do not use extract if you do not have to. It is too bitter and leaves a horrible after taste
1 peppermint stick
POUR espresso into small saucepan. Add chocolate; cook on low heat 5 min. or until chocolate is melted, stirring occasionally.
Add half and half, peppermint syrup and stir until well blended. Garnish each serving with a peppermint stick.
I compiled a list on an Amazon Store of items you need to make your holiday drinks and recipes I've included on here. I hope it will make it easier for you to find those pumpkin and egg nog items. Here is the link:
HAPPY HOLIDAYS
Egg Nog Latte Recipe :: copy cat to Starbucks Egg Nog Latte
Ingredients:
1/2 cup egg nog (Borden is very thick and good and Starbucks uses a local brand according to the area they are in)
1/4 cup whole milk or 2% milk. (recommend whole for frothing)
1 – 2 shots espresso or 1/4 c Espresso Roast coffee (ground and brewed strong)
a sprinkle of ground nutmeg
Instructions:
Combine cold egg nog with cold whole milk. Non-fat milk or soymilk can be substituted for the high-fat milk.
Steam the egg nog – milk mixture until the temperature reaches 145°F. or use stove-top and do NOT scorch. You just won't have the foam unless you use some sort of mixer to create the foam. Hey, it works!
Egg nog heats and scalds quicker than milk, so watch your heat temperature closely.
Pull your espresso shots and place in mug or pour the 1/4 cup strong coffee in mug.
Fill the remaining room in mug with steamed egg nog mixture. Add extra eggnog foam to the top of the mug.
sprinkle with ground nutmeg.
Pumpkin Spice Latte ( compare to Starbucks )
Note: if you are using the pumpkin spice syrup, you do not need the canned pumpkin
Ingredients:
1-2 shots espresso (1/4 C. espresso or 1/2 C. strong brewed coffee)
1 c. half and half
1 tb. canned pumpkin :: you may use either whole pumpkin or pie mix
1 tsp. Torani Pumpkin Spice Syrup
Optional pumpkin pie spice, nutmeg, or cinnamon.
Directions:
(no espresso machine?)
To make a pumpkin latte in your home: In a small saucepan, stir pumpkin puree into half and half. Add the syrup. Heat on medium until steaming, stirring constantly. You do not want the milk to burn.
In a blender on high speed, use whip setting for 20 seconds until foaming. Pour the mixture into a tall glass and pour coffee over the top. Dust with ground pumpkin pie spice or nutmeg.
(with an espresso machine)
Pour syrup in medium mug and pull your shots. Steam the half and half. Add shots to syrup and then add the steamed milk. Dust with nutmeg. Yum yum!