We all loved it as a kid.  ICEE made our mouths turn blue and red and left us full of delight.  Now, as adults, they are about to make us even happier. 
ICEE has teamed up with Javo Beverage to introduce 2 new iced coffees in North America under the trademark name of Java Freeze.
Cody C. Ashwell, Javo chairman and CEO, said, "ICEE is a stand out supplier to the foodservice industry and has longstanding relationships with some of the most important foodservice operators in our industry." Ashwell added, "We believe this alliance will complement our own sales efforts because ICEE has reach to thousands of independent foodservice operators seeking to capitalize on the growing market for iced coffee but require a non-concentrated dispensed beverage solution because of lower daily cup sales."
Mr. Ashwell added, "As the leading provider of dispensed beverage iced coffee, we have the infrastructure, service, and distribution capabilities to supply national foodservice operators with specialty iced coffee as well as hot coffee and tea. Our products are cost effective and eliminate waste, and in this challenging economic environment, foodservice operators are committed to offering great tasting beverages in the most cost efficient manner possible."
The company will intitially start out with two tasty flavors, caramel latte and mocha latte.  Look for them soon anywhere ICEE's are sold.  Come back to coffeesage.com and let us know what you think of ICEE's frozen coffee.
Starbucks is testing out alcoholic beverages, just not at its coffee shops.  The company  is testing out beer and wine along with live music in some stores in Seattle, that are not under the Starbucks brand.  They are also hosting book and poetry readings.  They are trying to get back to their roots. 
Although the company that owns Starbucks will also own these stores, they will not bear the Starbucks name or logo.  Just a neighborhood-inspired name that will appear also on bags of Starbucks coffee sold at the stores, though the bags will reportedly contain the same coffee as traditional Starbucks, according to the Seattle Times.
You can save around $100 per month simply by making coffee at home.  Many of us hit the road in the morning and go straight to the local coffee shop drive-through.  Spending between $2.50 and $5 each morning can really add up over the course of a week.  All of this adds up to one expensive habit.
Yahoo.com reported that "making your coffee at home will run about $0.12-0.28 per cu — small beans compared to store-bought. Assuming the higher end of that estimate calculates to just $1.40 per week or $5.60 each month. For that sweet price, you can afford to take a refill to the office in a reusable travel mug ($11.20 per month) for a later pick-me-up".
As for me, I enjoy the variety and quality of coffee  that I find from www.honeybean.com ,  however, there are many of shops where you can get great gourmet coffee whether you want to order it online and have it delivered to your door like me, or go to the store itself and pick it out.  You get great coffee and a great value.  Even in these tough economic times, you don't have to sacrifice your coffee to balance your budget, just modify your routine.
People who live in higher elevations, such as in Boulder, CO., often worry about dehydration.  They feel that due to the dry climate and huge amount of outdoor activities, they must drink water from the time they get up until they lay their head on the pillow at night to stay hydrated.  It also makes many wonder if coffee is a dehydrating drink.  Some health professionals tell their clients to drink two glasses of water for every cup of coffee they drink in order to avoid dehydration.  However, recent research is countering this assumption. 
Vanderbilt University Institute for Coffee Studies and Positively Coffee have been doing research on the dehydrating effects of coffee.  Their studies show that moderate caffeine consumption does not dehydrate people, but it is considered an acceptable contributor to a humans daily fluid intake requirement.  A 2007 study looked at fluid balance, hydration and exercise in the heat.  They concluded that if you have no more than 400mg of caffeine, there is no dehydration effect with either exercise or at rest.  A 1.5 ounce sot of espresso contains approximately 77 mg of caffeine so a single or even a double latte in the morning will not hurt you.  Many people even say that consuming coffee before they exercise makes them more productive during their activity. 
For more information check out www.vanderbilt.edu/ics/ICS_Home.shtml
There is always ongoing research as to how coffee effects the body.  Coffee used to get a bad wrap, but not anymore.   Studies show that it couldprotect against diabetes,  heart disease and stroke, liver cancer, cirrhosis and Parkinson's disease.   Coffee is also helpful for athletes to help them achieve the optimum in performance. 
 Why did earlier studies not show this?  Perhaps it is because many coffee drinkers also smoke which skewed the previous tests on coffee.  It is important to account for all factors when doing medical research so that you can truly evaluate the specific thing that you are testing, in this case, coffee.
For more information and to read the full story, check out the following link.  
 http://www.baltimoresun.com/news/health/la-he-coffee18-2009may18,0,2647860.column?track=rss
This article was written by Judy Forman.  You can check out her site at www.myhealthsense.com
Do you have some extra time?
If you have an espresso machine that can make good crema, a steady hand, and a lot of free time. You can learn to do this.
It doesn't make your latte taste any better, but it's still neat.
The fall season is closing in on us and so are the holidays. Don't you wish you could make all those seasonal coffee drinks you love, all by yourself?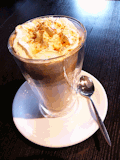 I love ginger bread, gingerbread syrup, and all the yummy things you can make with it. Obviously, I generally intend it for my coffee drinks. Here is a simple recipe you can follow to make a tasty gingerbread syrup yourself saving you both time to go buy it and of course, money. Enjoy!
Gingerbread Syrup
1 1/2 cups water
1 cup fine granulated sugar (bakers sugar is great for this)
2 teaspoons ground ginger
1/4 teaspoon ground cinnamon
1/4 teaspoon vanilla extract
* Combine the water, sugar, cinnamon, ginger, and vanilla in a small to medium saucepan. Medium is probably better since the syrup could boil over the top.
* Bring mixture to a boil then reduce heat and simmer uncovered for 20 minutes. When done, pour into a melt-proof container and let cool. It will thicken a bit more once cooled.
Use in your favorite gingerbread recipe or coffee drink. See Starbucks style Gingerbread Latte recipe to follow.
If you do not want to make it yourself, here is a great syrup that will certainly do the trick.

Or for those who love sugar-free syrups, try:
image credit: © What I Love..

Here is a copy cat recipe (tried and tested by me) that I feel is about as close to Cinnabon's Mochalatte Chill as one may get without having the 'real deal recipe'.
Ingredients:
1 cup brewed coffee, chilled (espresso shot is always best)
1/2 cup dark chocolate syrup or melted dark chocolate squares/chips
1/4 cup shaved dark chocolate squares or mini chips
1 cup half and half (2% for a lower in fat drink)
whipped cream or light dairy whipped topping
drizzle bottle with dark chocolate syrup inside to go over whipped topping
Combine all ingredients except whipped cream in a small container and stir well or use a small hand whip to make it even better. Place ice in two 16 ounce glasses; top with whipped cream and drizzle with chocolate syrup. You may also wish to try using a blender and crushing the ice with the Mochalatta mixture. Yum yum.
This is a copy-cat recipe developed by me ( © coffeesage.com ) but holds no claim to the Mochalatta Chill name nor is attempting any copyright infringement.
Egg Nog Latte Recipe :: copy cat to Starbucks Egg Nog Latte
Ingredients:
1/2 cup egg nog (Borden is very thick and good and Starbucks uses a local brand according to the area they are in)
1/4 cup whole milk or 2% milk. (recommend whole for frothing)
1 – 2 shots espresso or 1/4 c Espresso Roast coffee (ground and brewed strong)
a sprinkle of ground nutmeg
Instructions:
Combine cold egg nog with cold whole milk. Non-fat milk or soymilk can be substituted for the high-fat milk.
Steam the egg nog – milk mixture until the temperature reaches 145°F. or use stove-top and do NOT scorch. You just won't have the foam unless you use some sort of mixer to create the foam. Hey, it works!
Egg nog heats and scalds quicker than milk, so watch your heat temperature closely.
Pull your espresso shots and place in mug or pour the 1/4 cup strong coffee in mug.
Fill the remaining room in mug with steamed egg nog mixture. Add extra eggnog foam to the top of the mug.
sprinkle with ground nutmeg.
Shock Coffee Website and Store
Holy Coffee Shock Batman! Have you tried this SHOCK COFFEE? It's Hyper-Caffeinated Coffee & Drinks with Shock-A-Lots candies.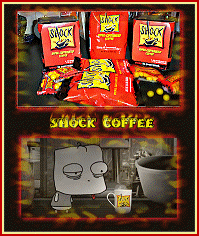 I went to the door and there stood the UPS man holding a plain brown sack colored box. I wondered what it could be. hmmm…
I brought it in and set it on my newly cleaned kitchen tile (rare instance) and got my box knife out. I zipped down one side and then the other. I slashed the center tape that secured the flaps shut. Bubble wrap!! yay! Oh wait, there is something else in there. COFFEE!!! Oh boy! My favorite thing in the world. It was my promo-sample box from Shock Coffee. Thanks guys

I wanted to brew a pot right away but had already consumed 2 pots and it was only 10:30 am. I was starting to feel a bit sick to my stomach. I'll wait until this evening. So I did.
7:00 pm rolled around and I had finally worked off all my morning brew and I was ready for my after dinner pot of coffee. I opened a bag of Shock Coffee and wow! It had such a freshly ground aroma. I stood sniffing that for a bit then I put myself 6 scoops in my brew basket. I like my coffee a bit on the bold side.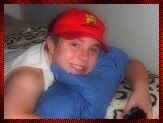 I really enjoyed the coffee house scent as the black gold quickly ran through the brew cycle. I got my giant latte mug out and filled it to the brim. I sipped and ahhh… what a fabulous taste this has, I told my son who was sporting the new Shock Coffee ball cap that came in the box of goodies. He muttered, yeah, it smells good, mom.
Well, I finished that cup and poured another. I sat down to watch a DVD and suddenly realized my eyes felt like they were the size of coffee saucers. OMG! I jumped up and ran to look in the mirror and I found that I appeared to look normal. But no, something was wrong. I was totally alert. It was as if I had just started the day. I felt like doing something. To make a long story a bit shorter, I was up until 4:30 am and had a sparkling home to show for it. What a buzz!
Keep reading to the next page…. it's my review on all the other do-dads that I got in my surprise box….
Pumpkin Spice Latte ( compare to Starbucks )
Note: if you are using the pumpkin spice syrup, you do not need the canned pumpkin
Ingredients:
1-2 shots espresso (1/4 C. espresso or 1/2 C. strong brewed coffee)
1 c. half and half
1 tb. canned pumpkin :: you may use either whole pumpkin or pie mix
1 tsp. Torani Pumpkin Spice Syrup
Optional pumpkin pie spice, nutmeg, or cinnamon.
Directions:
(no espresso machine?)
To make a pumpkin latte in your home: In a small saucepan, stir pumpkin puree into half and half. Add the syrup. Heat on medium until steaming, stirring constantly. You do not want the milk to burn.
In a blender on high speed, use whip setting for 20 seconds until foaming. Pour the mixture into a tall glass and pour coffee over the top. Dust with ground pumpkin pie spice or nutmeg.
(with an espresso machine)
Pour syrup in medium mug and pull your shots. Steam the half and half. Add shots to syrup and then add the steamed milk. Dust with nutmeg. Yum yum!