I have previously written about Kopi Luwak coffee, an expensive bean that comes from the remains of a berry eaten by the Asian Palm Civet, a cat like creature. Well now I have another expensive animal poo coffee to tell you about, only this one if from Thai Elephants.
Black Ivory, the coffee beans predigested for you by an elephant, sell for $1,100 per kilogram. There are only 50 kilograms, about 110 pounds, currently for sale.
You can get this brew, which is harvested from elephant dung, at Anantara Resorts' Maldives properties. Its also offered at Anantara's Golden Triangle property in Thailand.
According to the resort, during digestion, the enzymes of the elephant break down coffee protein, which is one of the factors responsible for bitterness in coffee. The less protein you have, the less bitterness in the coffee. When you order the coffee, they will grind it at your table and brew it in four minutes. The notes are floral and chocolate and the taste "milk chocolate, nutty, earthy with hints of spice and red berries."
AreoShot, a new coffee inhaler, is now on the market in New York and Massachussets.  Its also available in France and online.
The inhaler comes in a cannister about the size of a lipstick tube.  It contains 100 mg of caffeine powder and costs $2.99.  The airborne energy particles coat the inside of your mouth and back of the throat, then are swallowed, Massachusetts General Hospital reports. The particles dissolve quickly and are reportedly too large to reach the lungs.
It was created by David Edwards who is a biomedical engineering professor.  Mr. Edwards claims the product is safe, but US Senator Charles Schumer of New York is calling for a FDA review of the now-unregulated energy product. Edwards, however, dismisses fears that inhaling caffeine might be harmful as "a bit of hysteria" and "the knee-jerk reaction" to anything new, according to USA Today.
Critics fear that it will be used as a drug by partiers.  "You want those 10 cups of coffee, it will probably take you a couple hours to get through all that coffee with all that volume that you are drinking," Lisa Ganijhu, MD, an internist at St. Luke's-Roosevelt Hospital in New York City, told ABC News. "With these inhaled caffeine canisters you can get that in 10 of those little canisters — so you just puff away and you could be getting all of that within the hour."
The packaging warns people not to consume more than three AreoShots a day, well within the safe range for caffeine consumption. According to Massachusetts General Hospital, you'd have to consume about 80 inhalers (8,000 mg. of caffeine) to risk death by caffeine, since such a massive amount could cause a dangerous heartbeat abnormality called ventricular fibrillation.  Three cups of coffee or three AeroShots deliver about 300 mg. of caffeine, considered a moderate, safe intake. Amounts above 750 to 1,000 mg. a day can be risky, due to the potential for "caffeine intoxication," marked by such symptoms as anxiety, facial flushing, rapid or irregular heartbeat, impaired judgment, GI upset and insomnia.
Pharmaceutical grade caffeine will soon be hitting the brownies in Ames, Iowa.  A Smack In The Face, the nations first caffiene  bakery, has been opened by Allison Nelson.  Into each brownie she pours love along with 200 milligrams of pharmaceutical grade caffeine.  Now how is that or a naughty start to your morning?
"It's exactly what grandma used to bake – no high-fructose corn syrup, no partially hydrogenated soybean oil," Nelson told The Des Moines Register. "We're not wrapping up caffeine in a health bar here. We're wrapping it up in a home-baked treat. Isn't it about time you have caffeine and it tastes good?"
The brownies will be sold to local convenience stores, with a hope of moving on to chain stores.
We are all looking to Go Green for the environment. Hourglass has created a new coffee maker to help us do just that. The catch? It uses no electricity.
The Hourglass Cold Brew Coffee Maker looks sharp with its hourglass design. Its very easy on the eyes, and on your electric bill. Its easy on the back too, weighing only 2.8lbs.
The high heat and fast brew times of hot brew coffee makers can create bitter tasting coffee that's often high in acid, causing stomach aches. Hourglass coffee maker solves this problem, with cold-brewing. Because the coffee beans are not exposed to heat, bitter acids and oils are not released. Hourglass claims that this brewing process results in 69.6% less acid than hot brewed coffee.
Centuries ago, native cultures perfected the art of coffee making. These ancient coffee connoisseurs hand-selected the best beans, dried them in the sun, coarsely ground them, and soaked them overnight in pure, cold water to produce a rich and smooth tasting coffee extract. The Hourglass coffee maker brings the Lost Art of cold brewing into the 21st century, and into your home.
For those who are a fan of coffee, its always interesting to look into the roasting process.  From the green bean right to your cup, its all very interesting.   I have now found a new hobby, roasting my own beans at home.
There are a number of coffee roasters available for home use.  Some are affordable and some are on the very expensive side.  I tried out the more affordable FreshRoast + eight home coffee roaster which runs a little over $100.  I found it to be a good product and I got 5 pounds of green beans  for free to boot! 
This particular roaster is perfect for a small household of one or two people.  It looks very nice sitting on my kitchen counter as well.  Always a plus!  It only takes 7 minutes to roast 3.5lbs of green coffee beans.  It has timer and a chaff collector.  It is fairly quiet and does not smoke up the house.  The smell of the roasting beans is amazing.
McDonald's is giving another push in their quest to become number one in the coffee world.  Starbucks started giving away ice cream.  How will McDonald's counter this freebie?  Two words, "Mocha Monday". 
July 13 through August 3rd, participating McDonald's will be giving away 7oz iced and hot Mochas on Mondays.   Admittedly, the free Mochas are smaller than the regular 12oz size that the Mocha's usually come in.
McDonald's is estimating that they will give away around 10 million Mochas during this campaign.  Neil Golden, chief marketing officer of McDonald's USA said, "This is one of the largest sampling initiatives we've taken on as a company."
Zojirushi Fresh Brew coffee maker is unmistakeably sleek.  But, is it as good for your your coffee fix as it is for your eyes?  We have reviewed this product and found that is delivers, despite a few setbacks.
Zojirushi features a large carafe and keeps coffee hot and fresh.  It is easy to use.  It is also easy to clean, which is a must in my book and it runs quietly, also a plus.   
On the downside, the controls are on the side instead of the front, which takes a little getting used to.  It also brews a larger quantity as opposed to the one pot brewers.    The spout is small.  The carafe lid is secure but the one we tried  was also a little hard to unscrew.   
All in all, we found this coffee maker to be well worth the money
spent, especially for those on a budget.
We have all been there, looking for a great coffee grinder that didn't require us mortgaging the house to purchase it. Especially in this economy, it is also important to multitask. I was surprised to find a coffee grinder that cold also grind spices. It works great, looks great and saves counter space, which is a must in my small kitchen. I wanted to share this find with our readers after giving it a go with my own brew. It is Krups GX1400 Electric Coffee and Spice Grinder. Krups is definitely a brand that is trustworthy, so I just couldn't resist giving this grinder a try. The plus was not only does it do an amazing job with coffee and spices, its very classy looking, which is important to me. I hope you find this posting helpful as we are all looking for the perfect grinder.
Would you like decaf?  How about an uncaffinated coffee plant?  A new caffeine free coffee plant from Camaroon, has been named one of 10 top new species for 2008. 
To read more about the top new species please visit the link below.
http://www.sciencedaily.com/releases/2009/05/090522122314.htm
Maxwell House has come out with a new roast. It is the Dark Roast and I wanted to do a quick post about it since I have really never been a fan of Maxwell House.
Since they've started using Arabica beans for their coffees it has become much better. The newest addition to their line-up is really pretty good.
When first opened it has a nice bold aroma and rich taste. No bitterness and rather smooth. I have noticed that it tends to lose a bit of the fresh scent fairly quick so if you try it out, hurry up and drink it.

Right now, I have been getting their large canisters for $6.00 each. Can't beat that with a stick.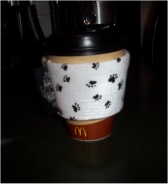 Joe's Coffee Collars is one of the best ideas I've seen in a while. Though my photo leaves something to be desired, the little insulated cup hugger does not.
They come in assorted colors and designs (though I am not sure you can get this particular one now) and fit a cup ranging from small to large. Your standard tall, Grande, and Venti Starbuck's models. Such names for cup sizes!
Anyway, these nifty, re-usable, insulated cup sleeves are made in Alaska and are state of the art insulate that keeps a beverage warmer, longer than neoprene. I can honestly testify to that. I love them!
They are trendy, attractive, and make a great conversation item. I would agree that these are enviromental safe since they are re-usable time after time. They do hold their shape.
Stop by Joe's and give them a peak. They are reasonable at $5.99 each with free shipping in the U.S. You can also buy wholesale. I'll bet you love them too!