pottery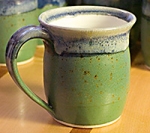 Once in a while I get the honorable job of reviewing something other than coffee or coffee makers. I do try to stay within the coffee/tea/chocolate related field though. Today I have the pleasure to review a fantastic website called Mug Revolution and handmade mugs.
These mugs are handmade in Bend, Oregon by a fantastic potter by the name of Owen Dearing. He has been hand crafting (wheel-thrown?) these works of beauty since 1990.
Ok… I stumbled onto this blog this morning. I get google alerts on specific subject matter in my e-mail one of which is 'coffee blogs'. I discovered a cool blog this morning called Potter's Blog. The guy was faced with the decision on whether to go with a new coffee-maker with grinder or keep the one he has made. You really must go by and see this guys pottery work. Adorable! Tea pots, coffee pots, plates, and so on. What I found to be notable is the handy sculpture he includes on his pottery work. Cute little animals. awww… give him a visit, will ya?