recalls
Holy crap! I was browsing recalls and found one of my coffee makers on it listed as a fire hazard.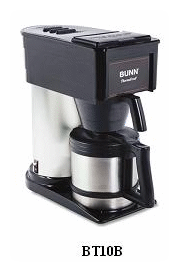 Check this link to see if one of your pots is listed. The coffee maker shown here is my model that is recalled.
Bunn-O-Matic Corp. Expands Recall of Home Coffeemakers Due to Burn and Fire Hazards
Info:
Name of Product: Bunn® home coffeemakers
(Note: This recall is an expansion of an earlier recall announced in June 2005.)
Units: About 561,000
Manufacturer: Bunn-O-Matic Corp., of Springfield, Ill.
Hazard: The coffeemaker's plastic pour-in bowl and lid can melt or ignite due to an electrical failure, posing burn and fire hazards to consumers

According to an article written on 10.17.06 on the site of The Seattle Times, Starbucks is recalling some 73,000 coffee makers because defective electrical wiring may cause them to overheat, smoke and melt their plastic shells.
It is a voluntary recall for Starbucks Barista Aroma 8-cup coffee brewer. Head on over to The Seattle Times and read the rest of the story and if you have one of these coffeemakers, beware!