The fall season is closing in on us and so are the holidays. Don't you wish you could make all those seasonal coffee drinks you love, all by yourself?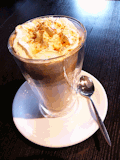 I love ginger bread, gingerbread syrup, and all the yummy things you can make with it. Obviously, I generally intend it for my coffee drinks. Here is a simple recipe you can follow to make a tasty gingerbread syrup yourself saving you both time to go buy it and of course, money. Enjoy!
Gingerbread Syrup
1 1/2 cups water
1 cup fine granulated sugar (bakers sugar is great for this)
2 teaspoons ground ginger
1/4 teaspoon ground cinnamon
1/4 teaspoon vanilla extract
* Combine the water, sugar, cinnamon, ginger, and vanilla in a small to medium saucepan. Medium is probably better since the syrup could boil over the top.
* Bring mixture to a boil then reduce heat and simmer uncovered for 20 minutes. When done, pour into a melt-proof container and let cool. It will thicken a bit more once cooled.
Use in your favorite gingerbread recipe or coffee drink. See Starbucks style Gingerbread Latte recipe to follow.
If you do not want to make it yourself, here is a great syrup that will certainly do the trick.

Or for those who love sugar-free syrups, try:
image credit: © What I Love..
Exotic Island Coconut Freeze
* 2 tb Coco Lopez Cream of Coconut

* 1/2 cup half and half or whole milk (Silk vanilla flavor works well for those who do not drink milk)
* 1 tsp Hershy's Special Dark
or Ghirardelli Dark Chocolate Syrup

* 2 shots espresso
* 1 tb sugar
* 1/8 tsp banana flavoring
if wanted (just adds a hint of banana and is actually very good)
* pinch of shredded coconut
* 1 cup ice
Quite Simple Directions:
Be sure to let espresso cool before putting it into the blender. All ingredients will be placed into the blender and blended until smooth. Pour into a tall glass and top with whipped cream if desired. Also, drizzle dark chocolate for an added delight. Don't forget to sprinkle the coconut shaves on top. Very simple recipe that is absolutely dreamy and delicious!
Note about product links: I only include links to products for my recipes that I find to be superior to any other. On the cream of coconut… you can get a less expensive brand but you're going to know it once you taste it. Sort-of kills the fantastic flavor of this fine coffee drink.
You may substitute the espresso with 1/4 cup extremely strong coffee or 1 tb dark roast instant coffe though you will not get the premium flavor with the substitutions.
An original © 2008 recipe by: Audrey the Coffee Sage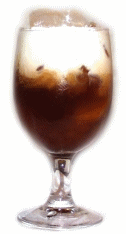 I found this recipe for Thai Iced Coffee over at : CoffeeRecipes.com and though I have not tried it, I found it to sound very interesting. Maybe you will be able to try it before I do. Isn't the photo pretty? Evidently the espresso was poured first in the image. Lovely drink.

Thai Iced Coffee
* In a tall, slender high ball glass add crushed ice (about 1/3 of the way).
* In a separate glass, fill with 2 oz sweetened condensed milk.
* Pour 2-3 oz cold espresso (depending upon strength you like) over the sweeten condensed milk (coffee sits on the top as a layer).
* Stir with a spoon until well blended.
* Pour over the ice in the other glass.
Think about adding vanilla or some other flavoring such as cinnamon for a different spin.
You should make the espresso long enough ahead so that it has cooled. Place it in the fridge the day before if you'd like.

Here is a copy cat recipe (tried and tested by me) that I feel is about as close to Cinnabon's Mochalatte Chill as one may get without having the 'real deal recipe'.
Ingredients:
1 cup brewed coffee, chilled (espresso shot is always best)
1/2 cup dark chocolate syrup or melted dark chocolate squares/chips
1/4 cup shaved dark chocolate squares or mini chips
1 cup half and half (2% for a lower in fat drink)
whipped cream or light dairy whipped topping
drizzle bottle with dark chocolate syrup inside to go over whipped topping
Combine all ingredients except whipped cream in a small container and stir well or use a small hand whip to make it even better. Place ice in two 16 ounce glasses; top with whipped cream and drizzle with chocolate syrup. You may also wish to try using a blender and crushing the ice with the Mochalatta mixture. Yum yum.
This is a copy-cat recipe developed by me ( © coffeesage.com ) but holds no claim to the Mochalatta Chill name nor is attempting any copyright infringement.
Christmas Coffee
1/2 pot of coffee (5-6 cup equivalent)
1/3 cup sugar (use a very fine granule)
1/2 package semi-sweet bakers chocolate (melted)
1/8 teaspoon cinnamon
1/8 teaspoon nutmeg
whipping cream for topping (optional)
5-6 candy canes (optional)
Prepare your coffee.
In a medium sauce pan, melt chocolate. Add sugar, nutmeg, cocoa, and cinnamon. Stir constantly until steaming.
Combine coffee and chocolate spice mix. Pour into medium size coffee mugs and top with whipped cream. For added appeal, stick a candy cane in the cup of yummy liquid.
Note: You may want to adjust the amount of your spices. Different tastes for different folks, you know.
Have a Merry Christmas!
Other Holiday Treat Recipes:
Audrey's Holiday Peppermint Mocha
Pumpkin Spice Latte
This is a re-post. It went missing and was bringing up 404′s. I just moved it and updated the timestamp so it would show.
Cherry Vanilla Frappé
Ingredients:

1 cup fresh-brewed coffee
3 large scoops Vanilla Bean ice cream
4 tbsp cherry syrup or 1 cup maraschino cherries
2 tbsp. sugar
1 cup ice cubes
Instructions:

Blend ice cream, sugar and syrup (or cherries) until just blended. Add the coffee and ice cubes (at the same time) and blend on highest speed until ice is finely crushed and mixture is well blended. Pour into glasses and top with whipped cream and a cherry. Top with vanilla sprinkles you can purchase from a quality coffee supply shop. (makes four servings)
Tip: if you will used chilled glasses, it will enhance the Frappé!

© An original coffee recipe from coffeesage.com
Put a new twist on all the traditional winter cocktails. 75 recipes to entertain your small dinner parties or large group soirees.

Flaming Coffees
Mulled wines & Ciders
Stylish cocktails
Popular liqueurs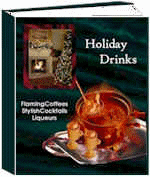 I found this 'e-book' on some holiday recipes that includes coffee type recipes as well. I thought it looked interesting and maybe you will too! The cost is $3 per download. Remember, this is an e-book and not a hardcover. To see examples and/or to order: Click Here!
Audrey's Holiday Peppermint Mocha
1 espresso shot
1 square (1 oz.) BAKER'S Semi-Sweet Baking Chocolate
1/2 tsp. x-fine sugar is desired… taste first for sweetness
3/4 cup steamed or hot half and half
1/2 tsp. peppermint syrup.
note: do not use extract if you do not have to. It is too bitter and leaves a horrible after taste
1 peppermint stick
POUR espresso into small saucepan. Add chocolate; cook on low heat 5 min. or until chocolate is melted, stirring occasionally.
Add half and half, peppermint syrup and stir until well blended. Garnish each serving with a peppermint stick.
I compiled a list on an Amazon Store of items you need to make your holiday drinks and recipes I've included on here. I hope it will make it easier for you to find those pumpkin and egg nog items. Here is the link:
HAPPY HOLIDAYS
The Halloween Edition for Carnival of the Recipes is up and you can view all the wonderful entries by visiting this weeks sponser Morning Coffee and Afternoon Tea
Some of the tasty treats include:
Witch's Weakness submitted by: KeeWee's Corner
Pumpkin Ginger Scones presented by: firefly
AND! Pumpkin Spice Dessert by : your sponser, Morning Coffee and Afternoon Tea
They sound so scrumptious!
Egg Nog Latte Recipe :: copy cat to Starbucks Egg Nog Latte
Ingredients:
1/2 cup egg nog (Borden is very thick and good and Starbucks uses a local brand according to the area they are in)
1/4 cup whole milk or 2% milk. (recommend whole for frothing)
1 – 2 shots espresso or 1/4 c Espresso Roast coffee (ground and brewed strong)
a sprinkle of ground nutmeg
Instructions:
Combine cold egg nog with cold whole milk. Non-fat milk or soymilk can be substituted for the high-fat milk.
Steam the egg nog – milk mixture until the temperature reaches 145°F. or use stove-top and do NOT scorch. You just won't have the foam unless you use some sort of mixer to create the foam. Hey, it works!
Egg nog heats and scalds quicker than milk, so watch your heat temperature closely.
Pull your espresso shots and place in mug or pour the 1/4 cup strong coffee in mug.
Fill the remaining room in mug with steamed egg nog mixture. Add extra eggnog foam to the top of the mug.
sprinkle with ground nutmeg.