Tanzania Peaberry Coffee, CoffeeAM – Coffee Review
I just tried some Tanzania Peaberry that CoffeeAM sent to me. I found it very pleasing and smooth. African coffees tend to be a little winey in a good way, as long as it doesn't go to far and become sour. Their light-medium roast preserved the rich flavors and muted the wineyness in a way that made it a very pleasant cup of coffee.
What they say about it
Mount Kilimanjaro, a dormant volcano in northern Tanzania, is the highest mountain in Africa at 19,330 feet. Kilimanjaro's lower slopes provide fertile soil to grow Tanzania Peaberry Coffee, and the climate provides excellent conditions for coffee trees to thrive. Grown and harvested on the slopes of Mount Kilimanjaro near the Kenyan border, this gourmet African coffee displays many of the characteristics of Kenyan coffee, though much lighter in acidity.

Peaberry beans are small round coffee beans with a cleft in the middle; they have a richer flavor than their oval- shaped counterparts, often rendering a livelier cup with a full body and distinguished aroma. Peaberry coffee is rare; only 10% of all coffee develops with this characteristic, and as a result, peaberry beans must be hand sorted from the rest.

Experience a light-medium roasted coffee that is full of flavor!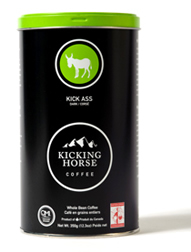 Coffee Provided by Kicking Horse Coffee , http://www.kickinghorsecoffee.com
Some of the most unique and high quality packaging I've seen. They actually seal their whole bean coffee in a can.
Getting past the packaging I brewed the "Kick Ass" (Dark) blend. It was full-bodied with just the slightest hint of smoke that most dark coffees are overwhelmed with. The flavor was pronounced, smooth mouth fill. If you like dark coffee but don't like the bitter over smoked aftertaste of a lot of coffees then this it a good one to try.
Notes from Kicking Horse Coffee
The name says it all: carpe diem, play to win, no regrets. Don't let this cute little donkey fool you-he plays for keeps. This take-no-prisoners roast is popular with athletes who'd rather enjoy a good cup of coffee than choke down an energy bar before a workout. A great mix of Indonesian and Central American beans that is guaranteed to kick some sense into you.
Coffee Provided by Newhall Coffee, http://newhallcoffee.com/
The Taste of California Collection is comprised of 6 interesting blends.
Organic California Blend, Mammoth's Bow-Chicka-Pow-Pow Blend, Beatnik Espresso, Surf & Snow Blend (Caramel Vanilla), Earthquake Blend, Sunset Blvd. Blend (Cinnamon Vanilla)
Overall this is a great collection of coffees. They seem to have something for everytime of the day, if your not a fan of flavored coffees don't worry they are overly flavored or overly sweet and might be something to try with a dessert. The blends seem to play off one another and the Roaster seems to be trying to cover a full range of coffee flavors. It's a neat idea to order a group of coffees that work with one another and rotate through them, it helps to keep your palate guessing.
Here's what they say about these coffee blends
Organic California Blend
Roasted to a full city roast to bring out the earthy and citrus notes of the Sumatra bean, while developing the Peru bean to give it that chocolate finish. This blend works amazing as an espresso shot as well!

Features organic Sumatra Mandheling Double Picked, from the Aceh region of Sumatra, these are semi-washed arabicas and organic Peru, which has the standard body, brightness and depth for South Americans. Grown in very high elevations on the eastern slopes of the Andes mountain range.

Mammoth's Bow-Chicka-Pow-Pow Blend
Inspired by Southern California's Mammoth Mountain winter culture, this is a double picked Grade 1 Sumatra Mandheling bean roasted using a "long roast' method to bring out the full characteristics of what the bean was meant for.

This Sumatra is grown inland from the southern coast in the Aceh Region, known for its earthy and spicy notes. These have low acidity.

Beatnik Espresso
A combination of 3 beans from Indonesia, South America, and Central America brings this espresso roast to a diverse and complex body, while producing a very mild and clean finish.

The South American bean of the 'Typica' Varietal is wet processed and sun dried. The Central American bean of the 'bourbon' varietal is semi-washed and sun dried to bring out its nutty and floral notes. The Indonesian is semi-washed and sun dried, bringing out the earthy and spicy notes.

Surf & Snow Blend (Caramel Vanilla)
Begins as a Brazilian bean and is inspired by the ideal California day – surfing and skiing or snowboarding the same day.

The beans are roasted to a city roast to enhance the caramel vanilla flavor.

Earthquake Blend
Wake-up California-style with a high impact blend.

A Central American bean with a very strong bite but with a rolling mild finish. You will find nutty and chocolaty notes with this bean mixed with a strong and crisp body.

A Guatemala from the Antigua Region, located between 3 volcanoes and grown on volcanic forested soil.

This is a Caturra type of bean grown on an elevation between 4,500 – 5,500 feet.

Sunset Blvd. Blend (Cinnamon Vanilla)
Inspired by the culturally, historically, and aesthetically significance of Hollywood's Sunset Blvd.

The combination of cinnamon and vanilla brings out the bright taste and body of this bean. Perfect for those early mornings on the go!
Seattle's Best makes amazing Iced coffees and you can too. Their Secret is a Toddy home brewing System and their Beach House Blend.
I recently made a batch of iced coffee concentrate using this method and I have to say the Beach House Blend is amazingly smooth and great just over ice.
If you've never tried either they are worth a look. I added a pound of coffee to the cold brewer put it in my fridge and the next morning I had 2 quarts of coffee concentrate. This is like the espresso of the cold world. If you don't drink a lot of coffee please remember this is concentrated. They tell you that you can ad some hot water to recreate a cup of coffee, and I was shocked how much this tasted like a good Americano. But, drank most of it over ice with a dask of milk. If you have a blender then the options are endless.
Seattle's Best Coffee's cold brewed coffee brewing process, can be replicated at home using the Toddy home brewing system.

The Seattle's Best Coffee cold brewed coffee concentrate, a concentrate coffee extract produced by using a special cold brewing process, is the key ingredient in Seattle's Best Coffee's summer lineup. The cold brewing process extracts the flavors of coffee and leaves behind undesirable acids and oils, resulting in a bold, slightly sweet, smooth-tasting coffee with more than 50 percent less acidity than conventional brewing methods. Cold brewed coffee is used as the base for Seattle's Best Coffee JavaKula blended beverages, cold milkshakes and Hand Shaken ColdBrewed Originals.

With the Seattle's Best Coffee Toddy home brewing system (http://www.toddycafe.com/shop/product.php?productId=67) you can make cold brewed coffee at home. The Toddy brewing system lets you make up to 48 fluid ounces of coffee concentrate – which is enough to make plenty of iced coffee treats for a party, or refrigerate (the concentrate is best for up to 7 days) to enjoy throughout the week.

I could tell you more, but I think this video on YouTube sums up the cold brewing process pretty nicely: http://tinyurl.com/2dm42fq (and next, make sure you check out this video on cold brewed recipes to see all kinds of drinks you can make with the Toddy! http://tinyurl.com/29qjfcy)
Check them out on Facebook too – facebook.com/seattlesbestcoffee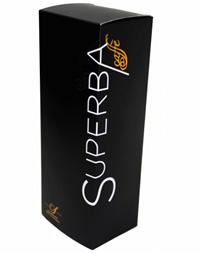 Coffee Provided by Superba Coffee, http://www.superbacoffee.com/
An amazingly smooth and well balanced cup of coffee.  Each bag comes in an attractive box that is hand signed and dated by the roaster. Superba only has 2 blends Classic and Decaf.  I'm drinking Classic.
As the cup goes on, nutty and smoky notes appear, but the incredible smoothness remains constant.  This is a coffee that you might serve after a nice dinner, or treat yourself to any time of day.
Notes from Superba Coffee
This distinguished blend is roasted to a "full city" medium roast profile. It has a perfect balance of richness with deep chocolate qualities, which are slightly paralleled by light, but distinct citrus and earthy notes. This blend endures well with a wide range of preparation methods and pairs extremely well with milk and/or sugar.
Coffee Provided by Entenmann's Coffee, www.entenmannscoffee.com
If you are a fan of flavored coffees Entenmann's flavors won't disappoint. These coffees pack more flavor than their signature pastries they are usually known for. I didn't try these with a pastry but I'm sure that would only add to the flavor explosion with this coffee.
Coffee Provided by Kahvé Koffee, www.kahvekoffee.com
A smooth blend of coffees that keeps a sharp snap at the end. This coffee has almost a syrupy body and a very smooth mouthfill. Although there is a decided snap to this coffee there is no signs of over roasting or unnecessary bitterness. I find this coffee very well suited for a decadent dessert.
Notes from Kahvé Koffee
Start with a flavorful light roast, add a bit of dark roast for body, and you have a traditional Danish Blend. Our version maintains the traditional style consisting of a dynamic combination of four beans, including 25% French Roast. The Danish Blend is spirited and substantial, with plenty of snap.
Coffee Provided by High Beam Coffee, www.highbeamcoffee.com
Like most African coffees there is a slight tartness or wineyness, this is hidden almost completely in this dark roast by an intense smokiness.  You can still taste floral and fruity notes as the coffee sets on your palette. There is a noticeable lack of any sharp bitterness which some darker roasts can have.  Overall a great cup of coffee, especially if you like deep flavored coffee and can enjoy the smokiness that comes along with that.
Notes from High Bean Coffee
From the region of Harrar, Ethiopia, we bring you the Longberry coffee bean. Fair Trade, Organic, and delicious. We roast it to perfection (Full City) to bring out the light-bodied flavor, and natural blueberry notes. At the tip of the tongue you will notice the bright fruity notes. Onward through the palette weaves a classic light and smokey body with a finish that lingers long enough for you to cherish but calls on you for another taste. It is undoubtedly the founders' choice for a single bean flavor in a cup.

With that we proudly introduce to you, Blue Beam
Coffee Provided by Armeno Coffee Roasters, www.armeno.com
More floral than most roasts of Papua New Guinea the sharp acidic bite usually found was still there but muted by a smoky finish. This coffee has a smooth mouth feel and makes a great after dinner treat.
Notes from Armeno Coffee Roaster
The Papua New Guinea coffee is full-bodied without the earthiness of some Indonesian coffees. The bean is blue-green in hue and of very uniform size. At Armeno, we roast Papua New Guinea to a medium full city which is a light chestnut brown color and lighter than we roast other Indonesian coffees because the coffee is so clean and well balanced.
Coffee Provided by doichaangcoffee.com
A surprisingly delicate medium roasted peaberry coffee. At first taste you get a flush of fruitiness quickly followed by a sweet nuttiness. As the cup goes your palate becomes aware of the hint of full-bodied flavor that many people seek in a dark roast coffee without the added bitterness.
Overall a great cup of coffee, I'd suggest avoiding any super sweet foods with this one. There are too many subtle flavors and aromas that would get covered up by anything sugary. I enjoyed this cup all on its own.
Notes from Doi Chaang -
The Doi Chaang Coffee Company is a unique partnership between the Akha hillside tribe of Doi Chaang Village, located in the Chiang Rai Province of Northern Thailand, and a small Canadian group of coffee enthusiasts. The Thai farming family co-operative cultivate and process 100% Arabica, organic, single-origin coffee beans while the Canadian experts roast, market and distribute the coffee.

The literal translation of "Doi Chaang" is Elephant Mountain which describes the imposing shape of the hills rising behind Doi Chaang Village.

In honour of Piko, our founder and the visionary who foresaw a better future for the Akha people, we proudly include his likeness on every bag of Doi Chaang Coffee
Lacas Kenya AA Coffee Review
Provided by CoffeeForLess.com
http://www.coffeeforless.com/product.asp?id=1698
Like all Kenya AA, and most African coffees this coffee had a nice sharp acidic punch. This Kenya AA was at the same time smooth to the palate and very aromatic. A lot of African coffees are acidic and winey but most roasts have a tough time balancing the finish, which I found this coffee did well.
Overall this was a very pleasant cup of coffee. If you've never tried an African coffee, or a sharply acidic and winey coffee then I would definetly suggest starting with a fresh cup of Kenya AA.