It seems that everywhere I look there is a new single server coffee popping up. I understand the convenience, but after seeing the some recent articles about the cost it makes me stop to consider.
I usually pay about $10-$12 a pound for whole bean coffee, depending on what I'm currently drinking, but is seems that single serve coffees equate to about $50 a pound. Is the convenience worth it?
That's for you to decide, but the good news is that most single serve machine manufacturers sell inserts that allow you to use any ground coffee in the machine. If you are worried about the cost, but like the convenience, you may want to check some of these inserts out.
PRESS RELEASE:
Single Serve Home Brewing System Features Maximum Variety with More Value per Cup
(Chicago, Ill. – March 14, 2010) – Whether it's a latte in the morning or an afternoon cup of tea, there may not always be time for a trip to the coffeehouse. The new TASSIMO T20 by Bosch makes it even more convenient for people to enjoy their favorite barista-quality beverages without leaving the comfort of home. With a slimmer design and price, the T20 expands the TASSIMO lineup to three brewer options, enabling individuals and families to enjoy the perfect cup of their favorite brewed beverage whenever and wherever they like.
"The T20 delivers coffee shop-quality beverages in about one minute per cup with virtually no heat-up time, so more people can enjoy their favorite flavors without having to brew an entire pot," said Michael Traub, president and CEO, Bosch home appliances. "The TASSIMO brewer's compact design is ideal for apartments, dorm rooms and countertops that have little space to spare."
The TASSIMO system utilizes patented T DISC technology to brews single cups of premium coffeehouse-quality beverages, including cappuccinos and lattes made with real milk creamer, espresso, crema, tea and hot chocolate – with more flavors to come. To create an unprecedented level of variety and value, Bosch partnered with Kraft Foods to offer more than 40 hot beverage T DISC flavors from some of the industry's most popular brands.
The TASSIMO T20 by Bosch will be available March 30, 2010 at Target stores and Target.com for $129.99 with promotional pricing available.
Bosch will showcase it's current TASSIMO brewer lineup at the 2010 International Home
+ Housewares Show, Lakeside Hall #12737.
About Bosch Appliances
Bosch home appliances is part of BSH Bosch and Siemens Home Appliance Group, the third largest appliance manufacturer in the world. Known worldwide for raising standards in appliance efficiency and quietness, Bosch is the only US appliance manufacturer with entire product lines of ENERGY STAR® qualified dishwashers, washers and refrigeration. With US headquarters in Huntington Beach, CA, the company operates an appliance park in New Bern, North Carolina comprised of state-of-the-art factories for washers, dryers, dishwashers, ranges, ovens and cooktops.
For more information, visit www.bosch-home.com/us, call 800.921.9622 to request a catalog. Connect with Bosch on Twitter @BoschAppliances or become a Facebook fan facebook.com/BoschAppliances
About Kraft
Kraft Foods (www.kraftfoodscompany.com) makes today delicious in 150 countries around the globe. Our 100,000 employees work tirelessly to make delicious foods consumers can feel good about. From American brand icons like Kraft cheeses, dinners and dressings, Maxwell
House coffees and Oscar Mayer meats, to global powerhouse brands like Oreo and LU biscuits, Philadelphia cream cheeses, Jacobs and Carte Noire coffees, Tang powdered beverages and Milka, Côte d'Or, Lacta and Toblerone chocolates, our brands deliver millions of smiles every day. Kraft Foods (NYSE: KFT) is the world's second largest food company with 2008 revenues of 42 billion. The company is a member of the Dow Jones Industrial Average, Standard & Poor's 500, the Dow Jones Sustainability Index and the Ethibel Sustainability Index.
Coffee prices have risen about 43% in the last three months.  This is a 13 year high for the delectable bean. 
Coffee for December delivery settled up 2.25 cents at $1.9455 a pound Wednesday after hitting $1.9865 per pound earlier in the day. Trading volume was light, which can exaggerate price movements, according to the Associated Press.
Many people are finding a retail price increase due to the soaring prices of coffee.  Some of the brands that have reflected the increase in their retail pricing are owned by the JM Smucker Company including Millstone, Foldgers, Foldgers Gourmet Selections and Dunkin' Donuts.  K-Cup Portion Packs, sold by Green Mountain Coffee Roasters for the Keurig Single-Cup brewing system, are set to rise in price by 10% to 15% next month.
Deb Trevino, spokesperson for Starbucks, insists that their prices will not be affected by the rising price of coffee.  The company intends to absorb the extra cost, instead of passing it on to the consumer. 
This week's rally appears to be largely due to speculative trading because fears have eased about weather and supply issues, said Spencer Patton, founder and chief investment officer for hedge fund Steel Vine Investments LLC.
We all loved it as a kid.  ICEE made our mouths turn blue and red and left us full of delight.  Now, as adults, they are about to make us even happier. 
ICEE has teamed up with Javo Beverage to introduce 2 new iced coffees in North America under the trademark name of Java Freeze.
Cody C. Ashwell, Javo chairman and CEO, said, "ICEE is a stand out supplier to the foodservice industry and has longstanding relationships with some of the most important foodservice operators in our industry." Ashwell added, "We believe this alliance will complement our own sales efforts because ICEE has reach to thousands of independent foodservice operators seeking to capitalize on the growing market for iced coffee but require a non-concentrated dispensed beverage solution because of lower daily cup sales."
Mr. Ashwell added, "As the leading provider of dispensed beverage iced coffee, we have the infrastructure, service, and distribution capabilities to supply national foodservice operators with specialty iced coffee as well as hot coffee and tea. Our products are cost effective and eliminate waste, and in this challenging economic environment, foodservice operators are committed to offering great tasting beverages in the most cost efficient manner possible."
The company will intitially start out with two tasty flavors, caramel latte and mocha latte.  Look for them soon anywhere ICEE's are sold.  Come back to coffeesage.com and let us know what you think of ICEE's frozen coffee.
I watched this video from Coffee Geek about advaced press pot techniques and though I would share it with you!  I hope you enjoy it and learn a lot about getting a better press pot brew.

The Aerobie Aeropres is a single cut coffee & espresso maker. It
The coffee is micro-filtered. It so pure and particle-free that it can be stored for days as a concentrate. The concentrate can be drunk as espresso, mixed with milk for lattes, or diluted to make American coffee.  
Its easy to use and clean, which is a must!  It also makes your espresso and coffee taste great!  Also, you cannot beat the price. Total immersion of the grounds in the water results in rapid yet robust extraction of flavor and allows for a moderate temperature, which results in a smoother brew. The air pressure, created by the plunger, shortens filtering time to approximately 20 seconds. This avoids the bitter taste associated with the long process of traditional drip brewing. The air pressure squeezes the last goodness from the grounds, enriching the flavor of the coffee. Due to the lower temperature and shorter brewing time, the acid level of the coffee is much lower than traditional brewers. Aeropress released laboratory pH testing results which measured the brew's acid as less than one fifth that of regular drip brew. The low acid is confirmed by coffee drinkers of the product who confirmed that coffee  made with the Aeropress was much friendlier to their stomachs.
The Aeropress is slightly more time-consuming for the user than traditional french press or drip coffee makers.  It takes about the same amount of time as a standard espresso machine.
Starbucks came out with the Starbucks VIA Ready Brew Stick packets and then, as always, some one else comes along to create competition.  Who is that competition?  Nescafe Taster's Choice, who vow that their instant sticks are more flavorful than Starbucks, but perhaps most importantly in this economy, they claim to be four times cheaper.  You read that right 4 times cheaper that Starbucks Sticks!
The Chicago Tribune found that, on average, one packet of Nescafe costs 19cents per packet as opposed to Starbucks which costs approximately 83 cents per packet.  The price is obviously much better, but what about the taste?  The Tribune also conducted a blind taste test with six testers to find out if the money you are saving is equal to the flavor you may or may not be loosing by getting the cheaper product.
The test included not only the the Colombian of both brands of sticks, but also a brewed Colombian.  No surprise, the brewed coffee won hands down, but that is not what we are concerned with.  Back to the sticks! 
Starbucks Sticks came in a close second followed by Nescafe.  One person thought that Starbucks were too bitter and sharp.  Most tasters described Nescafe as being thin, weak or like cardboard. 
When mixed with cold water for iced coffee, Starbucks dissolved easily.  Nescafe also mixed well, but do to the larger granules required more stirring.  So now its time for you to decide, is the flavor worth the cost???  That is the million dollar question.
http://www.chicagotribune.com/features/food/chi-tc-food-tastings-0605-0610jun10,0,129961.htmlstory
Fortune Magazine has reported that Green Mountain Coffee Roaster's stock is holding strong despite a tough economy. Their stock has gained 120% this year after holdiay sales of its Keurig single cup coffee brewers.
To check out these amazing brewers and pods, click the link below:
Great Keurig Coffee Maker and Pods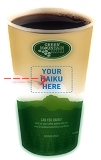 For a simple Haiku submission you can enter and have a chance to be one of 14 creative coffee drinkers selected to win a Keurig B-60 single cup brewer, two boxes of K-Cups and winning haiku, name, town and state of residence printed on one print release of GMCR Eco-container cups!
Retail Value of this prize bundle is: $189.80
To enter your Haiku and get your chance at the Keurig, simple visit their online entry form and enter your info. Contest is ending on Saturday, December 1, 2007 @ 11:59pm ET
Green Mountain Coffee Haiku Contest entry form
Good luck and I hope I'll be reading your winning entry soon!
12.11.06-UPDATE: After further testing, I've come to the conclusion that I may need to toss my other coffee makers. Once you get the hang of the Aerobie, AeroPress Coffee Maker, you may never want to use anything else. The coffee is rich, smooth, bitter-free, and wonderful! It is all in what is right for you and after playing with it, testing different amounts of coffee, water levels, and how long I stir the water and grounds before I plunge it down, I've discovered that it really is the best and freshest cup.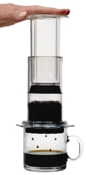 The AeroPress Coffee & Espresso Maker by Aerobie is not a french press! I want to say that it is in fact a single serve coffee maker but actually, I can make several cups with it. It will just depend on how much fine grind you use and how much water. You can make a single cup.
To be prepared to use the AeroPress Espresso Coffee Maker
The finer the grind (espresso would be best), the better you coffee is going to be. I tried a regular grind and the press did well, but it did so much better once I put espresso in it.

Using the press is as simple as can be. Your pot is your large mug. You can make enough coffee for that mug or fill it up and have enough for several cups. Everything else you need to make a fine cup is included in the kit. See image to the right. There is a plunger that you will use to press the air through the tube in able to force the water down. The water will be pushed through the filter and the grounds will remain in the tube. I've used the device several times now and have not once had any grounds in my cup.
To set it up, just place a filter in the bottom of the Aeropress then using the handy scoop included, place a scoop of coffee (one for one cup) in tube (or chamber). You can do this before or after placing it on top your coffee mug. Once you've done that, pour in the amount of hot water you wish to use. Use the stirrer that is included to mix the grounds and water. Stir that for about 10 to 20 seconds. Once you have that the way you feel you want it, place the plunger (or press) ontop the chamber and push. Be careful! Don't tip your mug over. You will find a lot of pressure present. You can elect to push the air through quickly or slower. The slower the better for a richer cup or espresso shot.
If you use one scoop and only want one cup of coffee, just add enough coffee and the amount of water needed to fill your mug. Otherwise, use more coffee and make as much espresso as you'd like. This press make a fabulous Americano. You will notice the lack of bitterness in this cup of coffee.
Senseo Single Serve Pod Coffee Maker
Read my thoughts on negative reviewing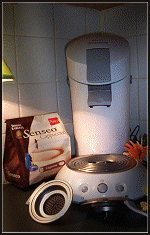 This is one of those moments that I would rather skip the review and forget I ever agreed to review a product. But I did, and I will.
I got the Senseo single serve pod maker about 3 weeks ago. I tried it soon after (within a few hours) and have avoided the issue ever since.
The machine was easy enough to use. Clean the machine by filling the reservoir in the back with cold water and using the 2 cup brew setting once the unit has heated the water. You're set once that is done.
The unit came with one bag of medium roast pods (there was the first mistake :: medium roast) and you have the option to either use the one pod or two pod holder. First off, you'd better get the pod/s in exactly perfect or you're going to have a big mess to clean up when you try to brew. The water will leak profusely from around the pod holder. And if you do not want water running all over your counter, you had better make certain to empty the reservoir before you put it away and slide it back under the counter.