Starbucks is celebrating 40 years in the coffee business.  In honor of their 40th year they are rewarding their customers with $40 giveaways on March 16th!!!  Hooray!!
The coffee giant is giving away 500 gift cards in the amount of $40 each to 500 lucky coffee lovers.  That's $20,000 worth of free coffee!  In order to participate in this giveaway you must go to Foursquare.com and check into the Starbuck's location.  You can also enter by sending an e-mail to foursquare@starbucks.com with the subject line "Starbucks". 
Good luck my friends!!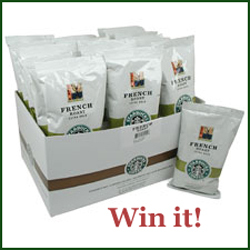 I am guessing that it will be French Roast since that is what they have pictured. Here is the ENTRY FORM
They say:
Enter to win a a case of 72 2.5 oz packages of Starbucks Coffee!! You don't want to miss this unheard of opportunity to get FREE Starbucks coffee!! Give it a try and tell your friends! Each convenient portion pack is pre-measured to brew one pot of coffee, and you can win 72, $151.80 worth of coffee!!
So, stop on by. You never know, you may win!
I went in search of some coupon codes for coffee and found more than I bargained for. While searching I found a 10% off coupon for Home Depot which I needed. My fridge went out tonight! Then I noticed they were having a contest to win a Wii. OMGosh! I am saving to get my son one for Christmas and I thought to myself, wouldn't it be wonderful to win this? So…..
Long story short, I forgot what I went for, found what I needed more and stumbled onto a chance for a big Christmas wish all at Every Body Loves Coupons. And this IS a true story. I did not make this up. Great place and friendly folk. Stop in for a visit.
Over at the great blog, Blogging with Cents they are having a really neat contest for a chance to win $50 payable through PayPal. It is a fill in the blank contest and I thought it would be a lot of fun. So…. Here is my entry:
It happened just about a month ago in Joe's Big Double D Coffee Cup Cafe. I was just starting to sip on my One Size Fits All cup of coffee when I realized my cup was leaking on my shirt and could be seen. You have probably had that experience before. I felt embarrassed and obvious, and I knew that soon I would have to come up with some sort of explanation since I obviously was not pregnant. I was a little worried about that man standing behind me though. But then, all of the sudden, I saw the man's hand coming right towards me!! I remembered what a cowboy's wife had told me. It was very important to always hold your cup at arms distance and never spring a leak if you can avoid it. Before I knew it, I was given the tools and tips to coffee drinking for dummies by the man standing behind me. So you see, I really was at the right place at the right time, and I decided I just had to throw the rest of my coffee on the man who was standing behind me.
The End.
Thank you for the Contest! I hope I made you smile.
Blog Writing Project: Tips & Tricks
Thank you to all the participants for all their hard work and interesting entries. You had until the 18th of September to get your blog post entries in.
Now it is time to vote for my favorite entries. I get to pick three but can list all the entries. I will place my favorite top three at the top of the list. Keep reading to see the list of entries. There's a lot of good stuff going on here.
My Top 3 Picks
7 Key Skills Of The Successful Adwords Advertiser by Vittorio
How I Got Aerobed to Number One in Google by Julian
Facebook Tips and Tricks by Sahil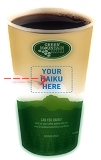 For a simple Haiku submission you can enter and have a chance to be one of 14 creative coffee drinkers selected to win a Keurig B-60 single cup brewer, two boxes of K-Cups and winning haiku, name, town and state of residence printed on one print release of GMCR Eco-container cups!
Retail Value of this prize bundle is: $189.80
To enter your Haiku and get your chance at the Keurig, simple visit their online entry form and enter your info. Contest is ending on Saturday, December 1, 2007 @ 11:59pm ET
Green Mountain Coffee Haiku Contest entry form
Good luck and I hope I'll be reading your winning entry soon!
Here is #2 in a series of '???' quick link posts. Just places I've found that I really like and hope for you to enjoy as well.
1. Bloggle.com Coffee and Commentary
2. Espresso Journey The journey from instant coffee to pro barista of a young man in New York City. Interesting. One of the most detailed of a coffee review in photos I've seen.
3. Pug Java Um… coffee for people who love Pugs? ha! I like that.
4. Steaming Bean Coffee Company These people need to get on the stick and send me some coffee to review. That Midnight Espresso, Organic French Roast, and Dark Kenya AA sound devine! Nice site too. I've included this one for you because you can enter a monthly drawing for free coffee! Just follow the link but look around at what they got while you're there. It is so yummy!
5. My Espresso Journey Interesting read.

Please watch for new contest coming soon
Announcement of the winner's name for the Dec. $100 Starbucks GC is pending. We are waiting for a response from e-mail. They have until 02.01.07 to respond and then another name and experience will be picked.
The other one I had posted on here has expired. This is the new link and contest. Expires on 08.31.07.
Enter now for a chance to run on Dunkin' FREE for a whole year!
Keep yourself running on Dunkin' all year long with two pounds of delicious Dunkin' Donuts coffee delivered to your door every month for a year. We'll choose a lucky winner each month.
Be sure to read the official rules.
Please follow the link at the end of this post to enter for our $100 Starbucks gift card contest.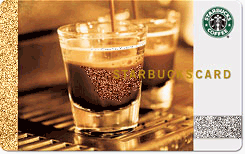 Just post your best or worse experience with a Starbucks Store and you'll be entered. Please be sure to read the rules!
 
 
Thought I'd share this Starbucks related photo. LOL!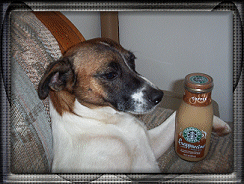 Coffeewhiz.com is giving away a brand new Keurig Elite B40 K Cup Brewer! Every 30 days, CoffeeWhiz.com will randomly select one subscriber as a winner. Winner will be notified via email. Prize will be received within 15 days of notification. One email address per entry. Only new subscribers are eligible. Must be 18 or over to enter.
To enter, visit the link to their site above and sign up for their Cawfee Tawk Newsletter. I receive it and find it to be an interesting newsletter.