Hawaii is best known for Kona coffee, but the state is about to put another brew on the map. Tea.
The federal Department of Agriculture has been encouraging Hawaii's commercial gowers to cultivate high quality tea crops for the past decade.
Tea Hawaii,, a company that cultivates two high quality black and oolong teas, has been shipping their teas to Samovar Tea Lounge in San Fransisco. However, you do not need to go to California or Hawaii to try Tea Hawaii tea. Samovar Tea Lounge will be adding these teas to their website on August 7th for delivery right to your door.
Mauna Kea is another one of Hawaii's up and coming tea companies. They carry oolong and green teas. Hilo Coffee Mill has great oolong tea as well.
If you are interested in finding more out about Hawaii's best teas, please visit the following sites:
www.samovartea.com
www.maunakeatea.com
hilocoffeemill.com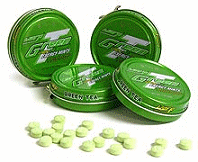 Look at that tin! Isn't that adorable? It looks like a shoe-polish tin. It even has the twist opener. That is neat. But are the mints just as neat? Yes, they are!
Warp Green-T Mints has an energizing blend of Green Tea, Ginseng, and Guarana. Much like the original Warp Mints forumla.
What is Guarana? It is a shrub or small tree in the Sapindaceae family, native to Venezuela and northern Brazil. The seed of the Guaraná fruit is a central nervous system stimulant with thermogenic and diuretic properties. Wikipedia version
Ginseng? Ginseng appears to have different origins and meanings. According to the wiki, there seems to be some dispute over the accuracy of the article provided. Decide for yourself by visiting it at: Wikipedia's version on Ginseng.
All I know is, it seems to work. Small scale anyway. The effect doesn't last long but we probably didn't expect it too either. They are quite tasty and pretty to look at. Warp Green-T combines the tart flavor of lemon-lime citrus, with the brisk taste of green tea. The taste is not sour yet not too sweet either.
You get about sixty mints per tin and are about average to other mints in the suck zone. 'your mouth'.
You can find Warp Mints at several places. Target, Hastings, EZ-Mart, 7-11, GNC, and many other places. The cost varies but usually around $2 bucks. Look for them and buy them. Try em and get a buzz.
I like them!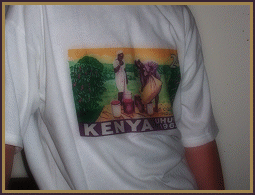 I got a neat t-shirt to review from
The owner let me pick the tee I wanted and I chose a
Kenya Coffee Industries
t-shirt. I just love it!
This t-shirt is not too heavy yet not too thin either. (100% pre-shrunk cotton tee shirts) It is soft and doesn't itch at all. I've found that often this is the case with new t-shirts. Since it is pre-shrunk, I suppose that took away any issues I'd have with scratchiness or stiffness.
The company did an awesome job on the decal placement. Smooth and without any wrinkles or bubbles. Just perfect.
The website has very unique t's and personally, there are many, if not most, that I've never seen before. Nothing typical, but fresh and different.
There are your standard size t-shirts (which is what I got) but they also have the women's fitted t's plus children and toddler sizes! I think David has all the bases covered here. Nice job.
What a variety he has well. There are cat t's, coffee t's (my fave), stamp t's … these are awesome, butterfly t's, Christmas t's…… and on and on… you must take a look for yourself. there are about 59 categories! There really is a lot to see on David's site.
Interesting: Read about t-shirt history and the fun t-shirt faq's included. Humorous!
Even though I got my shirt gratis, which would make the good service even more evident, shipping was VERY quick and communication is spot on and most friendly. I am impressed with the effort taken to get the tee I wanted and as quick as it arrived.
Go by and visit Going Postal T-Shirts. Explore and take your time looking around. I'm sure you will find something that you'll just have to have.
Note: photo with t-shirt was taken with my son wearing it. I cut his head off simply because he said, Mom! don't put my head in!…. he was having a very bad hair day plus I woke him up to take the photo. Poor little guy.

Coca~Cola has launched a joint venture with Nestle by creating a 'green-tea' infused soda designed to speed up your metabolism and suggest the benefit of weight-loss. The main ingredients of Enviga are green-tea and caffeine. By speeding up the metabolism, you naturally burn calories. I doubt it will be any significant loss but any boost in metabolism can result in certain weight-loss.
Nestle applied for an Enviga trademark in January. The trademark covers "nutritional and dietary supplements," "energizing and energetic drinks," "green tea" and "isotonic beverages."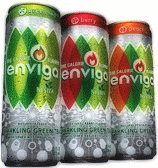 Enviga is a "caffeinated" "soda" and will target active-lifestyle consumers with it's claim to burn calories. Of course, with the added benefit of having certain antioxidants through "green-tea" content.
I have not had the opportunity to sample the product, but I do have a friend who works for Coca~Cola in Atlanta, Georgia and he has. He reaction, an honest one, was reserved. He admits that the beverage is tasty but does have a "powerade" impression on the palette.
He's only sampled the "berry" flavored version but mentioned that it was refreshing and did seem to give him a slight feeling of being "wide awake". Naturally, he has not been drinking over a period of time in order to benefit from any claimed calorie burn. There should be three flavors. Berry, Green Tea, and to the best of my knowledge, Peach.
The diet drink uses thermogenesis to burn 50 to 100 calories just by drinking a 12 oz. serving. Suggested use is 3 servings a day. I've got to say that I highly doubt I would or even could drink 3 of these a day. Are there many of you that could? Die hards, I'm sure, would try if they really felt it were helping burn fat. Nothing works without exercise though. We all know that.
Does "Enviga" have promise? Who knows. Only time will tell and only those who are willing to drink it as suggested, will honestly be able to confess the products worth.
You can apply for my coffee blog award by using the link located on the inside bar. The rules are there and the app form. I am looking forward to reading your blogs! PS: Don't be shy now! Does not matter how many are before you or if you are one of the first….. matter of fact, it would probably be better to be one of the first.

I've added a gallery. You can join it and upload photos of your own art/mug shots/ or anything else to do with coffee. It's not much yet but you can make it better!
I wanted to add that soon I will be adding a coffee blog award restricted to those blogs who post coffee related information. Sites dealing with tea, pastries and such can be included as long as they also include a great deal of coffee subjects as well.
I will be posting more on this later on.
Cat lovers and dog lovers. Usually, you're either one or the other and they say that one can not really get along with the other. Maybe. I enjoy both just as I do with coffee and tea. I have found that (in my travels) you're either one or the other or nothing at all.
Why is that?
I noticed the other day that Barnes and Noble Cafe stopped using Republic of Tea as their Tea choice. They couldn't give me a reason why either. Does any one have any idea why? I rather enjoy that brand of tea.
---
I found a couple of articles/recipes online that I really wanted to share with you. I seem to get quite a few hits from search engines where the surfer is searching for Sage Coffee or Sage Tea.
I searched until I found something appropriate to "hopefully" help those seeking these recipes out. I will list the credits for these in the footer of the post.
Sage Tea
I'll begin with the simple recipe, Sage Tea. I've made this myself and it is not difficult. I will also include a bit of referrence for the recipe as well.
* 1/2 oz fresh sage leaves
* 1 oz fine sugar
* 1/4 oz grated lemon rind
* Juice from one lemon
* 1 quart water, boiling
I suffer from mile nausea most of the time. I don't know why or where it comes from but it can be most discomforting. There are times when it is worse than others but mostly it happens in the evening or at night while I sit on the couch watching TV.
A long time ago, I tried using ginger root capsules for it. It did help but never did really rid it off. I was pretty much satisfied with the results.
I noticed that it mostly happened if I were to doze off while sitting up or if I were only asleep for a few seconds. Don't know what's up with that. Heat in the summer makes it worse.
Read more