7-Eleven's new $1 Iced Coffee Wednesdays.
From now until September 3, 2013  7-Eleven is doing a $1 iced coffee every Wednesday. With three premium flavors – Hazelnut, Mocha, and French vanilla.
·         Hazelnut: For a rich, nutty taste try this superior smooth blend.
·         Mocha: If chocolate is what you desire, indulge in this perfect combination of creamy and cool.
·         French Vanilla: This silky, sweet flavor adds a crisp and simple option to the iced coffee menu.
You have heard it for years. Personal trainers practice it diligently and so do bodybuilders. It helps your workout making you more effective. What is this miracle substance? Coffee. Plain and simple, coffee has remained a sort of "supplement" of choice among fitness buffs to become fit and maintain fitness.
Coffee is very effective when consumed just before a workout according to research by Dr. Robert Motl of the University of Illinois. It helps to block muscle fatigue symptoms, alowing you to do more and push yourself that extra mile.   Its important to remember to also consume enough water during your workout and the rest of your day to counter the fact that coffee is a diuretic.
Go ahead, drink up, workout hard and become fitter with less pain.
You can save around $100 per month simply by making coffee at home.  Many of us hit the road in the morning and go straight to the local coffee shop drive-through.  Spending between $2.50 and $5 each morning can really add up over the course of a week.  All of this adds up to one expensive habit.
Yahoo.com reported that "making your coffee at home will run about $0.12-0.28 per cu — small beans compared to store-bought. Assuming the higher end of that estimate calculates to just $1.40 per week or $5.60 each month. For that sweet price, you can afford to take a refill to the office in a reusable travel mug ($11.20 per month) for a later pick-me-up".
As for me, I enjoy the variety and quality of coffee  that I find from www.honeybean.com ,  however, there are many of shops where you can get great gourmet coffee whether you want to order it online and have it delivered to your door like me, or go to the store itself and pick it out.  You get great coffee and a great value.  Even in these tough economic times, you don't have to sacrifice your coffee to balance your budget, just modify your routine.
Learn about espresso and hear the taste by taste coffee review by Coffee Nate about Honey Bean Coffee.  Check out the coffee review at:
http://www.coffeenate.com/espresso-tips/
Blog Writing Project: Tips & Tricks
Thank you to all the participants for all their hard work and interesting entries. You had until the 18th of September to get your blog post entries in.
Now it is time to vote for my favorite entries. I get to pick three but can list all the entries. I will place my favorite top three at the top of the list. Keep reading to see the list of entries. There's a lot of good stuff going on here.
My Top 3 Picks
7 Key Skills Of The Successful Adwords Advertiser by Vittorio
How I Got Aerobed to Number One in Google by Julian
Facebook Tips and Tricks by Sahil
Thought I would enter Daily Blog Tips contest. I read them every few days and missed the last one. Stop by and give em a visit. It is a good blog with valuable information and help.
Getting out a coffee stain: There are two ways. First off, as silly as it may seem, pour more 'hot' coffee on the stain and rinse out immediately. It should come right out.

Second, take baking soda and a tooth brush and slightly dampen the toothbrush. Dab the toothbrush in the baking soda and gently scrub the stain. This should also have a positive effect. Or you could just mix one teaspoon of white vinegar in one quart of cold water and put on stain to remove it.
A couple of things I want to touch on quickly. Steaming milk. For heaven's sake do NOT get milk too hot when steaming. It will curdle in your espresso and also cause the foam to break down about as soon as it gets into the cup. #2 issue is cup towels. Do NOT place a towel on the area where the cups are. This prevents steam from being released on your espresso machine thus causing it to produce an over heated shot.
That is all. Hope these little tidbits helped some of you.

Out of these 3 super-caffeinated coffees, I still LOVE Shock Coffee the most! But for your reading pleasure, I will certainly mention the other two so that you too can rev-up your heart rate and suffer heart palpitations. (hmm… did I spell that correctly?)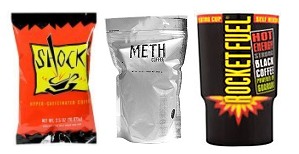 1. Shock Coffee
2. Rocket Fuel Coffee
3. Meth Coffee
If you are looking for a quick jolt then these are the one's for you. I've tried all three and they all play their role well. Shock Coffee does seem to have the richest and freshest roasted flavor though and obviously that makes it more enjoyable but if you're just after the caffeine, all will work just fine.
Thought I would share a little tip with you. In order to relieve puffiness, make fine lines appear smaller, (some times even big lines), and give my face an over-all pick-me-up, I sometimes coat my face in home-made coffee masks and make caffeinated astringents.
You can exfoliate with espresso-ground coffee beans by mixing (this is how I do it) them with a bit of Noxema or other non-greasy face cleanser. You can also mix very strong brewed (cooled) coffee with alcohol and use as an astringent that will actually perk you up!
It is possible that coffee can protect against sun damage as well. Caffeine dehydrates fat cells and acts as a mild diuretic. It can be put into eye gels as a vasoconstrictor, to temporarily tighten skin and diminish dark circles. Some eye gels actually have caffeine already in them.
Caffeine also acts as an antioxidant to the skin. Not to shabby for a bean.
Try it out. Report back with your thoughts. Personally, I love having coffee all over me. lol
A great read over at fivecentnickel.com for the beginner to blog carnivals. I pretty much participate in the carnival of the recipes when I can. And I know I was a bit confused at first when I tried submitting. This is a thorough and detailed guide on how to do it. Give it a read.
I was thinking about writing a how-to guide on the French Press but then I stumbled across this instructional post from Bread Coffee Chocolate Yoga (bccy) and decided that I really could not write a more effective guide. So, I am going to link to this one. A right-on how-to guide. Just follow this link: French Press How-To Guide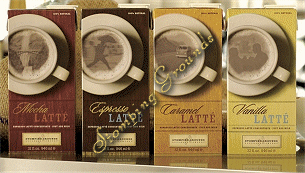 Stomping Grounds was nice enough to provide me with some of their product to taste and review and I would like to thank them. Today I'll be reviewing their pre-packaged, all natural, espresso latte concentrates in flavors vanilla and espresso.
Read more