Women have fought to get rid of cellulite for years.  Now it seems that there is a way to rid yourself of the unsightly stuff.  Coffee!!!.  That's right, plain, caffeinated coffee.
Putting coffee on your skin seems to reduce cellulite, or at the very least, the appearance of it.  Cosmetic companies have caught on to this and are now using coffee and/or caffiene in some of their anti-cellulite creams.  Look for it on the label.  Of course, you can also use coffee grounds to get the same effect, but it is much more messy than the creams, which can be expensive. 
If you choose to use coffee grounds, its important to do so at least 3 times a week to acheive and maintain the desired results.  To do the treatment with coffee grounds, apply warm coffee grounds all over your body and massage it in. Then you wrap yourself in plastic wrap for twenty minutes. 
So how does this work? 
The caffeine in coffee is the secret.  Caffeine helps widen the blood vessel of the body and stimulates the fat cells, breaking them down. Warning though, if you drink huge amounts of coffee daily, your cellulite could look worse. It seems that caffeine when ingested promotes more cellulite formation.  Topical application of caffeine does not have this effect.
The rule of thumb when it comes to cellulite?  Slather the coffee on and keep it comming for cellulite free thighs.
We all know about the benefits of coffee.  Perhaps the best known one is to keep up awake.  Recently studies have shown coffees effect on internal organs, even helping to prevent certain kinds of cancers.  Skin caner is now being added to the list of ailments that a cup a day might prevent or, in the unfortunate case that you do have it, help to fight the disease.
Coffee may be helpful as a drink or a rub in an effort to help protect you against skin caner according to a report made by WBAL-TV.
To read the article, check out
http://www.clickondetroit.com/health/19501372/detail.html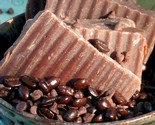 Well, I've used chocolate shampoo and chocolate soap but this was my first for coffee soap. Don't taste it! It is bad! Just kidding. I didn't taste it but I certainly did shower with it and have it by my sink for hand washing too.
Daisycake Soaps sent me a few to try and a lip balm that is coffee flavored as well.
The soaps produced a good lather and left my hands feeling clean and fresh. The scent is quite close to that of coffee with chocolate and the Turkish Mocha Soap was just a yummy. I would purchase them even if I had not got them free for review. I like em!
The lip balm had a good taste and went on with a silk appeal. However, I did not feel it had enough staying power. Maybe it wasn't suppose to have. I still liked it though.
I recommend trying the soaps. They are reasonable in price $2.75 and they last an acceptable amount of time.