Pharmaceutical grade caffeine will soon be hitting the brownies in Ames, Iowa.  A Smack In The Face, the nations first caffiene  bakery, has been opened by Allison Nelson.  Into each brownie she pours love along with 200 milligrams of pharmaceutical grade caffeine.  Now how is that or a naughty start to your morning?
"It's exactly what grandma used to bake – no high-fructose corn syrup, no partially hydrogenated soybean oil," Nelson told The Des Moines Register. "We're not wrapping up caffeine in a health bar here. We're wrapping it up in a home-baked treat. Isn't it about time you have caffeine and it tastes good?"
The brownies will be sold to local convenience stores, with a hope of moving on to chain stores.
Cabaret Brewed Chocolate whole bean beverage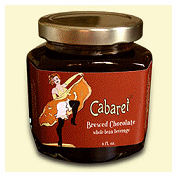 Not a coffee but don't forget that chocolate is caffeinated. I was pleasantly surprised when I received the Cabaret Brewed Chocolate and tasted it right from the jar. Keeping with an ancient Aztec tradition, it is sort-of a smokey, rich, chocolate taste that is really different from any other chocolate that I've tasted.
As you can see from the image below, you just add 1 teaspoon to 1/2 cup hot water. The chocolate is concentrated so it does not take very much. Stir and enjoy. Did I say enjoy? Read on…
This beverage stimulated me without the jitters and what is really sweet about it all, when I had a cup in the evening, I did not get stimulated but rather relaxed. I call that an all around beverage!
There is just a bit of sugar in the concentrate but one should not worry too much about that. It is sweet enough without any additional sweetner.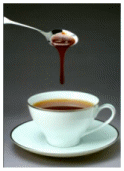 Cabaret Brewed Chocolate has only a small amount of caffeine but very high in theobromine which is a cousin to caffeine providing a different effect. They say Theobromine is a gentler. longer lasting stimulant. One teaspoon contains nearly an ounce of cocoa beans. wow!
Visit their website to purchase Cabaret Brewed Chocolate and to learn more about the history and the product. Be sure to watch the video. Very interesting history told. It is $14.95 a jar and each jar contains 24 servings. That is 20 cocoa beans per serving. Love it!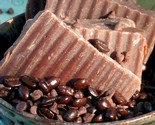 Well, I've used chocolate shampoo and chocolate soap but this was my first for coffee soap. Don't taste it! It is bad! Just kidding. I didn't taste it but I certainly did shower with it and have it by my sink for hand washing too.
Daisycake Soaps sent me a few to try and a lip balm that is coffee flavored as well.
The soaps produced a good lather and left my hands feeling clean and fresh. The scent is quite close to that of coffee with chocolate and the Turkish Mocha Soap was just a yummy. I would purchase them even if I had not got them free for review. I like em!
The lip balm had a good taste and went on with a silk appeal. However, I did not feel it had enough staying power. Maybe it wasn't suppose to have. I still liked it though.
I recommend trying the soaps. They are reasonable in price $2.75 and they last an acceptable amount of time.
This review will not be difficult. I had a letter sitting in the inbox asking if I'd like to try Bubble Chocolate and review it. Sure! I'd like to do that but I got a lot more than I expected once I opened that wrapper.
This is the first aerated chocolate to be marketed in the USA
The thing is the bubbles. Hundreds of bubbles. Big ones and tiny ones with loads of flavor bursting from them.
Quote from Bubble Chocolate's website:
Since their standout debut at the Candy Expo in Chicago this past June, Bubble Chocolate bars are fast becoming the new taste sensation spanning both coasts. These delightfully tempting bars appeared on a Today Show segment in NYC in July, and are being prominently featured in celebrity gift bags across Los Angeles.
First off, I got three bars. Dark Chocolate, Milk Chocolate and yum, yum…. Coffee Milk Chocolate! Oh yeah…. that is good.
I've never tasted anything quite like Bubble Chocolate. It very light and airy and the texture is what I can only describe as 'tender and bubbly'.
The chocolate tastes of quality and richness and however they made the bubble effect is certainly a plus in my little area of the chocolate loving world. It makes for a most delicate and tasteful experience. Caution: you can not stop with eating only one square. You must and will eat the entire bar. You just can't help it!
Flavors:
Milk Chocolate: Very smooth and genuine. I would rank it with Godiva or something similar. Honestly.
Dark Chocolate: Rich, creamy, and sinful. My favorite really. I could make myself sick if I had enough on hand to eat. I just would not be able to stop until there is no more.
Coffee Milk Chocolate: I like this in the morning with a nice cup of coffee. They go well together. The hint of coffee flavor is not overbearing and tastes natural. This would probably be great for an after dinner chocolate as well. *drool*
Bubbly Milk Chocolate: Made with cocoa butter, milk powder, cocoa mass and lecithin to give just the right Bubblyâ"¢ combination and soft milk flavor appealing to youngsters and adults alike.

Bubbly Dark Chocolate: 60% Dark goes with the trend in high percentage cacao solids, offering rich bites of snappy deep, dark chocolate, with smooth after-flavor resonance.

Bubbly Coffee Milk Chocolate: Filled with coffee, and coffee flavor, perks with a sophisticated taste and aerated texture.
My recommendation for Bubble Chocolate is high. It is a pleasant and unique experience and sure to be on your list of must have's on a regular basis.